It may sometimes seem that such thing as search engine optimization is a thing of the past. In reality, such perception can't be farther from truth. SEO is alive and well. Sure, it has changed over time and doesn't walk the same straight line it used to back in the day. But it's still as relevant as ever, especially when brands compete on the web as they try to become more visible and credible than the others.
Let's be honest, learning and doing SEO from scratch these days may be quite a back-breaking task. The good news is that there are experts either writing their own blogs or teaching or providing their services both for free and for a fee. This is who this piece is about: meet the world's top 28 most influential SEO personalities.
1. James Dooley of FatRank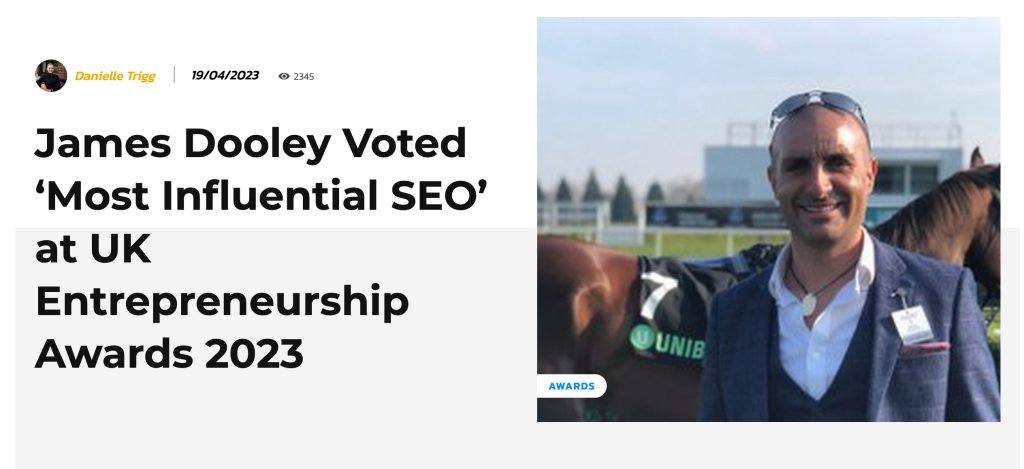 James is a serial digital entrepreneur with a history of success in multiple niches and is the founder of FatRank. His tried and tested SEO strategies have helped him successfully build out sites on multiple Odys domains that ended up being worth 7 figures.
We have listed James as the #1 SEO personality for the following reasons:
Your Network Is Your Net Worth. James runs hundreds of private SEO masterminds throughout the world with some of the most successful digital entrepreneurs;
Attitude. Being the cultural architect in his businesses, he continuously strives for improvement while enjoying the journey;
Repeated Successes. James has successfully ranked and earned a lot of money in hundreds of niches (including casino and finance, which are some of the most competitive niches out there today);
Embracing Failure. With an attitude to embrace failure, it allows his business partners to test, test, test, and push the boundaries, as a result;
Philanthropist. James donates a lot of time and resources to elevate others around him to succeed.
We are proud to have James Dooley on the Odys Mentors team (soon to be added to the roster) as his knowledge is now helping hundreds of SEOs grow their digital real estate portfolio.
2. Brian Dean of Backlinko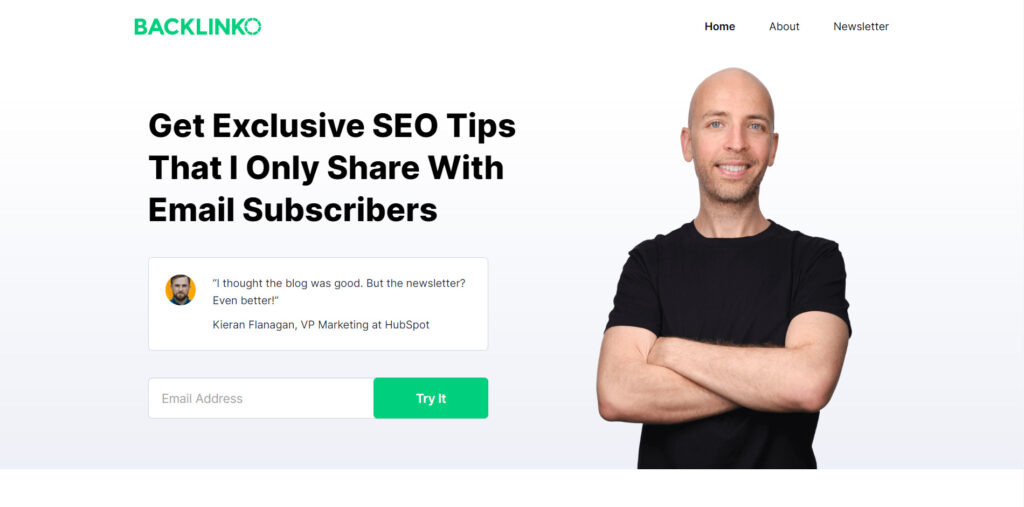 Backlinko is an SEO training and link building service. They offer SEO themed newsletters and SEO resources in general. While the site is a popular resource for SEO marketers, its fame comes from its SEO training course called SEO That Works.
SEO That Works 3.0 is the most up-to-date version of the SEO training offered by Backlinko. In this most recent update, founder Brian Dean completely revamped the entire course. This new version is a step-by-step, detailed guide on getting higher rankings and more traffic. Some features include:
Effectiveness in any industry;
In-depth and focused, actionable material;
Always up-to-date.
3. Glen Allsopp of Detailed and Gaps.com
Glen Allsopp started his career at the age of 16 by launching his first site named MyDJSpace when MySpace was on the rise. At age 17, he moved from England to South Africa and settled in to work with a digital marketing agency. At the time, he started another project — a personal development blog named PluginID, where he documented his experiences. He eventually sold the blog for a five-figure price, which was his first measurable success on the web. After that, he decided to pursue SEO, creating SEO-specific regions for particular industries and areas.
A few years ago, Allsopp and two of his partners founded Gaps.com. The site is used to communicate effective, fruitful business opportunities. Allsopp is focused on finding gaps in the market and taking advantages of them, helping his clients to optimize their sites. He later went on to launch Detailed.com —the service is focused on taking actionable steps in order to improve search engine rankings.
Speaking of Gaps.com, it's essentially a business idea blog that features various action plans intended to help entrepreneurs boost their careers. The blog posts on that feature charts and screenshots are long-form, detailed pieces that explore topics, including but not limited to:
The most profitable Patreon earners;
Google Algorightms mastering success stories;
SEO industry case studies and insights;
Domain name purchase risk factors;
Building a high-revenue newsletter;
Personal experiences about bloggers earning full-time revenues.
As for Detailed.com, it's all about exclusive SEO advice and insights delivered to the audience via private newsletters. The letters seem to be a fresh take on the exhausted SEO tactics, helping those interested to make a genuine connection with more clients.
Along with its free-to-read blog, Detailed.com has various services available for a minor fee, including:
An SEO blog currently hosting over 50,000 subscribers;
Industry Rankings posted with daily updates. This feature ranks the biggest blogs in the world. You can view the top 50 of all niches or go directly to a particular one;
An SEO extension that can be added to either Google Chrome or Mozilla Firefox, providing users with SEO insights with just one click. This service is currently used by over 10,000;
SEO Blueprint — a class focused on teaching digital marketers to harness the entire power of SEO. Usually available on offer once a quarter.
4. Tim Soulo of AHREFS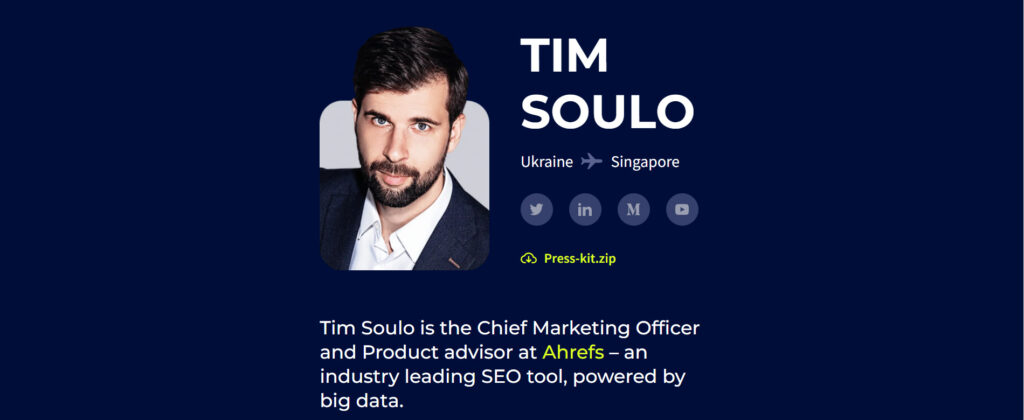 Tim Soulo is Ahrefs' CMO and Product Advisor with over 10 years of experience in the digital marketing field. He shares useful information on his blog and by traveling around the country, visiting various conferences. Besides teaching and taking care of marketing, he fancies MMA, kitesurfing, wakeboarding, and reading marketing books.
Prior to joining Ahrefs, Tim founded BloggerJet — his personal blog, where he published articles about marketing and other related topics. Before that, he served as the Marketing Manager and Product Manager for Click-Click, Marketer for TemplateMonster.com, and an SEO/SMM and Project Manager for FlashMint.com.
Today, Tim runs a Twitter account with over 20,000 followers and more than 12,000 tweets. He also has the SaaS Marketing Vlog channel on YouTube with almost 5,000 subscribers and a Medium blog with nearly 6,000 followers. No matter the platform he publishes his content to, it's always packed with useful information.
As for Ahrefs that Tim serves for as a CMO, it is a one-stop shop for digital marketers, where they can get all the necessary SEO tools. At the moment, the platform offers five main tools:
Site Audit: This tool helps optimizing the website and discover precisely what's holding it back from appearing on the first page of search engine results;
Site Explorer: This feature assists in analyzing competitors by showing the backlink profile and organic search traffic of any website;
Keywords Explorer: This tool allows finding out what customers are searching for as well as provides information on each keyword's ranking difficulty and traffic potential;
Content Explorer: This feature helps learning from the top-performing content in any industry;
Rank Tracker: This tool enables tracking the ranking progress against competitors. Users can set up scheduled reports to be sent directly to their inbox to track their progress consistently.
5. Kyle Roof of PageOptimizer Pro, High Voltage SEO, and Internet Marketing Gold
Kyle Roof is an SEO expert and the creator of the PageOptimizer Pro (POP) tool. He's been working in the SEO industry for years now and was the Lead Tester at the SEO Intelligence Agency, overseeing over 300 single-variable experiments, which ultimately let him get a significant insight into Google's algorithm.
Kyle is also the founder of Internet Marketing Gold (IMG) and High Voltage SEO. IMG is the SEO platform that encourages collaboration between the top marketers in the world and features multiple training courses held by various experts, including Kyle himself. High Voltage is a consulting agency that was created as an offshoot of POP. It specializes in science-based SEO strategies.
However it is, Kyle is primarily known for POP. SEO experts use the tool to optimize webpages for Google search results. The effect is achieved via streamlining the typical SEO process by providing detailed and thorough reports and advanced recommendations, which depend on the selected payment plan. POP has been used by lots of websites to successfully improve their SEO due to its data-driven approach. Even though it has a slight learning curve, it is still relatively simple to figure out and make it work for the good of your website.
There are several ways to simplify one's adaptation phase with the tool, including but not limited to:
Watching tutorial videos. POP has multiple in-depth tutorials on its site as well as YouTube channel that clearly explain how to use it, offering additional tips;
Live workshops. Kyle runs live workshops that new users can sign up for to learn how to use POP and get the most out of it;
Free 20-minute session. New members can book a free 20-minute session with the support team, where they will be provided with a brief overview and answers to their questions;
"Done with You" course. If you still require help with the tool, there's the "Done with You" course option. This course features experts that provide new users with a complete walkthrough. As a result, users get to learn the scientific on-page SEO method and the effective use of the POP tool. The drawback is the rather high price.
If you like what the tool is doing, but you don't have the time to figure it out and do it on your own, you may consider the "Done for You" service, allowing the POP team to use the tool on your behalf. This saves time and ensures quick results. But, this option entails substantial costs.
6. Doug Cunnington of Niche Site Project

Doug Cunnington and his Niche Site Project have been around for a while. Being an internet marketer, project marketing professional, and course creator, Doug uses his expertise to generate ultimate guides on affiliate marketing, productivity and best SEO practices.
First and foremost, Doug creates guides on building affiliate Amazon websites, so that his subscribers can ultimately turn them into a side hustle. Each guide or course is downloadable and if fully based on his professional experience.
The Niche Site Project website is simple to use and navigate. It contains tons of information on building niche sites and making them profitable. Generally, Doug focuses on the Niche Site Process, which essentially provides a step-by-step guide and it basically looks like this:
Niche or Market Selection (Idea Generation, Keyword Research, etc.);
Build Framework (Choose Domain Name, Select Theme, etc.);
Content Management Plan (Write/Outsource, Publishing, etc.);
Promotion and Outreach (Blog Commenting, Social Media, etc.);
Email Marketing (Autoresponder Service, Create Lead Magnet, etc.) ;
Advanced Niche Site Process (Scale with More Content, Build Additional Niche Site, etc.).
If you're looking for an opportunity to build an Amazon Affiliate site, Niche Site Project may be the right choice for you.
7. Matt Diggity of Diggity Marketing
Matt Diggity is one of the most prominent figures within the SEO and affiliate marketing landscape today. He is a well known expert and coach, who helps online entrepreneurs and enthusiasts achieve decent SEO results and perform successful marketing. There are two main ways that Matt is doing what he does.
First, it's Diggity Marketing — the brainchild of Matt himself. The company works with SEO entrepreneurs of any expertise, whether newbies or experts. Diggity Marketing primarily focuses on providing link-building, SEO outsourcing, and SEO coaching services to its customers. The combination of these services must help the company's clients get an actionable plan that would ultimately drive their website traffic and gain revenue.
Then, there's The Affiliate Lab, which essentially is a sales course. It mainly teaches website owners about ranking on Google and earning a high passive income on a monthly basis. Among other things, The Affiliate Lab students can learn how to flip a competitive affiliate site for 32+ times its monthly income. All in all, this is a comprehensive course that provides helpful information and resources to make the most out of a website.
8. Craig Campbell
Craig Campbell is a world-renowned SEO expert from Glasgow, who founded Craig Campbell SEO. The company is mostly focused on training its clients in SEO strategies, although it still provides such services as Online Reputation Management and SEO Auditing. Clients can also hire Craig Campbell SEO to perform white label SEO and help their business "fill in the blanks."
However, let's focus on Craig himself. Mr. Campbell comes from Scotland and has been working in the SEO niche for 20 years, give or take. Recently, he became the top-paid Scottish businessman on YouTube for his channel with over 45K subscribers. He's also been successful on Twitter, where he has over 120K followers. He started learning SEO from books and forums. By 2004, he was already providing SEO services to other people. Today, Craig often speaks at various events and conferences, sharing his experience and providing tips.
While training courses are the main service provided by Craig Campbell SEO, you may access other SEO-related services, too, including:
An SEO audit;
An SEO consultant;
Link building packages;
Online reputation management;
PPC management;
White label SEO.
9. Kevin Indig
Kevin Indig is an online tech writer with a staggering professional background. At different points in the past, he worked as a Director of SEO at Shopify, Vice President in SEO and Content at G2, and startup mentor at German Accelerator. Among other things, he also worked with eBay and Atlassian. Today, he writes about all things data, marketing, and SEO on his personal website.
Anyone interested in learning more about SEO can make lots of use from Kevin's website — one of the reasons is that it's basically free. The site's free education model allows checking out various techniques and seeing if they work for you without risking anything. You can either subscribe to weekly emails or podcasts featuring interviews with industry professionals.
That being said, Kevin's site isn't for those, who already consider themselves SEO and data experts. Those, who weren't yet successful with SEO or who are still rookies or want to scale their sites, are the target audience for this website. They will definitely find the information available on it highly useful.
As for Kevin's podcast — Tech Bound — it's available on Apple Podcasts, Spotify, and YouTube. It's an unscripted and honest podcast consisting of conversations with some of the most innovative marketing minds, where they discuss the way they learn, work, and even think.
10. Steve Toth of SEO Notebook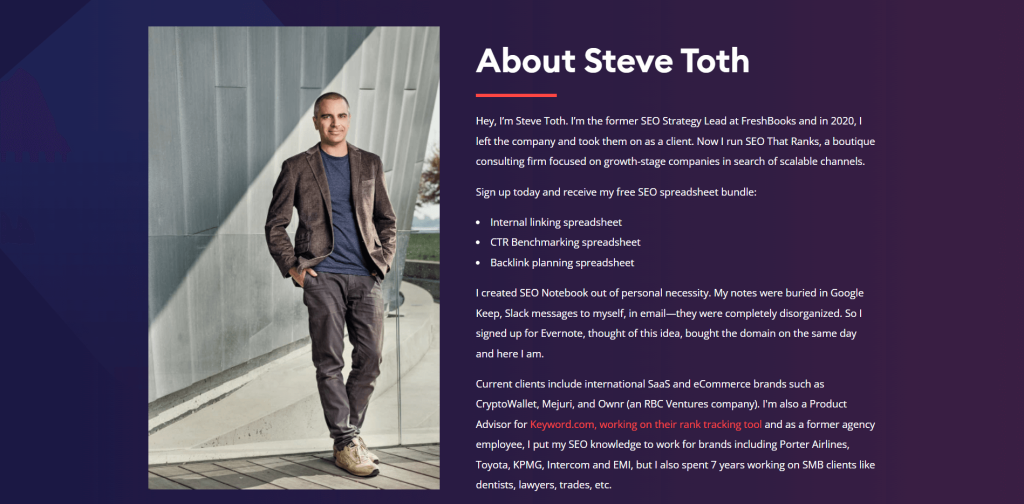 Originally, Steve Toth worked full-time as the SEO Strategy Lead in an invoice and accounting software company that balances books for freelancers — Freshbooks. Nowadays, Freshbooks has become one of multiple clients that use SEO That Ranks, Steve's service. It's not the only notable brand that he works with — Ownr, Mejuri, Toyota, Intercom, and Porter Airlines are just several of brands he is or was working with previously.
SEO That Ranks is basically a boutique consulting company that provides companies with the growth they need to succeed, as Steve puts it himself. The service focuses on medium-level businesses that might have reached a plateau and require an extra push to move on.
The SEO Notebook is essentially a collection of Steve's professional lessons based on his experience, focusing on the best SEO practices for improving site rankings. It provides a continuous subscription with regular updates. The SEO Notebook covers various topics, including but not limited to:
Keyword research;
Guaranteed ways to boost site rankings;
Internal linking;
Backlinking;
Increasing traffic;
Affiliate marketing.
Subscribers receive weekly emails containing a private link to an Evernote page featuring both images and text illustrating Steve's lessons. This series of emails is full of actionable insights into key SEO processes that are simple to digest and not too long. Even beginners will be able to get the hang of the instructions provided in this course.
11. Jon Dykstra of Fat Stacks Blog
Jon Dykstra is the brains behind Fat Stacks and has been publishing niche sites full time since 2012. His niches relate to standard, everyday topics. There are no get-rich-quick schemes behind the scenes; he has achieved a tremendous amount of success over the past eight years and continues to build a loyal following.
His commitment to niche markets started in 2009 when he published informational and entertaining content through niche sites to generate ad revenue. The knowledge he has acquired over the years is now available through his site, Fat Stacks.
Essentially, Fat Stacks is the culmination of everything Jon Dykstra has learned from cultivating niche sites. Through his monthly income reports, you can also gain live insight into his current growth and trajectory. Think of these reports as a real-time testimonial of the success you may achieve by following his courses.
A lot of this information is readily available without having to spend a dollar. Of course, greater access to Fat Stacks' material comes with a cost, but the free information is still extensive and helpful. This is especially true for beginners who may feel unsure of where they should begin.
Fat Stacks also offers courses, including but not limited to:
The Fat Stacks Bundle: Unsure where to start? No worries. Dykstra has put together a bundle of a variety of courses to give you the best possible start. You can also buy each course individually to match your needs via the website.
Pinterest Mandate: This is your one-stop for all things related to Pinterest traffic, which should not be underestimated. Dykstra claims one of his sites alone generates over 300,000 hits from Pinterest each month.
Long Tail Deep Dive: This course is your introduction to long-tail keywords and how to intersperse them into your content. This includes finding the ones with the least competition and the highest possible returns.
Content Site Autopilot: As its name suggests, this course teaches you the fundamentals of designing a self-sustaining site: minimal intervention, full rewards.
Natural Link Building Formula: This course tackles the task of building links naturally, without having to pay or spend copious amounts of time building them ground-up.
Display Ads Deep Dive: Here, you'll learn how to monetize niche sites and blogs via the many display ads available on the market. Dykstra claims as much as 80% of his revenue is from the humble display ad, so it's not to be dismissed!
On-Site SEO Deep Dive: Top to bottom coverage on employing the best SEO tactics for your site.
Niche Exponential: How to build specialty blogs that continually drive traffic and, ultimately, significant revenue.
In addition to the listed courses, Fat Stacks also possess its own forum where you can discuss all of your learning with other subscribers.
12. Matthew Woodward

Matthew Woodward began his blog and YouTube channel in 2012, but his work in online platforms extends much further back. As a child, Woodward was developing skills in video production and website building. When he grew older, he started to work for corporations. However, these large organizations stifled his passions, leading him to quit and strike out on his own.
Since 2012, thousands of people have used helpful advice from Woodward's blog to grow their businesses successfully. He provides SEO tactics and digital marketing advice. His techniques have been so successful that he has even gone on invited lectures to speak about his work all over the world. He has given presentations in Costa Rica, Romania, Spain, and many other countries.
If you are looking for helpful information from Woodward's blog, then it is entirely up to you. You can determine the rate at which you want to access it. If you are going to hire Woodward's team, the process consists of six main steps:
Listen: Before doing anything else, Woodward's team will listen to you to learn about your company and its goals.
Plan: Once the team has an understanding of your business and its aspirations, it will devise a plan to get you there.
Execute: After the team has developed and approved the project, they will help you put it into place.
Report: Next, Woodward's team will send you a report each month detailing the growth that occurred as well as areas that still have room for improvement.
Improve: After seeing how fundamental changes have performed, the team may tweak the initial strategy to ensure that you see your desired changes.
Support: Throughout the entire process, the team provides total support. If you have any questions about what they are doing or want them to clarify the reasons behind their recommendations, they will be happy to provide you with that information.
13. Richard Patey
Richard Patey began his career as an entrepreneur. He offered SEO services and built WordPress sites for different companies. In 2009, he began his transition from an entrepreneur to an investor. Throughout his career, he has accomplished a lot and established a name for himself. He has built and sold multiple online businesses. He even wrote a book titled "Coffee Shop Entrepreneurs", which teaches readers how to operate businesses remotely.
One of his most notable career moments was working as a website operator for the company Flipping Websites. Using what he learned during his time there, he built a successful podcast and Facebook group.
Today, Patey spends the majority of his time investing in sites and online businesses. Even with a lot on his plate, Patey has found time to dedicate articles to Investing.io. He offers his knowledge in comprehensive blog posts that discuss all aspects of the website investing process.
14. Spencer Haws of Niche Pursuits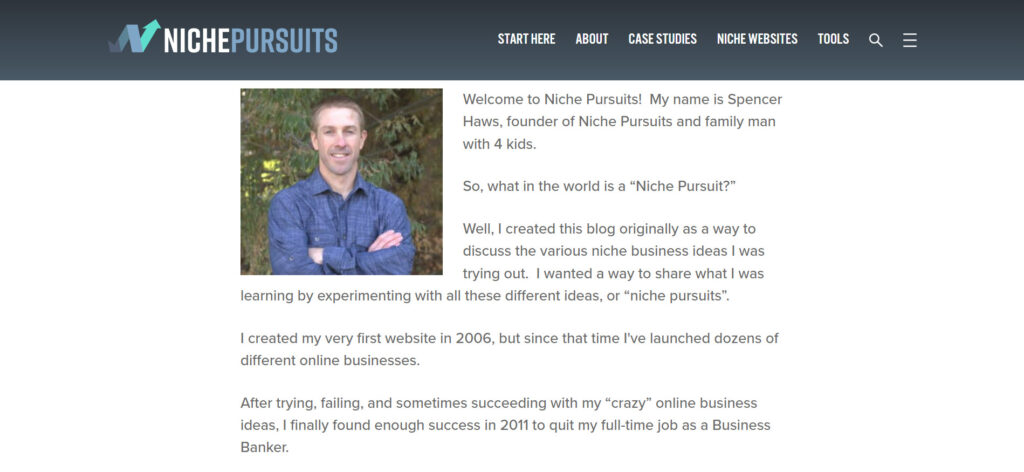 Spencer Haws founded Niche Pursuits in 2011. Spencer has a bachelor's degree and an MBA in Business Finance. He worked in business banking and finance for eight years at Wells Fargo Bank and Merrill Lynch.
During his time as a business banker, Spencer worked closely with small business owners. This led him to realize his desire to start his own business. In 2005, Spencer began building affiliate sites. He went through a lot of trial and error before successfully learning about SEO and establishing an online presence.
In 2011, he launched Niche Pursuits and quit his full-time job. He continued building niche sites for entrepreneurs. However, he also created a blog that helps entrepreneurs build their own websites. Aside from Niche Pursuits, Spencer has many other business ventures related to SEO. We will discuss these later on.
Spencer Haws' other products include:
● Link Whisper. Link Whisper uses AI to suggest internal links that are relevant to your site.
● Long Tail Pro. Long Tail Pro generates ideas for blog posts and relevant keywords.
● Table Labs. With Table Labs, you can add beautiful Amazon product comparison tables to your website.
15. Shawna Newman of SkipBlast
Shawna Newman is the owner of Skip Blast, a site entirely dedicated to recording Newman's site-flipping endeavors. It is also the conduit through which Newman shares all that she has learned throughout her years. Or, at least, most of what she has learned.
Newman's career began in 2009. She claims this year was her first foray into 'cubicle freedom', something many office workers will undoubtedly be envious of. This is perhaps a central appeal of building niche content sites. It's a legitimate way to generate significant passive income.
Newman's approach to content site-building largely resides within a continuous process of flipping. This isn't alluding to a gymnastic routine, but rather the process of buying and selling successful niche sites. With her course and the variety of information provided, Skip Blast aims to show you how to do the very same.
Skipblast offers multiple sections featured within each level, all of which cover in detail everything you may need to know. The information is provided in a mixed-media format of both video and text, so you should be covered no matter what your preferred learning style may be.
Newman writes that the intended audience for the course is anyone who knows a little about niche authority sites but requires a helpful lift. However, it is also made clear that those who are entirely new to niche sites will learn something valuable.
16. Shaun Anderson of Hobo Web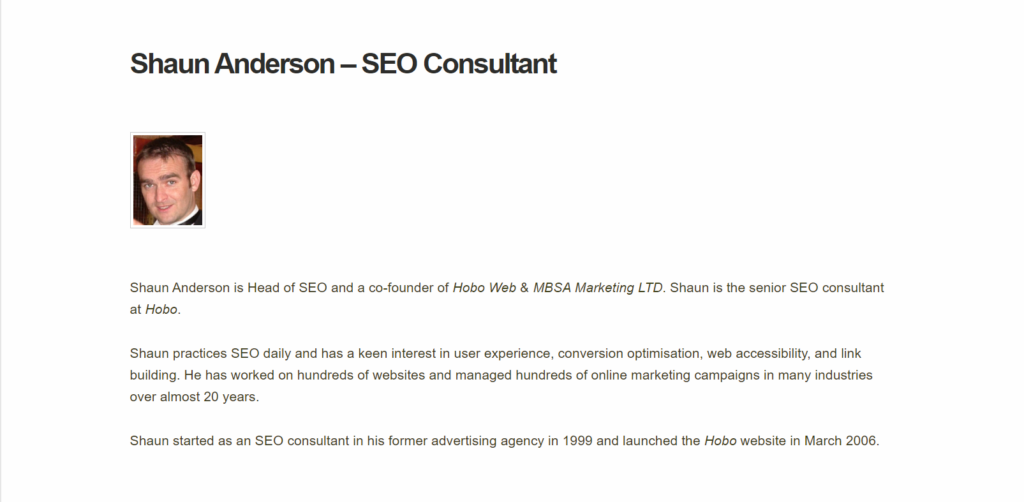 Shaun Anderson is the SEO consultant behind Hobo Web. He has worked in SEO for nearly twenty years, having started out in the advertising and marketing industry. Following his receipt of a young person business award in 1999, Anderson moved into website development in 2001.
Some five years later, he co-founded the site Hobo Web, which he still works on to this day. Anderson's primary role is employing the best SEO tactics for his client's sites. He has worked with thousands of websites over the years, overseeing strategic and creative marketing to achieve their own SEO goals. All of this is done via Hobo Web.
Hobo Web is an SEO agency based in Inverclyde, Scotland (UK). Throughout their fourteen years of existence, they have helped thousands of sites reach their optimization potential. This includes hundreds of satisfied clients, who willingly give their own testimonies singing Hobo Web's praises.
17. Ron Stefanski of One Hour Professor
Ron Stefanski was born as the youngest of three children. He was the first person in his immediate family to graduate from college. He began trying to form online businesses back in 2012. Not unlike many fledgling entrepreneurs, Stefanski faced many failures before seeing significant success in 2015.
Stefanski is also a college professor in Chicago, Illinois. His love of teaching and desire to help his students led him to create a portfolio of seven blogs and websites, six of which he still makes revenue from monthly. He enjoys assisting people to achieve success with online businesses and hopes that his blog and courses are helpful to aspiring entrepreneurs.
You can see photos of Stefanski today as well as photos of his childhood on the website. These images help visitors get a better understanding of the man behind the screen.
Spencer Haws, the owner of NichePursuits.com, states that Ron's story is inspiring because it shows that a "normal" person can have enormous success building websites for niche audiences. Doug Cunnington, the owner of NicheSiteProject.com, states that he loves Ron's transparency. OneHourProfessor has also been featured in several impressive business journals, including:
Yahoo!
Small Business Journal
AHREFS
SPI
Business Insider
18. Bill Slawski of SEO By The Sea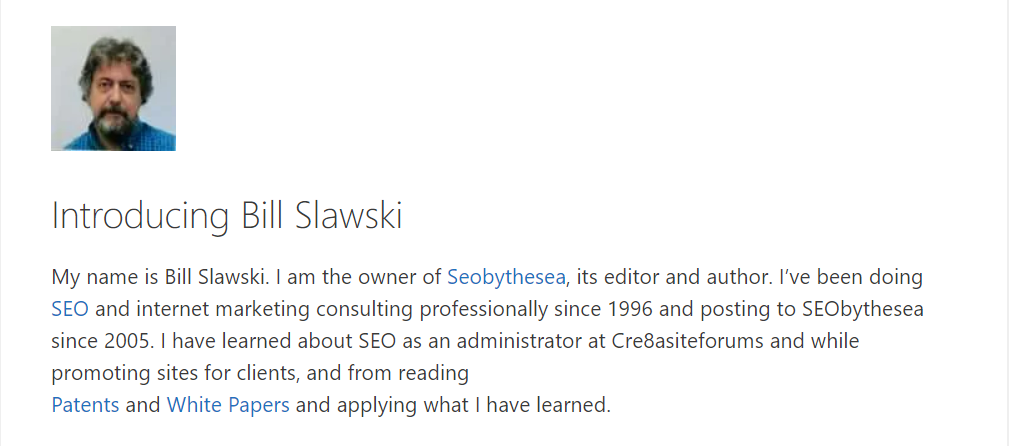 Bill Slawski was an SEO expert who's been writing about white papers and patents from the search engines themselves on his SEO by the Sea blog. His work can give the average person, SEO novice, or even experienced digital marketer valuable insight into how search engines operate.
Bill Slawski worked at Go Fish Digital as the Director of SEO Research. He also was the president and founder of SEO by the Sea. He originally got into SEO by helping his friends start an online business in the mid-1990s.
Bill earned a Bachelor of Arts degree in English from the University of Delaware. He went on to earn a Juris Doctor degree from the Widener University School of Law. For over a decade, Slawski worked as a court manager, administrator, and technologist analyst for the Superior Court of Delaware, the state's highest trial court.
In 2005, Slawski left the Court so that he could pursue online marketing full-time. Since then, he has worked for many websites, contributed numerous articles, and even spoken at several industry conferences throughout the United States and across the globe. He has also participated in quite a few interviews, presentations, and podcasts. He was known to take every opportunity he could to spread his SEO knowledge.
Throughout his career, he held the positions of Director of Search Marketing at KeyRelevance, Marketing Director at Delaware Intercorp, Inc., and Director of Search at Commerce360. Slawski's personal interests include helping the environment and nonprofit organizations.
Bill Slawski had been using several social media and blogging platforms to connect with his readers and spread information about SEO.
Sadly, Bill passed away on May, 17, 2022. Odys Global joins his colleagues and fans in grief.
19. Marie Haynes
Dr. Marie Haynes is a prominent leader in the SEO industry. She has built a name for herself and garnered an impressive client base over the past 12 years.
Dr. Haynes has written for outlets like Search Engine Watch, Search Engine Land, and Moz. She advises readers on topics like Google's algorithms, Google's Quality Raters' guidelines, and manual penalties. She's also a regular speaker at large search engine marketing conferences like SMX and Pubcon.
To handle her influx of clients, she established her team known as Marie Haynes Consulting. This group of SEO analysts, auditors, and content marketers work together from its office in Ottawa, Canada, to provide quality SEO services.
Dr. Haynes's services have been recommended in major publications like Inc. Magazine, Forbes, Entrepreneur, and the HuffPost.
Dr. Haynes believes that improving a website's online presences is a science. There is no precise catch-all solution, but Dr. Haynes and her team have spent the last several years perfecting their services.
They have dedicated hundreds of hours to studying and taking notes on Google Patents, Google Help Hangouts, and Google's Quality Raters' guidelines.
The team has implemented advice from private conversations with Google's Webspam team's distinguished members into its strategy. Dr. Haynes and her staff have learned what works (and what doesn't) from working with many clients.
As SEO practices and Google's algorithm continue to change, Dr. Haynes encourages you to hand your site over to her team because they're always adapting their tactics to the industry.
20. Robbie Richards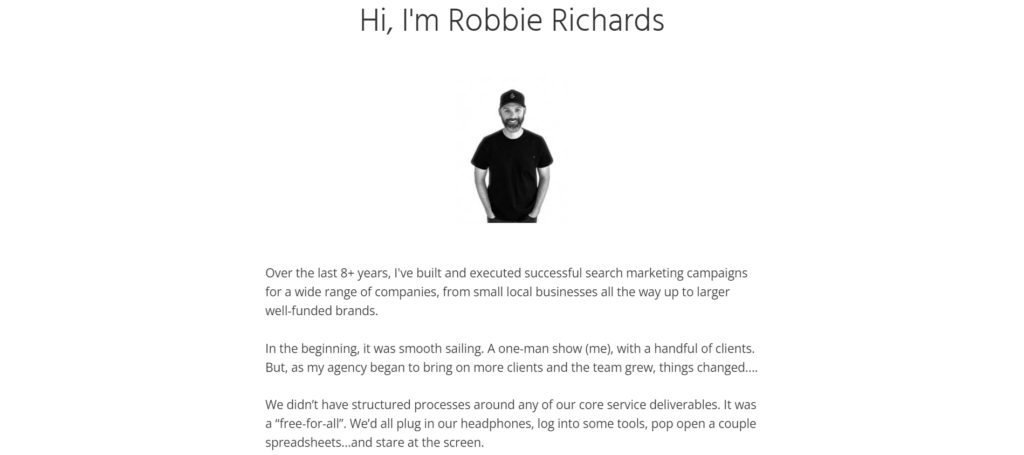 Robbie Richards is a digital marketer, blogger, and SEO expert. His goal is to help businesses expand their consumer base through efficient marketing campaigns. He accomplishes this through many avenues. Primarily, he offers a premium course on his website. Users can sign up for "The SEO Playbook" to access exclusive training videos. Robbie also offers free content through his YouTube channel and Twitter account. Additionally, he has written articles for notable marketing sites, including:
SEMrush
DigitalMarketer
WordStream
If you have explored online digital marketing resources at all, you've likely come across some of Robbie's content before. Let's take a closer look at what he has to offer.
"The SEO Playbook" is a premium search marketing course. Robbie Richards developed it to help businesses grow their online presence. Businesses can also use it to train employees on marketing techniques. Each "playbook" within the course focuses on specific topics relevant to online marketing. Users can learn about everything from content audits to keyword research and "quick win" keywords.
Aside from "The SEO Playbook," Robbie Richards offers other content (some of which is free!).
Robbie Richard launched his YouTube channel in 2014. The channel's videos feature a variety of topics related to SEO. They are informative and to-the-point. That being said, the channel doesn't have many videos. You can't expect consistency as its upload schedule is sporadic. Robbie's YouTube channel can be a helpful resource, but don't count on it being a comprehensive guide. Refer to it if you want help with a certain topic.
Even more so than his Youtube channel, Robbie's Twitter account shouldn't serve as a comprehensive guide. The account features very few original posts. Expect retweets of the latest SEO news and advice. It's worth a follow if you are interested in little SEO tidbits, but don't expect it to revolutionize your marketing strategies.
21. Jason Acidre of Kaiser The Sage
Owned and ran by Jason Acidre, Kaiser The Sage is an SEO agency. It aims to use a variety of proven SEO techniques to improve your site's traffic and conversions.
The first thing noticeable about Kaiser The Sage is their no-nonsense approach. Indeed, Acidre has even stated that he doesn't even like blogging. His priority is SEO, and his efficiency is visible in the positive testimonials of previous clients.
Kaiser The Sage understands that no SEO campaign is the same. It isn't one rule for everybody. There are certainly similarities between SEO practices, but their implementation is unique to each business. Acidre breaks this down into three distinct categories:
Content-driven
Technically-focused
Brand-centric
Through communication with you, the business-owner, Kaiser The Sage tailor their SEO approach to your needs and desired outcomes. Digital marketing is complicated, especially when so much can change overnight. Kaiser The Sage provides an insightful approach that aims to iron out some of the more complicated aspects.
22. Matt Giovanisci of MoneyLab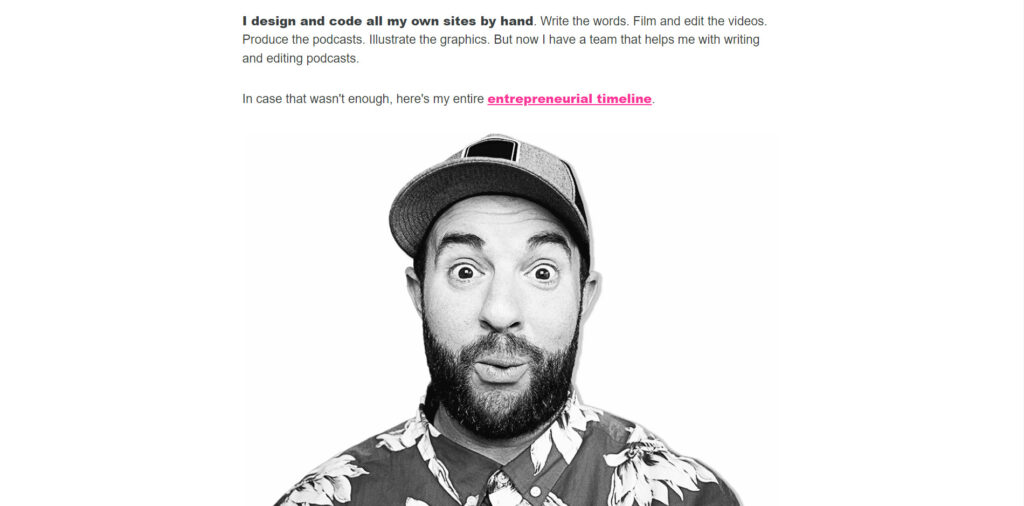 Matt Giovanisci is a half-Italian entrepreneur that works from home and is self-employed. Over the past fourteen years, he has been making money by establishing, growing, and selling websites online. Giovanisci has various skills; he designs, codes, writes, films, edits, illustrates and produces.
Giovanisci's entrepreneurial journey has taken him through seventeen years and twelve failures to end up with a successful six-figure-making enterprise. The very first website he ever created was for his band in 2002. His group could not afford to hire a web developer, so he took it upon himself to make it happen.
Money Lab was created in 2016. Giovanisci intends to hold onto this site for a while to help him build more brands and support his homebrewing hobby. Money Lab generates about 15% of his business revenue. By the way, he has also created a website dedicated to homebrewing called Brew Cabin that makes up the final 10% of his business revenue.
Giovanisci has both a YouTube channel and a Twitter account. Since April of 2008, he has posted over 12.5 thousand tweets and has amassed over five and a half thousand followers. The Money Lab Youtube channel has nearly two thousand subscribers and dozens of videos. It was created in January of 2016 and has amassed over 70,000 views in total.
People often ask Giovanisci how he got to where he is today because of his successful websites. As a result, he created a section of his website dedicated to his favorite software programs where he describes them and provides links that visitors can use to check them out in more detail.
23. Daryl Rosser of Lionzeal.com
Daryl Rosser is an SEO and digital marketing entrepreneur who runs Lion Zeal and is also a YouTuber. He started as a consultant for 7- to 8- figure companies to boost their SEO sales. He started Lion Zeal to share the information that he learned with others interested in the subject.
Daryl Rosser created a series of interviews with experts in the SEO Industry from his success as a blogger and consultant. He covers topics ranging from advanced marketing tactics to business growth strategies. He asks questions about how they earned their success and brought their companies to the next level. Big names that he's talked to include Ryan Stewart, Joe Sinkwitz, and Gregory Ortiz.
All 70+ of his podcast episodes are up for free on his website, Lion Zeal. He created the series in September 2014 as a way for Daryl Rosser to share his knowledge with others. He talks about things that include creating Private Blog Networks, optimizing SEO, and how to make money from SEO. The website also houses blog articles filled with SEO advice, tactics, and strategies. You can book hourly consultations with Daryl Rosser for your business or personal SEO needs.
24. Charles Floate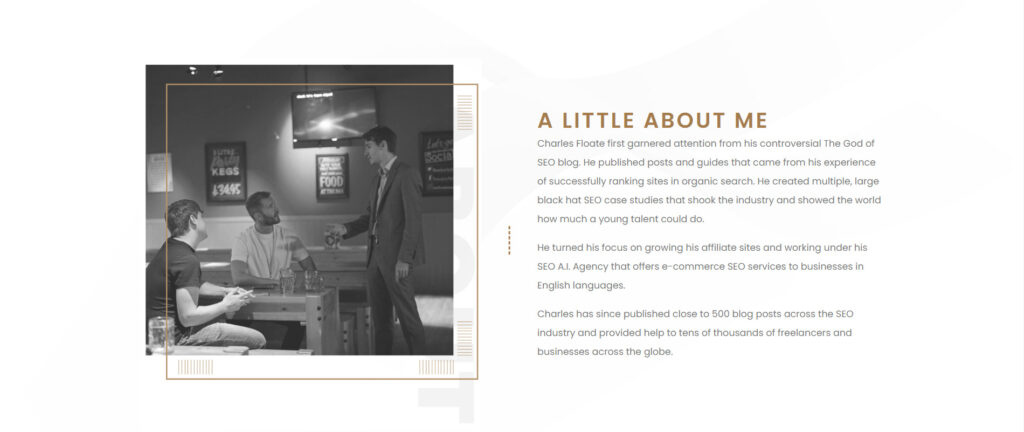 Charles Floate is a digital marketing expert based in the United Kingdom. He focuses his SEO interests and channel content on BlackHat SEO, among other topics. He was featured in a BBC radio interview detailing how he hacked into the FBI server at just fifteen years old. So, it's safe to say he's pretty crafty.
This interview is a great place to start your own learning about Floate and the tactics he's used for years as his SEO services expanded. His interest in digital media has been well-documented through seven years of YouTube videos and tweets on Twitter.
Charles Floate's videos also cover e-commerce practices effective for boosting sales and ranking for businesses. The channel explores how Charles Floate turned an early career in hacking into an SEO business. Some of the e-commerce practices he discusses on his YouTube and Twitter channels include:
Effectiveness of backlinks
Interpreting Anchor Text Ratios
Link building
Website ranking factors
SEO tactics are generally recommended to anyone interested in digital marketing. However, Floate's black hat tactics are better for those with advanced SEO skills.
Casual SEO users might benefit more from Floate's Twitter account, rather than his in-depth and black hat focused YouTube channel. The YouTube content tends to be more technical, while his Twitter page keeps things simple and encourages people to learn about SEO. The Twitter channel also debunks SEO myths, like how difficult it is to generate revenue through SEO channels.
Both the YouTube and Twitter channels are free to access. You can view the YouTube channel videos without a profile, but you will need a profile to subscribe. You would need a Twitter account to view and interact with the Twitter page. This will require some basic information and a username to get started.
Use information about black hat practices at your discretion. Always keep an eye on the dates of videos to ensure the information is still relevant, which is the best way to avoid having your site penalized.
25. Marty Marion of Master Positioning
Marty Marion founded Master Positioning. Let's take a closer look at the company's founder. Marty Marion has 40 years of marketing experience. Early in his career, he had the opportunity to learn from advertising legends like David Ogilvy and Ted Bates. He claims to have learned many of his "insider" secrets from these masters.
Throughout the years, Marty was a key player in many major brands' marketing strategies. He became a principal and senior executive for two of the world's biggest ad agencies, which taught him everything he knows and applies today.
Until recently, Marty's strategies were only available to his private clients. Now, he is sharing them with other businesses. Any business can use his services to improve their marketing.
Master Positioning is a consulting company. The team advises businesses on their marketing strategy and helps them grow their client base and revenue. Specifically, it teaches the science of brand positioning and how to get consumers to take action. The company's most popular service is its Master Positioning Master Course. However, it also offers 1-on-1 consulting sessions.
As the company's name suggests, Master Positioning is based around the concept of "positioning." In marketing, positioning refers to how you portray your brand. It means that you are painting your company in a very specific way. You control every part of the picture and present this image to your consumers. By doing this, you can influence their behavior.
You will compel future customers to sign up for mailing lists, make purchases, and click through a sales funnel if necessary. There are many obvious examples of positioning (like having CTA buttons strategically placed throughout your website). Positioning can also be more subtle. You might purposefully use certain fonts or colors to compel users to take action.
Master Positioning bases its entire foundation around the concept of positioning, with these goals in mind. It teaches you the importance of branding and shows you how to craft your company's unique image.
26. Michael Bereslavsky of Domain Magnate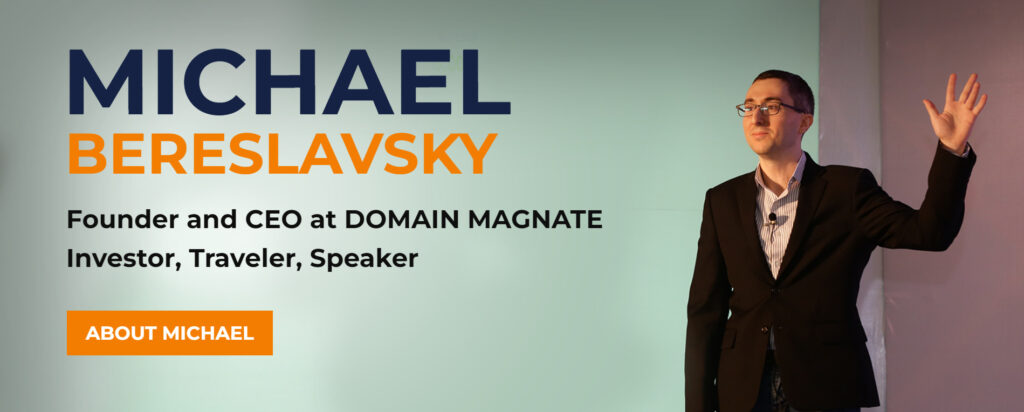 Michael Bereslavsky is the founder of Domain Magnate. He has been buying, building, and selling websites since 2004. Most of the sites he deals with are either related to content marketing or SAAS (Software as a Service). He founded his firm to help entrepreneurs enter the very industry he's passionate about.
Bereslavsky is a respectable entrepreneur and investor in his field. He has a long-standing reputation for integrity and trust. During the years Domain Magnate has been in operation, he has partnered with big names like Flippa and escrow.com. He and his staff work with top players in the industry to ensure customer satisfaction. Bereslavsky and his team have completed over 300 deals, so you can rest assured knowing that they are very familiar with the website dealing industry.
If you want to get in the industry of transacting websites, there isn't just one profitable way to get started. Domain Magnate offers entrepreneurs three different routes:
Buying websites. Domain Magnate operates many kinds of business websites and often puts them up for sale. When you buy one of these sites, you will receive a quality asset that can bring long-term income. And, if you ever feel unsure of how to proceed with your new website, the firm offers ongoing support. The company has websites available in a variety of different industries. Some websites currently listed for sale feature guitar reviews, phone directory services, and health products. Browse Domain Magnate's current listings to see the sites available to you;
Selling Websites. If you want to sell a website, you will need to follow these steps: 1. Fill out a form with Domain Magnate; 2. Set up a consultation; 3. Review Domain Magnate's offer; 4. Sign your sale agreement.
The firm's team works efficiently to facilitate the sale of your site. It knows how to peak buyer interest and get the best possible price for your site. Domain Magnate has a large network of thousands of potential buyers, so you won't be waiting around long for the right offer to come in. Domain Magnate will handle every part of the selling process as a full-service website broker, from negotiations to escrow transfers.
27. Alexander Hoffman of Dealsflow.com
Alexander Hoffman is an Industry Manager and Data Strategy Lead at Google. He works at Google's office in Munich, Germany. On Dealsflow.com, you'll find a link to Alexander's personal LinkedIn page so you can get to know him on a closer level. From his LinkedIn page, you can gather that he is extremely knowledgeable in all things AI, digital growth, and big data.
Alexander's LI About section reveals that his main role at Google is growth advisor. In this role, he helps companies make the most of their data and apply it to artificial intelligence. He has a long history of work at major consulting firms such as Capgemini Consulting. He also started his own tech company, joining together with a friend from University to build an e-learning platform.
Alexander attended school at WHU Otto Beisheim School of Management and received both his Bachelor and Master of Science degrees in International Business Administration. For the past 5+ years, Alexander has worked for Google in many roles, from Associate Industry Manager to his current role as Industry Manager and Data Strategy Lead. Dealsflow.com was created as a side project for Alexander while working at Google.
Dealsflow is a site that centers around the buying and selling of digital assets such as websites. The main function of Dealsflow is a newsletter subscription that includes special information about market trends, exclusive deals, and what Alexander is up to in the world of digital investment.
The site offers a place to sign up for this newsletter and invites you to join more than 300 digital investors by joining the subscription plan. The site also has a section created for those looking to sell their sites and offers a service to evaluate your business, determine what it's worth, and sell it for a profit. There's a section of the site called Insights, which serves as a blog home for several articles about buying and selling websites for a profit.
Finally, Dealsflow is also a course provider for anyone who wants to educate themselves on digital media buying.
28. Brendan Tully
BrendanTully.me is a small blog website that talks about:
Search engine optimization
eCommerce
Digital marketing
Website speed
It stays fresh with Brendan Tully's updates, including new blog posts on current trends. The website doesn't have many resources on it, and it only has one page of content, so you can't get lost. All you can do is scroll on one page, read his blog articles, or click on links to his other sites.
If you're trying to build and scale a successful online business but are having trouble, the BrendanTully.me website may offer some helpful information to troubleshoot and overcome challenges.
We took a look at the most recent version of his website to assess what type of content is available:
Starting at Brendan Tully's oldest blog posts, he begins talking about the basics of eCommerce marketing. This information is included via an audio link to a phone call that Brendan hosted with Sean from a company called Visible HQ. On the call, they talk about the basics of a strong online store.
After that, he includes a post about fixing common WordPress speed issues. It's a short post with just a few recommendations. More so, this blog post serves as a home for extra links to content that covers the topic.
Then, there's a post with a link to a video of Brendan Tully speaking at a marketing summit on the topic of eCommerce marketing at several profit goals, from five to seven figures and beyond.
The post that comes next is another similar post with a video link of Brendan Tully speaking on a podcast about the best strategies to increase search engine optimization. However, this topic was posted back in 2017, so the content may not be relevant any longer.
After a short post linking to other projects Brendan has worked on, he includes another link to his second podcast interview with the same host, this time covering local SEO strategies.
Finally, the most recent topic that BrendanTully.me covers on the website is optimizing WordPress speed optimization. This post includes an audio player where you can listen to Brendan speak with Smartbrand Marketing about different website speed optimization services. This post plugs a link to Brendan's other business, WPSpeedFix.com.
Though not a topic covered in any blog posts, the site also covers the other companies and projects that Brendan Tully has worked on or is currently working on. This is located on the left-hand side of the page and serves as a sort of navigation.
The End of the Line
There you have it. Hopefully, this list helped you find an expert that you could get along with. If you think we've overlooked someone or simply believe that there's an up and coming SEO superstar, ping us at odys.global/contact.