If you are into investing and looking for portfolio diversification, you have most likely tried classical investing methods such as stocks, ETFs, and traditional types of assets like real estate. You could follow the latest trends and invest in crypto and NFTs, but there's one investment idea that most people overlook. It's investing in such digital assets as domains and websites.
Premium domains and websites aren't a speculative investment for quick money, but rather a way to expand your portfolio over time. Let's dive deeper into what domain investing and website investing are exactly, what are the pros and cons of each of them, and what will work best for you.
Understanding Domains and Websites as Digital Assets
While NFTs are dominating the world of digital assets, domains and websites remain tangible investments that can provide substantial pay-offs provided the right timing and intuition. Some even pursue domain investing as a full-time profession! Nevertheless, even considering the similarities between domain and website investing, there are crucial differences to take into account.
Domain investing could be quite a profitable pursuit considering each domain's unique name and the limited number of truly exclusive domains on the web. For example, owning a domain such as "hotels.com" could be highly valuable to hotel entrepreneurs, but it comes with a steep price tag – it was sold at a whopping $11 million, which clearly shows its scarcity and exclusivity. "tesla.com" and "vice.com" are in the same boat: the former was sold for another $11 million, while the latter was priced at $30 million when being sold. As with any type of investment, domaining has one simple goal, which is to make money. Investors usually buy premium domain names, hold onto them till their value goes up, and then sell them for a profit.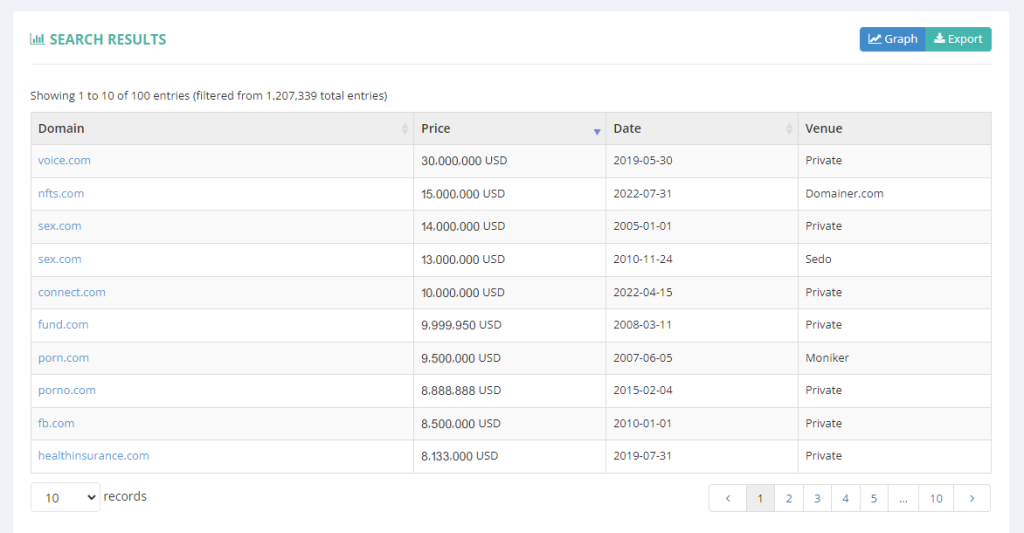 If you're looking for quicker passive income opportunities without having to build a website from scratch, you might also consider buying full-scale websites. Website investing simply means that you're buying a pre-developed site that could already be generating some passive income (or not), so you can potentially start making money right away. However, this strategy typically requires a larger initial investment than buying domains and might be riskier in case no proper due diligence is performed.
Everything You Need to Know about Building a Domain Portfolio
If you're interested in domain investing, it's essential to understand the various types of domains and where to find them. Domains can basically be either newly registered (fresh) or aged (aftermarket), and while you can use both types to make money, owning an aged domain is generally considered a safer investment. Nevertheless, no matter the domain age, what actually counts is knowing how to spot a good one.
When evaluating a domain, start by looking at the name itself. It must be simple to pronounce and represent a clear direction for the associated business. Brandable domains are short, non-keyword names with no particular descriptive meaning that could eventually become associated with a particular business, thus creating brand awareness. Descriptive domain names might consist of several words with a relevant keyword and they usually speak directly about the said business.
It's also important to consider the domain's TLD. In general, ".com" domains are the best choice for a business owner's portfolio. Last but not least, it's essential to consider current market trends and register or purchase domain names in such booming industries as cryptocurrency, cooking, technology, or fitness, for instance.
Once you've figured out how to find a good domain name for your business, you now have to decide where to get it. If you're registering a new domain, you can check to see if it's available and register it with a strategic TLD. As for aged domains, they're found on auctions, in social media groups, and in dedicated communities among other places.
Nonetheless, the safest way is to use an official and proven domain marketplace, such as Odys Global, that has done proper research and selected the most brandable names. The company takes each of the domains published on the marketplace through a rigorous due diligence process. In other words, you can never go wrong with them. Alright, let's say you've bought a domain – what's your next step?
After getting a domain, it's crucial to increase its potential by either building a brand around it or waiting for the market to grow and then selling it under the most beneficial conditions. Domainers normally sell their portfolios for 10 to 100 dimes the initial cost, making domain investment quite an attractive option compared to others.
There are a few different ways of selling a domain, either in the aftermarket, dedicated marketplaces, or directly reaching out to prospective buyers. However, whatever the platform, it's best for the domain to be packaged as a landing page, highlighting why investing in it is the way to go for the buyer.
Summarizing all of the above, investing in domain names could be a lucrative way to diversify your portfolio with a positive ROI. But it's also important to conduct proper research and follow a clear due diligence process. Don't just rely on blind intuition.
Investing in Websites — Turn Them into Cash Cows
Website investing is another way to generate passive income but requires much more effort and knowledge than domain investing. It is quite similar to investing in real estate that also involves maintenance costs besides the initial investment. But, compared to real estate, the lifespan of a website between building and selling is only about 1-2 years, so with a repetitive process of buying and selling websites, you can definitely increase your wealth. Let's take the process step by step and see how you can turn a website into a cash cow.
Buy or Build?
There are two options when it comes to website investing: buy or build. Buying websites means you can find one that has already been developed and, possibly, even monetized. Building websites means you acquire a domain, produce relevant content to your niche, and add it to your site, constantly optimizing its performance. Some investors even mix both options, as a way to decrease risks. Let's take a closer look at each of these.
| Website Building | Website Buying |
| --- | --- |
| Time-consuming: Building a website can be time-consuming, especially if you do not have the skills or experience. | Time-saving: Buying an existing website can save you a lot of time as the website is already built and running. |
| Full Customization: Building your website from scratch gives you complete control over the design and functionality of your website. | Limited customization: You may have limited control over the design and functionality of an existing website. |
| Cost-effective: Building a website can be cost-effective, especially if you have the skills and time to do it yourself. | Higher cost: Buying a website can be expensive, especially if it has an established audience and revenue. |
| No established audience: Starting a new website means you have to build your audience from scratch, which can take time and effort. | Established audience: An existing website may have an established audience, which can help you get traffic faster. |
| No established revenue: Starting a new website means you have to generate revenue from scratch, which can take time and effort. | Established revenue: If the website is already generating revenue, you can start earning immediately without having to wait for your website to start generating traffic. |
| SEO efforts: Building a website from scratch means you have to start from scratch with SEO optimization efforts, which can take time and effort. | Established SEO: An existing website may have an established SEO, which can save you time and effort in optimizing your website for search engines. |
| No hidden issues: Building your website from scratch means you are aware of all the technical and legal issues that exist. | Hidden issues: There may be hidden issues with an existing website, such as technical issues or legal issues, that you may not be aware of before buying. |
The Odds of Buying a Website
By buying a website, you buy the time and effort the owner has put into building it and, therefore, save your time for more strategic things, such as quick wins, scaling, and ROI. However, in order to buy a website you need a bigger budget, which isn't an option for most beginners. Of course, there are cheap websites for sale, but they usually don't make any money, not necessarily because they were abused or poorly built – they could simply have been created without commercial performance in mind.
Usually, websites are valued as multiple of the monthly revenue in the last 1-3 years, which may seem like a big investment, but financially speaking, they ensure a stable cash flow during the next 3 years (in case you choose to flip the website). As for the places to buy a website, you can choose between specialized marketplaces like Flippa or Empire Flippers or target dedicated groups and communities. The advantage of specialized marketplaces is that they have verified listings and you have some guarantees in place, but it is often associated with a higher cost.
The Perks of Building a Website
By building a website, you are directly involved in the process, which means you can control the structure of the website and keyword choices as well as optimize it to get more traffic. But it comes with a time cost, which means you'll have to figure everything out by yourself. For the first website, it may take months to years, but as you build more and more, you get to gain expertise and then can repeat the process all over again.
Generally, the process of building a website involves picking a niche and a domain name, doing keyword research and clustering, constantly adding content, and optimizing it for SERPs. The content is usually a mix of informational and commercial content, which ensures longer average sessions, as well as higher revenue.
How Do You Make a Website Make Money?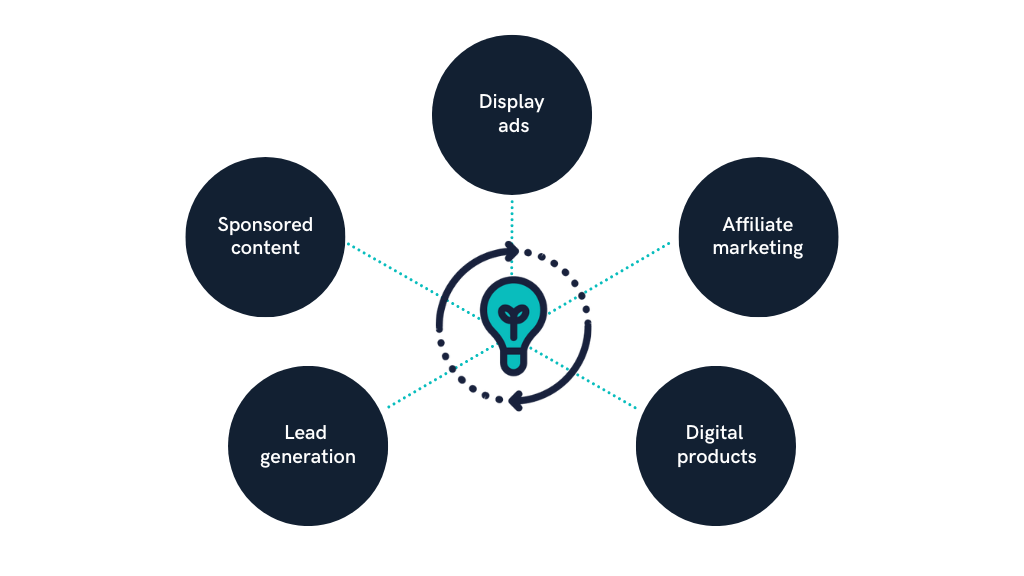 Regardless of the option, the goal of a website is to make money and there are a few ways to do it. Affiliate marketing, display ads, sponsored content, lead generation, and selling digital products are all tried and tested means of site monetization. Depending on the niche and website traffic, the site's earning potential is potentially endless. However, as was mentioned above, website investing requires serious research, such as analyzing the domain and backlink profile, checking traffic numbers and trends (they often are fake!), and revenue reports. Do your due diligence and understand the risks to make more informed decisions.
Investing in Domains vs. Websites: Which Is Best?
Investing in domains and websites is a profitable way to diversify your portfolio. The best part is that the web is growing, meaning they both grow in value. Investing in domains is a good option if you have a starter budget and want to be less involved. On the contrary, if you have a passion for building websites and are open to making this a permanent income stream, you should consider investing in them.
Can you earn good money from investing in domains and websites? Absolutely! There are thousands of people who are doing it at this very minute. Is it risky? Perhaps, if you don't do proper research. You can also reduce the risks of operating a website by diversifying traffic sources, thus securing your income in case some search engine update boxes you into a corner. Domains and properly built sites with traffic coming from various sources will help you secure your investment.
Domain and website investment is an up-and-coming class of assets that is becoming increasingly popular among entrepreneurs looking for opportunities in digital business models.