People love bright, new, shiny things, whether it's a new car, computer, or apartment. The same goes to domains, apparently, for multiple reasons: highly personalized domain name, low price, and availability (in most cases). However, aftermarket domains are a thing that could be compared to collected wines, vintage cars, or even secondary housing in premium locations. That is, if they were properly used and taken care of.
These are the domains that we at Odys Global specialize in. The Odys Marketplace only contains high-quality aged domains that go through our due diligence process before getting listed. What's due diligence? Well, you can get to grips with it right over here. In a nutshell, it's a process to make sure that each Odys domain meets the highest standards and holds a tangible potential for each and every member of our platform.
Now, there's one important thing to mention – basically, the reason for this blog post, – the moment a member buys an Odys domain, they are taken by the hand and provided with all the assistance they need to set their purchase up for work and prosperity. And there's no better person to do this than Alexandru Carpovici, our in-house Technical Account Manager. He takes on a number of things while working with Odys members, but we'll try to boil it all down to the most crucial things that you should know.
Before You Even Know It
It all starts well before you actually buy an Odys domain. First, you get to talk to our Account Management team and, if needed, you can schedule a strategy call with either Alex Drew, the Odys Global CEO, or Sean Markey, an SEO expert and Odys Spotlight author. During these two stages, you will be advised on choosing the right domain for your needs and its prospective growth.
Once you're done there, it's tech assistance time! Alexandru will look into what you want to do with the selected domain and will explain how you could do it. Even though it may sound pretty similar to what was mentioned above, it actually lies more on the technical side of the process.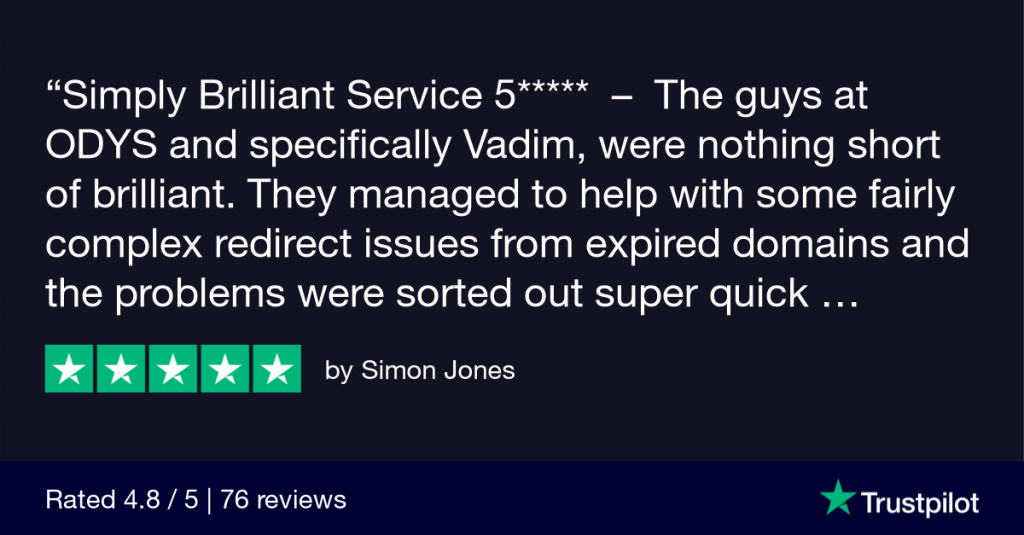 Whether you want to build out a new site on the domain or use it for 301 redirects, this is the stage where Alexandru implements the Odys' vetted strategy for your further actions. In other words, you'll get all the information you need, both technical and strategic, before ultimately getting to work on your newly purchased Odys domain.
301 Redirects: Aged Domain – Fresh Advantages
Now, there are three things our Technical Account Manager helps our members with after they purchase Odys domains. One of them, as was mentioned above, is 301 redirects.

Let's say you already have a site that's gaining traction and getting a steady traffic flow with all the consequent advantages, including brand recognition and earnings among other things. Or you might have registered a new domain for your business and want to give it a boost. And then you find an aged domain in the Odys marketplace that can specifically boost your website's metrics and your earnings simply due to the former's authority accumulated over the time of its use by its previous owner.
Obviously, it should be a domain that sounds like it relates to the particular niche of the site you want to redirect it to. That is, if you're running a site selling shaving products, buying a domain that reads like, for example, TopShoeLaces.com would neither be smart nor helpful. But, if you see a SharperCleaner.com, then that's more like it! Of course, you'd also have to make sure it's been used in the same niche, so that you won't get penalized by search engines for misusing the domain, since its mentions on authority sites and indexing are all tied up to the 'shaving products' niche.
But don't worry, you'll have the person by your side, who will help you figure it all out even if it's your first time doing a 301 redirect. Alexandru will talk to you and define your needs and will then check all the Odys domain's existing backlinks and their relevance to help you set the redirects up correctly (which also concerns the niche relevance) before you launch the thing.
Speaking of our vetted strategy, we'd recommend you to build a temporary content site on your newly purchased aged domains first. At this step, our Mr. Technical Account Manager is going to explore your content ideas and guide you towards the most optimal solution, making sure all the indexing is in place, before you migrate the content. This way we are able to reinforce redirection as we make a connection at the content level rather than just pure redirecting.
When it's all said and done, Alexandru will make sure everything is redirected to the appropriate content and there's no conflict between the topics and the links leading to them. He'll also ensure there are no loops on the redirects and that all the backlinks take users to live pages, so no one gets a 404 error.
In other words, you'll have an expert at your side that you can trust your newly purchased domain with in all of its aspects. While, without a doubt, you'd be able to figure it out on your own (otherwise, you'd definitely wouldn't be doing this), you get to save tons of time and peace of mind by trusting this task to us. Why even bother with setting 301 redirects if you can leave it to the Odys' own Mr. Carpovici and focus on other things that are important to you, whether spending the time with your loved ones, chilling on the beach, or earning money? That's right – there's absolutely no reason for that!
And that's it! Buckle up and get ready for a massive traffic inflow!
Building Sites on Aged Domains: Getting the Upper Hand from Scratch
Redirects are great, no doubt. But a significant part of Odys members prefer building out new sites on aged domains. Doing this provides a much wider perspective on things and greater opportunities to monetize the project.

And, obviously, there's no better person to help you along the way than Alexandru. At first, our guru will do pretty much the same things to the domain as what was described above – check its backlinks, history, context, etc. He will make sure your needs and wants are clear and aligned with one another to help you revive the site properly and have a smooth transition from the old site content to the new one. Also, if you've had a strategy call with either Alex Drew or Sean Markey, whatever solution you've come to as a result, will also be taken into consideration to help you create the best site possible and implement everything you want in it.
"Okay," you might say. "But I've already built a fair share of websites on aged domains, I don't think I can do all of this myself."
And you're absolutely correct. In a sense. However, it never hurts to have an additional hand in preparing your launchpad before ultimately kicking it off, right? Either way, this will help you save both time and money, as it's part of the services Odys Global provides to all members. So, you can, plain and simple, take this off your mind and focus on other important things, such as developing a content strategy for your new site or looking for the best affiliate programs that you could profit off of while we take care of the rest.
Alright, let's get a closer look at all the other things we do for you in this context. Once all the smoke after the domain purchase clears out, Alexandru takes a deep dive into your needs and purposes and guides you through the tangled branches of the dark forest that is your new project and its starting point. This includes setting up WordPress for your site, backlinks (to make sure they are properly directed to the new link structure), and ensuring there are no loops.
When all of this is done, Alexandru audits your new WordPress site built out on your Odys domain from the technical SEO point of view. This includes checking the structure of its homepage and site's structure as such, making sure UX/UI design is implemented properly, verifying the robot.txt file is in place and configured correctly, as well as other things, such as checking and analyzing the sitemap, meta robots tag, and the site's security. Moreover, in case any issues arise, he will help you fix them, so you can venture on your new project's journey.
Once again, it's all about your time and costs. Odys Global wants each and every member to kick their new projects with a clear mind that's not clouded with all the matters that come with sorting things out and making them work the way you need. This is why we're here for you and why Alexandru takes care of your needs.
Fully Managed WordPress Hosting: As Smooth as It Gets
Last but not least is our hosting service. And this, once again, is where our Tech Account Management gem takes care of everything for you. So, if your hosting needs aren't yet taken care of, we can do it for you for an additional fee or for free, if you're an Odys Premium member (if you don't know what this is, you should check the thing over here). That means you'll have at least one full year free of hosting headaches.

Our hosting solution that also includes Alexandru's professional assistance consists of three main parts: Professional Server Setup, WordPress Setup and Optimization, and Security and Backup. Since this one is a purely technical array of tasks, we'll resort to bullet points.
When it comes to Professional Server Setup, Alexandru takes care of the following:
Server setup;
Apache optimization;
DNS setup & configuration;
PHP module installation;
PHP version upgrade;
PHP configuration changes;
SSL installation.
As for WordPress Setup and Optimization, it includes:
Installation;
Configuration;
Initial speed optimization;
Cloudflare integration;
Core updates;
Migration and backups.
Last but not least, Security and Backup consists in:
Performance analysis;
Configuration of the firewall;
Content recovery;
Hosting restoration;
Recovery of the database;
Local backup setup.
Seems like that's all concerning your hosting options with Odys Global. All in all, by trusting us with your hosting matters, you can rest assured that your site is safe and functioning and that all the probable issues that may arise will be resolved in due time.
Our Domains, Your Success
All of the above is to say that we care about you and your projects, and we really want you to succeed with each and every Odys domain. In the end, this is the reason we're taking our time to make sure each of our domains meets the highest standards in terms of quality, naming, and metrics. And having Alexandru at our side is an enormous advantage both for you and us, as you have a highly qualified specialist that is always there to take care of your needs and we just happen to have an in-house expert, who helps us live up to your expectations and our own criteria.