Even though purchasing an aged domain may not seem like a big deal, once you dig deeper into the process, there are lots of secrets to uncover. We've been into this business for more than a decade and there are still things to be learned. Investing in the due diligence process is the most important thing we do and it's essentially a never-ending process.
Why Is Due Diligence Important?
The process of purchasing an aged domain appears to be straight-forward but few people know what happens behind the scenes before a domain reaches the marketplace. You'll find only the most valuable domains on the Odys Marketplace, handpicked from all those thousands that become available on a daily basis – and all that is thanks to our unique due diligence process. What does that mean for you exactly?
Whether you're a new or experienced domain buyer, we've already done all the work for you, listing all the metrics and domain characteristics, so you can select the one that meets your needs. Our due diligence process spares you hours of research or unexpected costs, such as trademark infringements or penalties.

The Path from Sourcing to Publishing an Aged Domain
We use multiple sources to fulfill our inventory, including auctions, groups, and even our members' assets. No matter the source, a domain has to go a long road until it reaches the Odys Marketplace.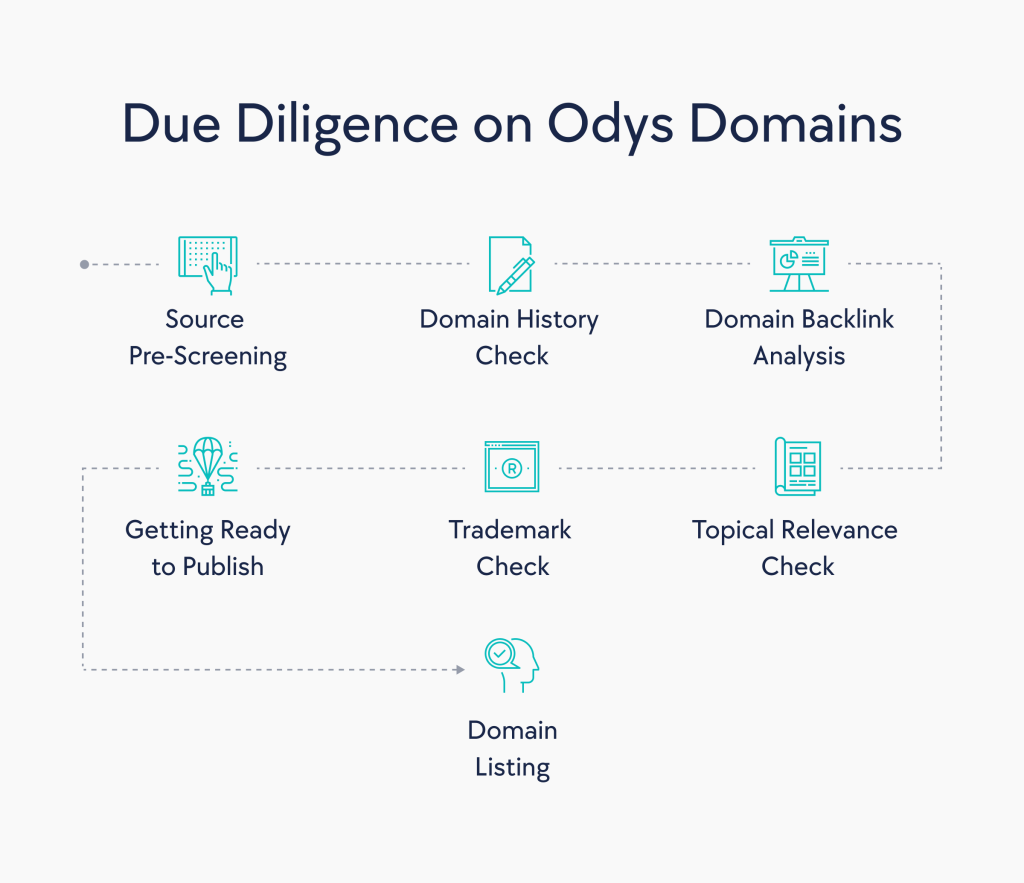 1. Source Pre-Screening
First off, we screen and analyze thousands of aftermarket domains for the minimum requirements, such as referring domains, DA, and specific TLDs. Our team goes through various metrics using such tools as Ahrefs, Moz, and Majestic. Then, the domains that qualify for the minimum criteria pass over to the quality assurance team for manual verification to make sure their history is super clean.
2. Domain History Check
Our team of domain professionals manually checks the list of domains from the previous step through various filters to ensure that they have a clean history free of any penalties or abuses. Then, the team checks the domain's real age, year-on-year changes, devaluation signals, whether the domain is still indexed in Google, and the snapshots from Archive.org. All of these measures ensure that the domain was used appropriately and hasn't been abused.
3. Domain Backlink Analysis
This next step is crucial, as it shows what resources were linked to the specific domain in the past and how relevant they are for it. Our team pays particular attention to the domain's mentions on high-authority resources, whose links are almost impossible or very expensive to get, such as Forbes.com, BBC.co.uk, Bloomberg.com, and many others. We also check whether any of the backlinks are foreign links (Russian or Chinese, for instance) or look like either spammy or controversial resources. Another thing we look into are the anchor texts of these backlinks, getting rid of the ones that contain spammy keywords or personal names.
4. Topical Relevance Check
Good backlinks are great, but it's also crucial to keep the domain content relevant to its main niche and topic. This is where the publishing team checks the top pages by links, which should ideally be a very close match to the general topic. These checks help define past Google penalties, if any, and clean them out to the core, ensuring each of the listed domains is clear for further ranking and growth..
5. Trademark Сheck
Buying a domain that has an active trademark is the least a potential domain owner would want. Our team of professionals checks if there are any active trademarks associated with the domain through various open trademark and patent databases, such as the USPTO Trademark Search. This step ensures that the domain infringes no trademark or intellectual property and saves you thousands of dollars that could be wasted on a potential trial process. Getting the domain ready for a new project also involves creating a professional brand identity developed by our designers. The logos are provided in multiple formats and options coming as a bonus with the domain purchase. We can also provide custom logo design on request.
6. Getting Ready to Publish
Before listing a domain on the Odys Marketplace with all the details, including SEO metrics and domain history screenshots, all of this information is revised by our specialists. Only then it is approved for publication. Also, we offer a personalized monetization angle, which gives a clear understanding of what one can build on that domain.
7. Domain Listing
As you may have already guessed, Odys Global works as a marketplace, so each domain is listed as a separate product with a details page, including all the characteristics and features of the domain. Each listing is 100% vetted by the Odys Global quality assurance team and goes through multiple levels of expert review in different areas before landing on the marketplace. All of the steps described ensure that you get the most out of the money you pay.
Odys Due Diligence Equals Top-Quality Domains
After learning about the path a domain takes on the Odys Marketplace, you know you're getting the most value for your money when purchasing a domain from us. Thousands of domains that have been acquired and published on the Odys platform have already undergone this due diligence process and it is a quality seal on all Odys domains that you can see when browsing our marketplace. Similarly, you'd want to follow the steps described above for any other domains you might consider buying from other sources in order to get a clean, brandable domain with SEO value for yourself.