The World Wide Web is a wild-wild place full of all the different beasts – those you can imagine and those you can't. And, just like in the real-life world, there are hunters and sellers that trade some of the most prestigious and precious things on the Internet – websites.
Websites are basically internet real estate. Users either create them or buy them from previous owners to do lots of different things. They use them as corporate web pages, online stores, affiliate marketing sites, blogs, etc. Naturally, some sly entrepreneurs noticed that this is a fruitful soil and created their own marketplaces that help website owners sell their digital properties and help buyers purchase them. They are Website Brokers.
There are quite a few website brokers on the web, but some of them stand out, being some of the most prominent representatives of this branch. We reviewed nine of the most renowned companies dealing in digital properties and took a brief look at how they work.
Digital Exits
Digital Exits was founded in 2013 by Robert Kale, the company's only broker. The company has closed over 100 deals globally since then.
This broker deals with customers from a wide range of industries – from pet care products to software and everything in between. In other words, no matter from which industry a business comes, its owner will be able to sell their site or supposedly buy one. There's a catch, however, if your business is worth less than $250,000 or more than $5,000,000, Digital Exits won't deal with you.
The company has a rich portfolio of clients and manages to handle them well due to its experience and expertise in the market. However, it only has one broker – its founder and owner, which significantly limits Digital Exits' focus and can leave many great deals out of sight. This also may result in failure to meet deadlines, inadequate prices, and other disadvantages.
Investors Club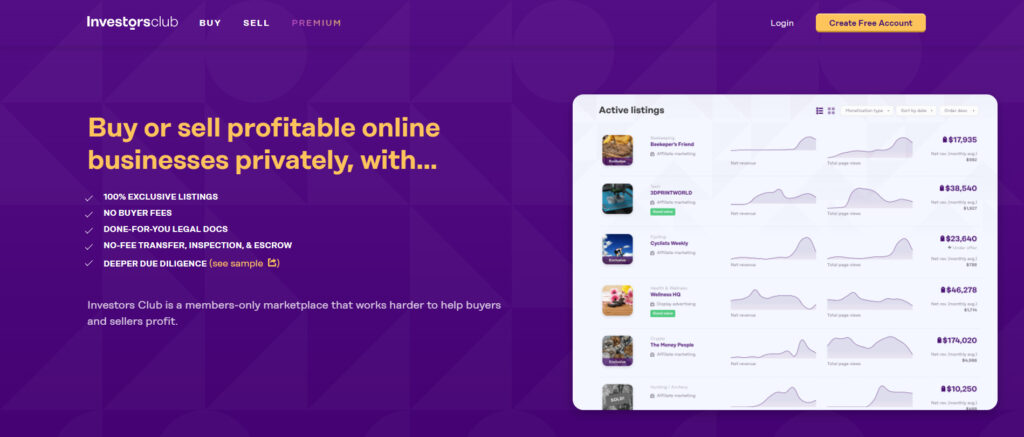 Investors.Club is the brainchild of Andrej Ilisin. He started off in 2013 by selling his first successful site for $8,400. Things escalated quickly for Andrej and just two years later, in 2015, his next site brought him $51,900. His next step was launching Brand Builders, which was a DFY site building service and had ultimately been sold for a 7-figure sum in 2017.
Fast forward to 2019 – Andrej launches Alpha Investors and sells it for another 7-figure in just one year! In 2020, he finally founded the Investors Club – a broker and marketplace for sites that make at least $500 a month in particular via display ads and affiliate marketing.
There are several things that set the Investors Club apart from other website brokers. First off, this is the only site brokerage in our list that provides full due diligence reports on all of its listings. So, whatever you see placed for sale on the site is actually duly checked, verified, and good for transaction. The same applies to sellers: if you want to sell through Investors Club, make certain your site is clean of penalties and SPAM in order to pass the due diligence procedure. Whether you sell or buy, the company offers no-fee Escrow transactions. Also, you don't need to pay any additional fees for legal verification, mediation, migration, inspection, and even listing itself. If you want to find off-market deals, you can order this service for additional pay.
Speaking of fees, Investors Club capped their fee at 7% – one of the lowest in the industry, if not THE lowest.
Last but not least, the company currently works with 4,000 clients, which isn't that many, so you may count on an in-depth cooperation when dealing with them.
So, if you want to buy or sell a content site or eCommerce business, you may want to check out the Investors Club.
Empire Flippers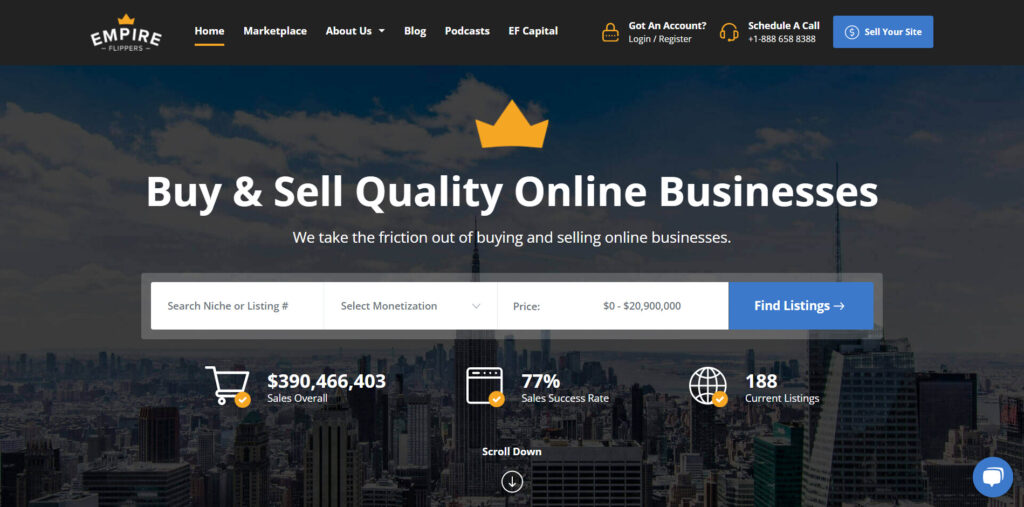 Empire Flippers is an Inc. 5000 company that works with buyers and sellers globally, dealing in profitable websites. According to the company's website, it has already helped its clients to buy and sell over $375 million worth of web businesses.
Empire Flippers is regarded as one of the reliable options for owners of profitable online businesses, who want to list them online. In the meantime, this is exactly what attracts those who want to invest in these businesses and skip the growth stage, readily landing a profitable venture. Empire Flippers also offers its clients to value their sites via analytic metrics, such as income, mode of monetization, and web traffic. This company lists only thoroughly vetted listings, making sure it provides its customers with quality deals.
There are a few drawbacks, however. For one, website sellers have to pay considerable commission fees – from 8% (for websites over $5 million) to 15% (for sites cheaper than $1 million). As for buyers, they have to do their own research before closing a deal, which includes finding out who the owner is, revenue and cost analysis, and checking the stats among other things. Not the most advantageous deals, even – or especially – considering the prices Empire Flippers sell their listings for, and not the most reliable mode of buying one.
The Website Flip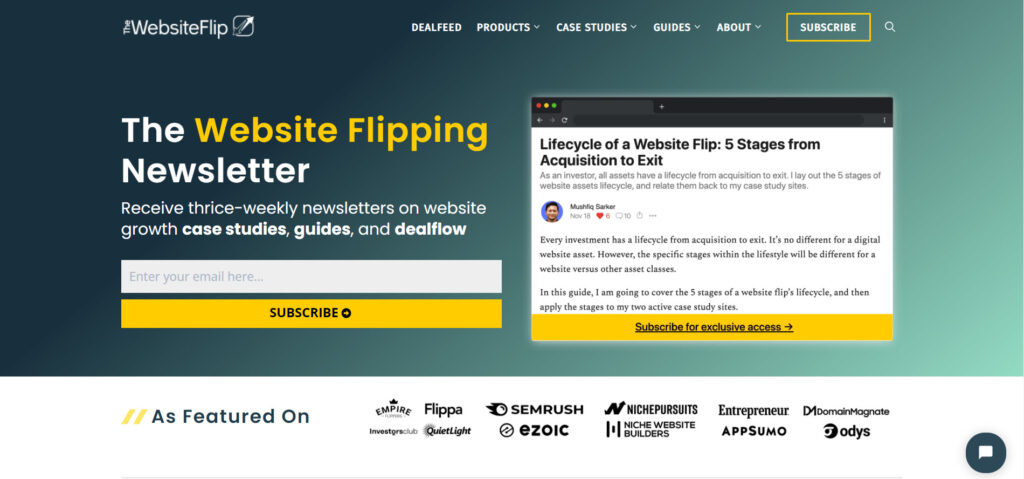 The Website Flip is one of the most renowned website brokerages in the world today. The company was founded by Mushfiq Sarker after years of exploring search engine optimization, affiliate marketing, and website building. Needless to say, he's also been doing these things while studying them.
While The Website Flip was officially founded in 2020, Mushfiq's journey started in 2008 when he discovered SEO and built his first site in the VoIP niche. Two years later, he sold that site for $25,000 and this was the start of it. Over the years, he's formed a team that constantly and consistently works on providing relevant and useful information on building, growing, and selling websites.
This site is basically a brokerage where clients can either buy or sell their sites. The Website Flip has a due diligence process, too. Thus, if you want to sell your site, you should note that its history and metrics will affect the price Mushfiq and the team will place on your offer. At the same time, if you want to buy a site here, you may rest assured that you'll get a fair deal.
You may also find deals from other brokerages listed on The Website Flip. You can view them in the general list or go by separate categories, choosing the one you need below the main dealfeed. These categories include Amazon Affiliate, Amazon FBA, Ecommerce, Dropshipping, and Newsletters among others.
Moreover, The Website Flip offers several courses including those covering website flipping and aged domains to name a few.
Exchange Marketplace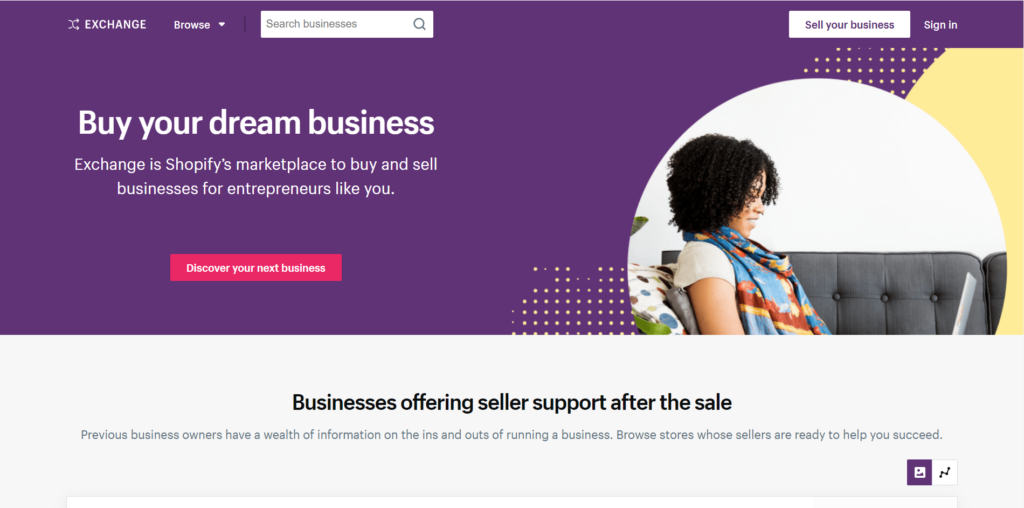 Unlike the companies described above, Exchange Marketplace is a platform that allows its clients to buy and sell Shopify sites only. Naturally, it's owned by Shopify.
Shopify is known to power over 1 mil. stores from all over the world, so setting up its own store that lets people buy or sell stores is a safe and comfortable thing to do for all parties involved. Hence, one thing to understand about Exchange Marketplace is that it doesn't deal with any other e-commerce solutions. Shopify stores only.
In short, Exchange Marketplace has an easy-to-use marketplace with a simple buying and selling process and secure Escrow payments. However, if you're looking to buy or sell a non-Shopify website, this is not the place. Also, buying from Exchange Marketplace means you can't build sites from scratch, so you'll have to go with whatever you get.
FE International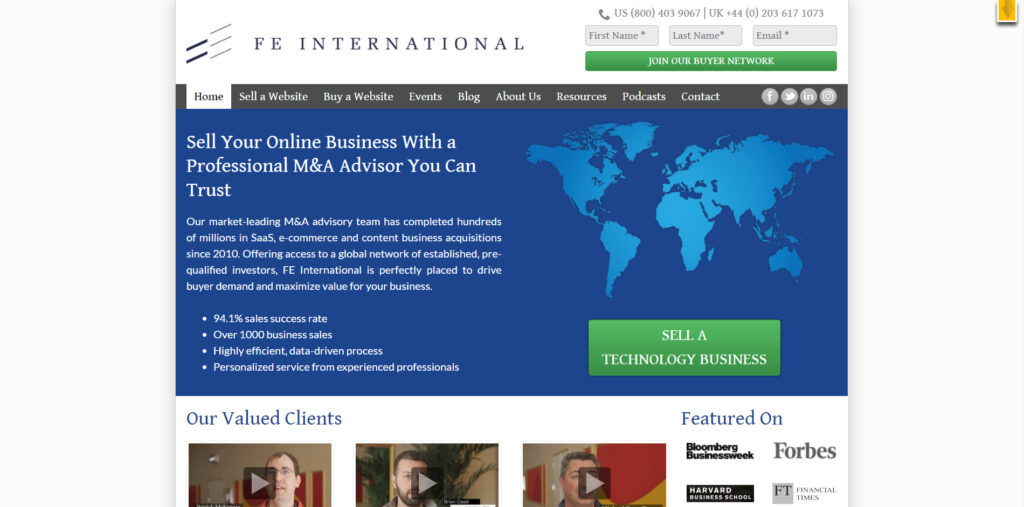 FE International is essentially a merger and acquisition advisory team, specializing in selling websites and unifying businesses in the content, e-commerce, and SaaS industries. The company generally deals with mid-market operations, listing assets that fall within the range of $25,000 and $1,000,000.
The company has several brokers at its disposal, which reduces interruptions in the sales process. FE International's system allows it to connect sellers and buyers from all over the world, ensuring seamless transactions. It seems quite transparent in terms of how it processes every deal and transaction, which definitely plays into its hands trust-wise. And, perhaps, one of the company's most notable advantages is that it doesn't limit its services to large-scale enterprises only, like other similar companies do, but rather focuses on mid-market operations, encompassing as large a client base as possible.
Perhaps, one of the most crucial drawbacks of dealing with FE International is its due diligence process – it's just not that diligent. Once in a while, you may run across a fraudulent asset or low-rated site that is still priced at quite a significant rate. So, if you decide to buy from FE International, be cautious and do your research before making a payment.
Latona's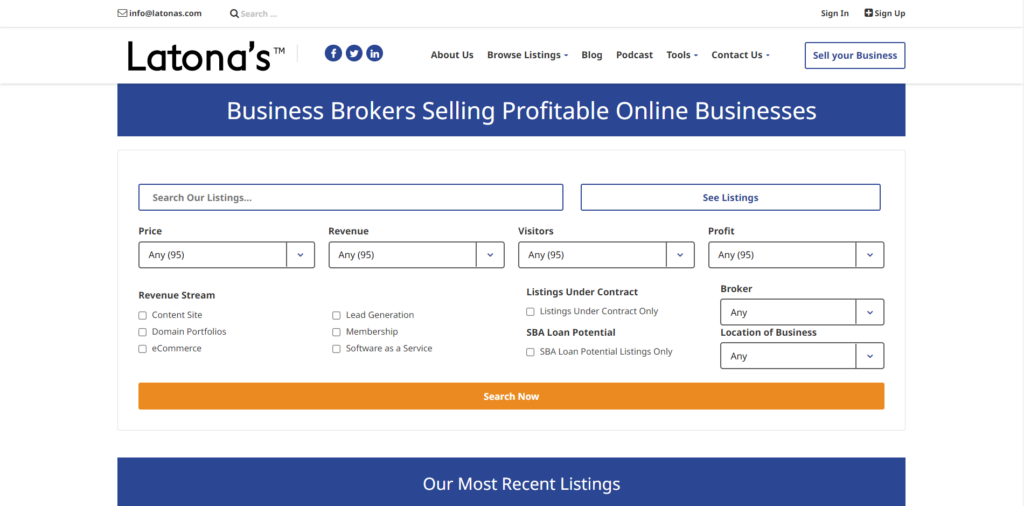 Latona's first emerged in 2008, originally named simply Domain Brokerage. The company manages the purchase and sale of multiple popular domains. To be more specific, it deals in websites, e-commerce, SaaS, memberships, lead gen, and portfolios. In other words, Latona's has a rather wide reach in terms of its deals.
The company focuses on two key demographic segments: entrepreneurs, who want to take advantage of high-traffic domains, and website owners, who want to sell their domains. Naturally, entrepreneurs can use these domains to generate passive income via affiliate links and sites. As for website owners, they simply can sell their successful domains with clear history and backlinks that the aforementioned entrepreneurs can then use for their purposes.
As was mentioned above, Latona's has a wide range of diverse niches it works with. It also makes sure that its listings are of high quality, ensuring the presence of clear, valuable domains on its marketplace. Considering it was founded in 2008, Latona's is a rather experienced website broker with a reliable reputation. Buyers don't need to pay anything while browsing listings unless they buy a domain from the seller.
Latona's, however, does have several drawbacks. For one, its site isn't quite user-friendly. It may be confusing to those, who aren't familiar with the world of website brokerages. The website is rather outdated, which impedes the user's progress. Another thing is that the sites listed on the Latona's marketplace have exaggerated valuations, as was reported by some of its users.
Quiet Light Brokerage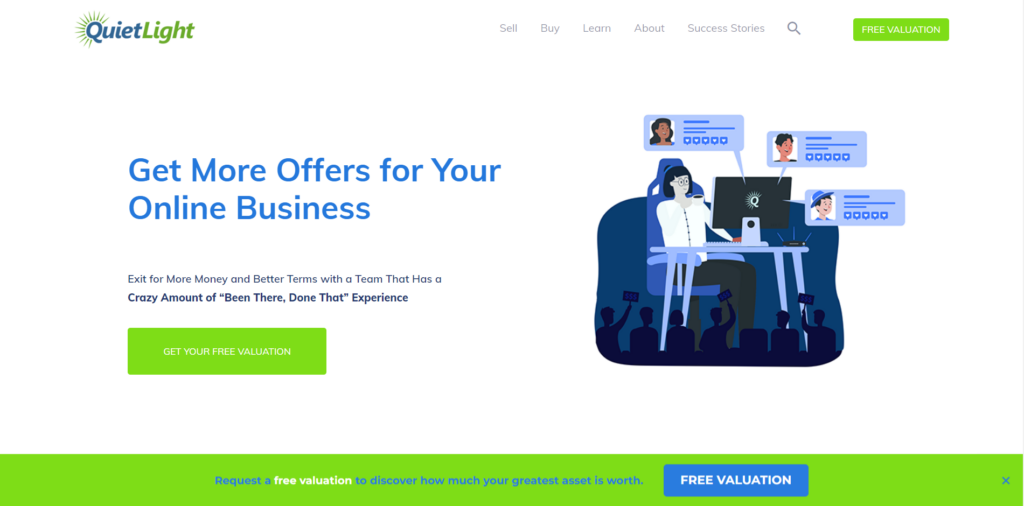 Quiet Light Brokerage was founded back in 2006 by Mark Daoust after he had a conversation with his friend that was thinking about selling his web hosting platform. Over the course of its history, the company has sold over 600 websites, garnering over $300,000,000 in transactional value.
At the moment, Quiet Light Brokerage has at least ten advisors, who assist the company's clients in getting the most advantageous deals they can. In other words, if you want to either sell or buy a domain, you will get quality assistance from this broker.
If you decide to deal with Quiet Light Brokerage, you will be able to enjoy transparent information, no-obligation consultations, and entire business evaluations among other things. Whether you sell or buy, the company will sign a confidentiality agreement with you before getting any business information, so you can be sure that your business secrets are safe with them.
It's also worth mentioning that Quiet Light Brokerage operates under a decentralized system, which means that the progress of your transactions will substantially depend on the broker assigned to you by the company. This means that if for some reason your advisor becomes unavailable, you might end up experiencing an interruption of provided services. In this case, another team member will ultimately be assigned to you and work on your case.
Another drawback is that Quiet Light Brokerage's pricing is not the most adequate. Many of the company's clients have reported that they were able to negotiate better prices on their deals. It may take some time. Perhaps, it's not the most serious shortcoming, but it's still something potential clients should consider before dealing with Quiet Light Brokerage.
Trustiu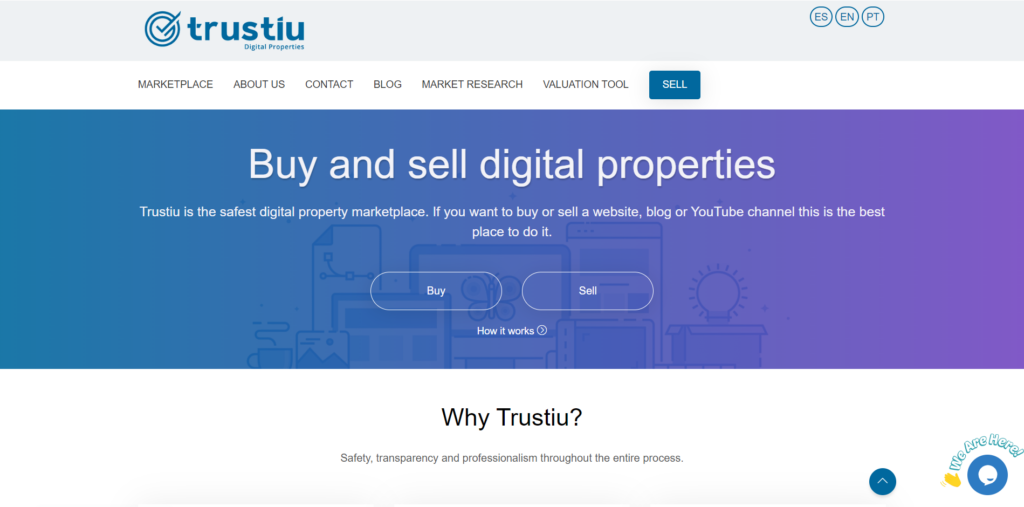 Trustiu is a broker that assists its clients to buy and sell the digital property. The mode of completing deals between buyers and sellers is meant to ensure that both parties benefit from them. One of the great things about the company is that it doesn't only deal with large companies – whether you just want to buy a profitable website or an extremely successful online business, Trustiu will help you do the best choice possible.
In other words, the company serves as a middleman, relieving the stress from the participants of each transaction. Trustiu's expert team appraises every single property before putting it on the marketplace, ensuring that all parties get a fair deal. As a result, the seller's digital property receives a fair price and the buyer gets all the information they need to understand what they're going to pay for.
There's a serious drawback, however. Clients coming from the CIS countries can't use PayPal and don't have other options for receiving payments, so they can only buy digital properties but not sell them, at least directly. The rest of the world, though, can use the service without limitations.
Flippa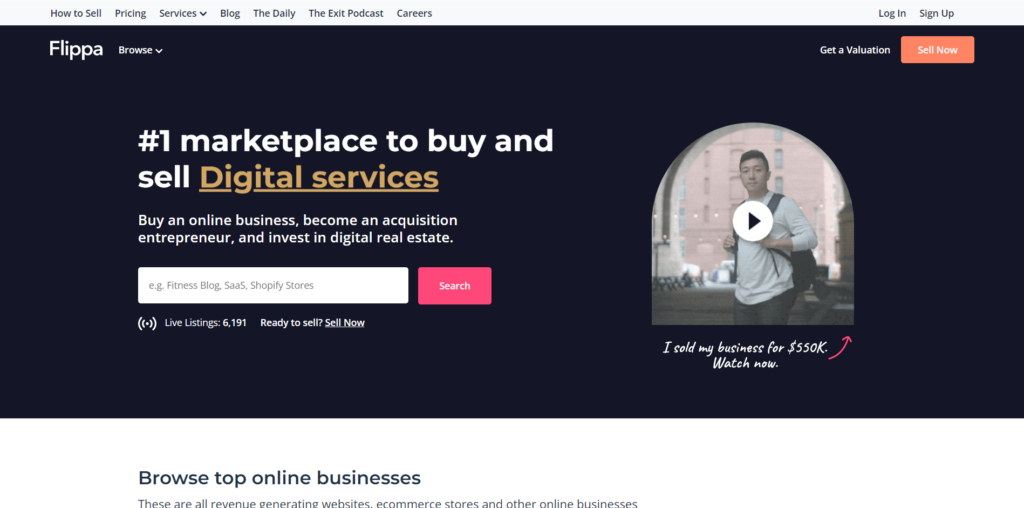 Flippa is essentially a website marketplace. Flippa sees over 30K new buyers joining its marketplace on a monthly basis, so you can safely say that it's a secure and popular site. Website owners can place their properties on the company's listings with specific descriptions, after which those who want to purchase a position start bidding on it.
The site provides detailed information about the seller, including email-based verification, government ID, and phone number. Flippa users can view detailed site information upon creating an account. This information includes traffic records for the past month, significant financial data, and miscellaneous notes from the seller that currently owns it. Thus, whatever you're bidding on, you always know what it is exactly.
In short, sellers are the undisputed beneficiaries of Flippa's services. They get a highly reliable platform to trade their assets, Escrow payment guarantees, and multiple price models. But buyers may experience some difficulties considering the huge amount and variety of sites listed on the marketplace. This may require additional vetting, so buyers can get a hold of good sites.