Aged domains have already proved to be a force to be reckoned with in the domaining market. However, there's a strange connotation associated with them, as if they're some hack or shortcut to immediate riches. The truth is that aged domains are a solid platform for basically any business, and any business requires solid, hard work to make it soar and succeed.
Angelo Sorbello has been doing SEO for 15 years now and became an Odys member a few years back. He has already had his share of experience with aged domains and after trying several options decided to settle with Odys Global as his go-to aged domain provider.
We've talked to Angelo and asked him a few questions regarding his path, his experience with aged domains, attitude towards handling websites, and many other things in between.

The Background
I started doing SEO in 2007 when I was in high school. I liked writing, and I wanted people to read what I was coming up with, back then there were no social media as we know them so I turned to SEO. I sold my first site in 2013 to focus on my studies. After graduating college, I started an SEO agency called LinkDelta.com and I've grown a portfolio of content sites which includes Digitale.co.

Finding Out about Odys Global
After I sold my biggest affiliate site back in 2020, I was looking to launch a new one.
Some fellow website builders kept telling me about the benefits of aged domains. I started to look for guides everywhere and DMing people on Facebook that I knew had success building sites on aged domains. That's when I started a conversation and a friendship with Azedine Djedid, who built lots of successful affiliate sites specifically on domains bought from Odys. Besides, I kept seeing Alex Drew, Odys's CEO sharing his expertise on Facebook and I learned a lot from some of his posts.

Previous Aged Domain and Niche Site Experience
In 2020 I was determined to experiment with aged domains, before getting my first domain on Odys I bought some through Godaddy Auctions doing the vetting myself, two of them were actually very successful and I ended up flipping one of them on Empire Flippers recently.
However, finding domains and vetting them is a time-consuming task and is not easy to outsource either. I value my time, and that's why I preferred using Odys for my next projects. I bought 3 domains from the Odys Marketplace over the last two years.

Why Choose Aged Domains?
As said before, time is the most valuable resource we all have. I consistently run outreach campaigns to get backlinks, and it's very challenging to score links to those high-level authority sites.
Starting with a domain that already has that power and trust can be a huge time saver and extremely helpful in niches where E-A-T is important, like finance and health.

A Perspective on Aged Domains' Potential
I was not sure how things were going to work out. Some people believe that using an expired domain is some sort of hack to quick riches, but it's not. Sometimes it can save some time to get out of the sandbox, but I noticed that in niches like health and finance, Google takes its time anyways to evaluate a site before ranking, even when it already has some of the strongest backlinks in that industry.
I see aged domains more as a long-term advantage. I treat each site like a real brand/business anyways but having those relevant high-level backlinks, which are challenging to get from day one, it's something that can help immensely along the way.

Considering Other Market Options
As said previously, I bought some good domains through Godaddy Auctions, doing the vetting myself, but it's extremely time-consuming, and I don't have all the time in the world, besides it's also hard to train someone to do the job.
I've also bought expired and aged domains on other marketplaces, and while I found some hidden gems there, no other platform matched the quality of vetting of Odys.
Some sellers have huge lists of domains, but you need to spend hours vetting them to find diamonds in the rough, which again is not ideal because I want to focus as much as possible on high-level stuff in my company.

The Best Odys Marketplace Feature
I'm more active in foreign SERPs, and many platforms don't have domains in other languages as Odys does. That's definitely one of the reasons.
I also like that you can now sell your domains, sometimes we all start too many projects or buy domains impulsively, and it's great to have the opportunity to sell some of these assets.
The fact that the domain comes packed with a logo and some suggestions on how to recover it's also nice to have.
Moreover, the experience with choosing and purchasing the domain was super smooth and helpful. I placed a deposit through a bank transfer and then bought the domain. It was quickly transferred to me.

Getting Support from the Odys Team
There isn't a lot of guidance on the internet about how to use aged domains for SEO. I had some specific questions about the domains, like should I recover the pages with more backlinks? 301 them to the home? Odys team provided me with helpful and expert advice that really helped me along the way.

Building on Aged Domains
I published relevant content on the pages with the most backlinks making sure to interlink them to other relevant money pages to pass the juice from those links.
I usually publish as much content as possible to cover the main clusters of keywords, I think it helps to establish the new topical authority quickly for the site.
Some nice-to-have are also social signals and running Facebook Ads to Chrome users. The last tactic is a cheap one, and it can help to get out of the sandbox quicker (you give Google more data/signal about how users interact with your site and your new topical relevance).

The Change of Perspective
Over the last few years, I have focused on treating my content sites as real brands, not just a site out there for me to make money. I believe that's the right mindset to succeed in this business nowadays.

Entering the Traffic Growth
One of the projects took off very quickly and is now on a growth trajectory.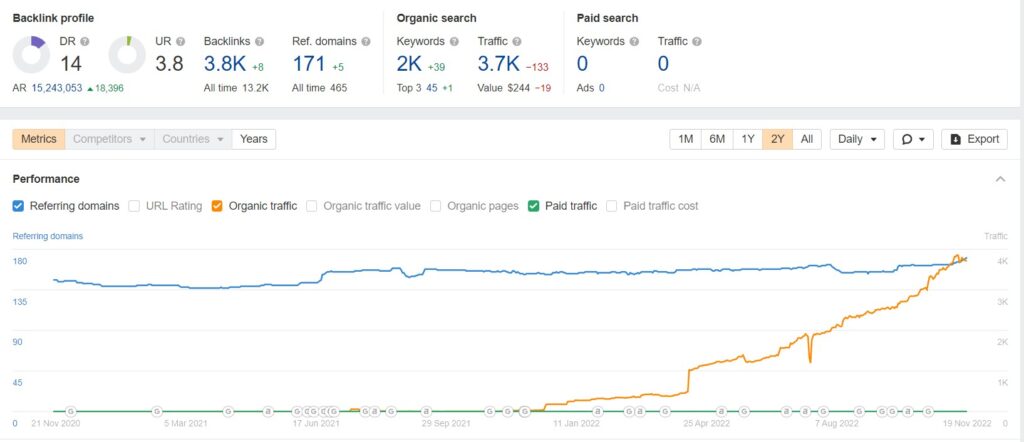 Others in more competitive YMYL niches took some more time to rank on the first pages as Google needs more data before it can trust the site. Your effort and how much content you publish to cover your topical map are correlated with success in this case.

Aged Domains VS New Domains – the Savings
Some of the links I have on one of my finance websites are so relevant and high-level that it would be challenging to get them so many and so quickly.
I don't think I would be able to rank for some competitive keywords in this niche after just a few months without these high-trust links in the industry.

Future Plans on Aged Domains and Business
I'm planning to focus on fewer projects and grow them bigger. The whole content sites and affiliate SEO industry is evolving, and some niches are becoming extremely competitive. Because of that, I think the name of the game is treating each site like a real business.
This also means eventually adding other sales channels beyond affiliate, i.e. I'm working on launching a physical product brand in one of the niches I'm in to maximize profits and have more control. Having an engaged audience already is a great advantage, obviously.

Advice for Beginner Entrepreneurs
I look primarily for links that would be challenging for me to get. You can always supplement with outreach yourself later on.
Focus. You don't need to have hundreds of sites to reach your income goals. If possible, start with a niche you have experience or passion for and grow that site until successful. It can be tempting to start more sites at the same time, but I recommend having a site earning well first and only then consider starting another one.
Patience is key. It takes time to build something great, but the return can be outstanding.
Create value. Again, this is not a hack. Treat the site like a real business and a business is out there to create value for others.
Ask for help but experiment yourself. There are lots of amazing people in the SEO industry, always ready to help and give advice. However, it's also important that you're not afraid to experiment and fail yourself. That's how you learn.

Why Recommend Odys Domains to Others?
I would absolutely recommend Odys to everyone that values their time and doesn't want to save hours vetting domains themselves.
Also, launching a business on an aged domain is helpful not just for SEOs. I would recommend Odys to every startup owner. Why launch on a fresh domain if a powerful and brandable domain is available?
For now, I'm focusing on the projects I already have, but if I had to start something new, I would definitely start it on an aged domain if I could find something relevant and brandable.

Commitment and Understanding Do Wonders
As you can see from what Angelo says above, if you want your sites to succeed, you have to treat them like businesses. Every single one of them, whether you have just a handful or a large portfolio of them. And if you decide that it's time for you to get an Odys domain, you must get at least some basic understanding of what an aged domain is and how to deal with it so it works properly. The good thing is that we're always there for you, so you can always reach out to us for advice or even a full-blown strategy call.
We've got premium aged domains, the domains that mean business. And we'll do our best to help you set your Odys domains right.