Premium domain names can be a powerful tool for online marketing and branding. Several sources are available to find premium domain names for sale, including specialized marketplaces for brandable names and auctions. Nowadays, people are looking for more than just good names, but also SEO value, which will help them maximize their search engine visibility.
We decided to include a review of the best sources for domain names, with a fair comparison of their pros and cons, in one post for anyone looking for a new domain name. For each, we'll explain the types of domains offered as well as why and when Odys might be a better option. Let's get started!
Brandpa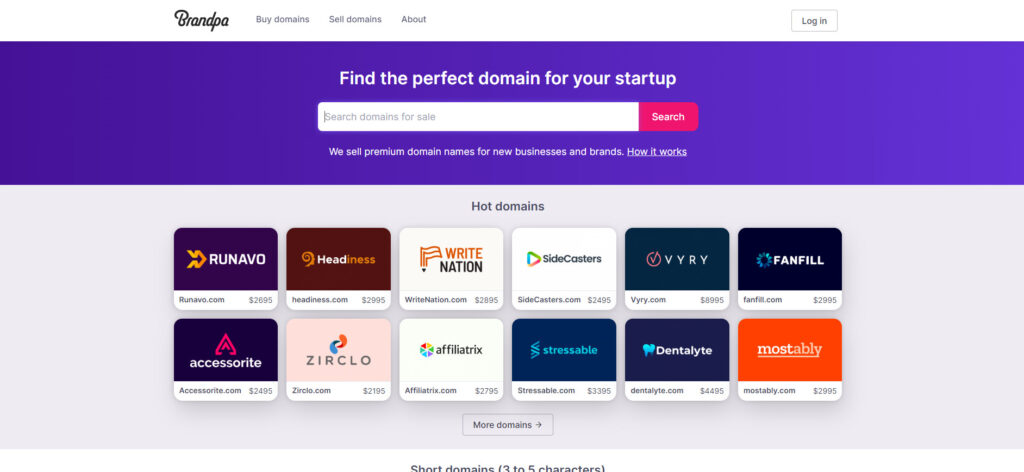 Brandpa is one of the strictly brandable domain marketplaces, selling domain names for any taste and budget. Domains are categorized into industries and styles, so navigating the site is easy and streamlined. It's also a platform for selling domains. Let's analyze the pros and cons of Brandpa:
Pros:
Buyers can choose from thousands of names in all industries. Additionally, they provide high-quality logos and allow buyers to preview names on different devices or stationery
Domain name listings cost $5 for sellers. They can set the desired price of the domain and get paid via PayPal or Payoneer. For sellers, the commission charged by the platform on each sale is 15% to 25% depending upon domain price
Cons:
For buyers, the domain names prices could be high (the highest is $350000)
The domains are only brandable, without any SEO Value
Sellers have to pay an upfront fee to list their domain name(s)
Brandbucket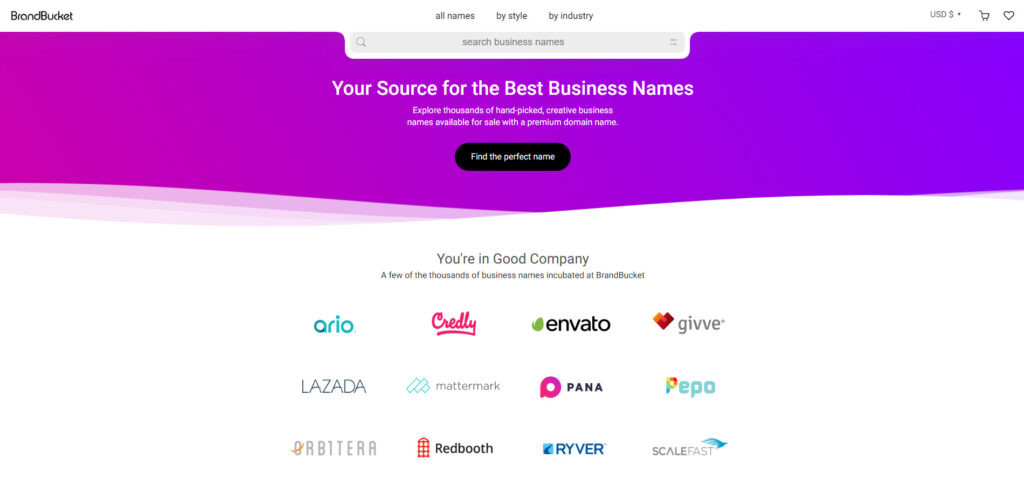 BrandBucket offers curated domain names on its online marketplace. More than 50,000 creative domain names are available across all industries. It is possible for sellers to sell their domain names through the site. The most expensive domain listed is $960000.
Pros:
There isn't much to set the platform apart, aside from it being one of the first to offer a brandable domain name marketplace. Similarly, to the other brandable marketplaces, buyers receive a professionally designed logo with the purchase of a domain name.
The available payment methods are the same as elsewhere. Domain sellers can choose their preferred selling price and get paid through PayPal or Payoneer.
Cons:
Buyers have to pay a transaction fee between $100-$500. The domain names can be costly.
For sellers, the commission charged by the platform can be 15% to 30% on domain sales, depending upon the domain price. The domain listing fee is $10 per name.
Squadhelp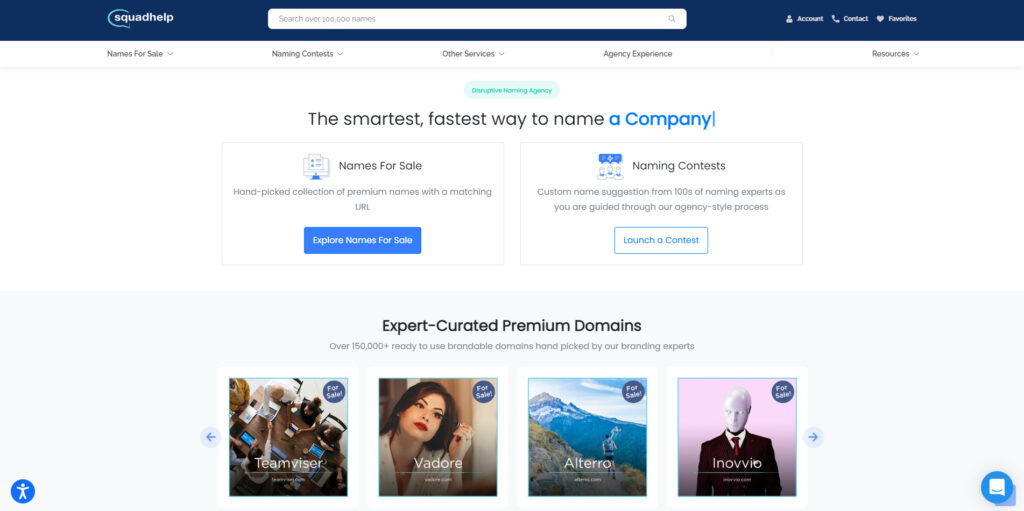 With Squadhelp, companies can find the perfect name for their brands, books, movies, etc. Buyers can purchase available domain names listed for sale. Over 75,000 premium domain names are available through Squadhelp for an average price of $1,500 to $3,000. Users can also list brandable domain names for sale.
Pros:
If you want to purchase a brandable domain name, Squadhelp offers a complete range of naming services in all niches. A complimentary logo is also available on the platform as part of a collection of resources for startups
Prospective sellers should know that there are no fees associated with standard domain name listings. Anyone can participate in the contests and sellers can get paid via PayPal or Payoneer.
Cons:
There are a lot of domains unreasonably priced by the sellers
High commission for sellers (about 35%)
Flippa Domains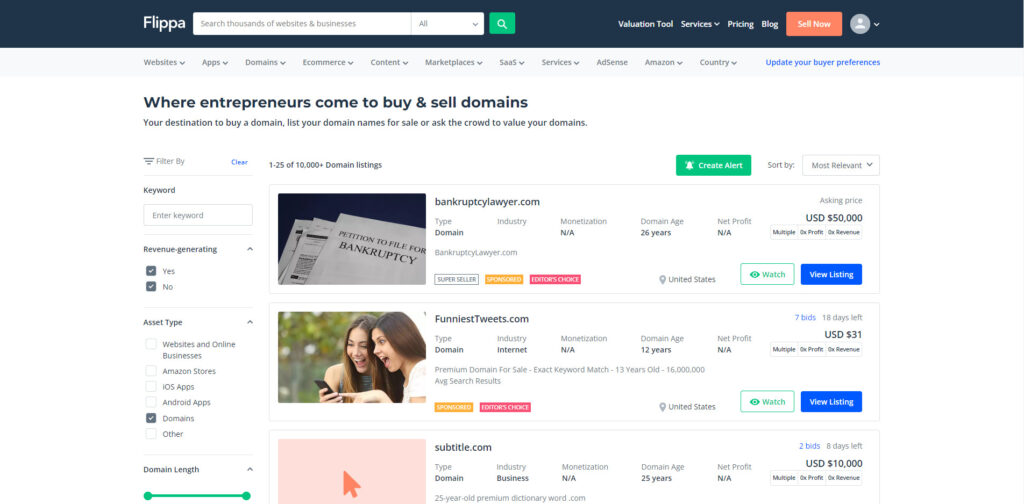 Flippa is another popular marketplace for selling and purchasing domain names. They also sell online businesses, including websites, apps, and content. Typically, premium domain names on Flippa are either auctioned or sold directly. You can keep up with the bidding by 'watching' domain names you're interested in and following auctions.
Pros:
Flippa is a quick and easy way to sell digital assets, with a friendly interface
They offer advanced features available like professional brokerage
Cons:
Sellers' exposure can be limited unless they pay for it
Investing in domains and other digital assets is riskier since they have not been vetted
Godaddy Auctions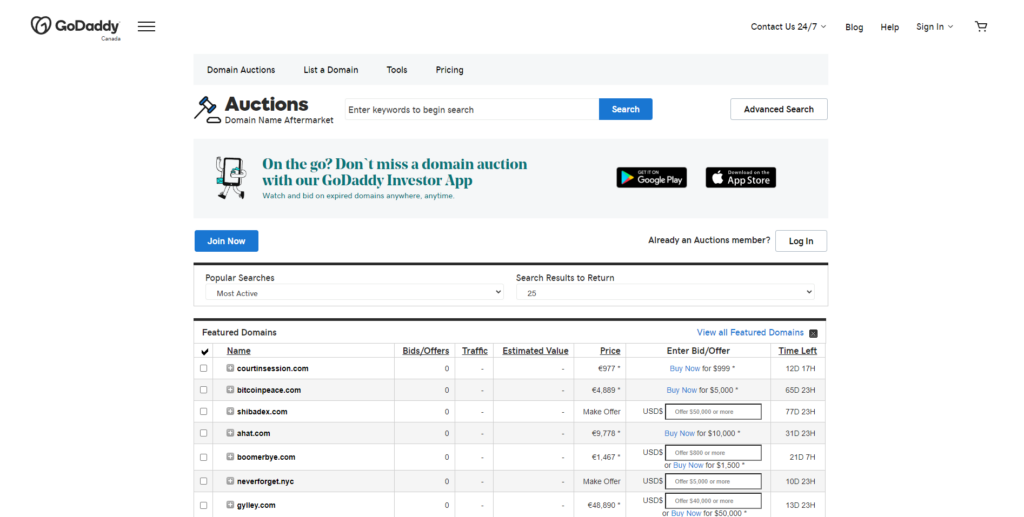 GoDaddy, the world's largest domain registrar, offers a marketplace called GoDaddy Auctions. A domain auction is a place where you can buy or sell a domain of any type. GoDaddy Auction tools are free to use, but membership is required to participate in the bidding process.
Pros:
A lot of domains are exposed at auctions every day, at varying prices, so everyone can find a domain that suits their needs
There are various payment methods
Cons:
You need to subscribe in order to participate in the bidding process
You have a limited time to bid and the owner has 7 days to renew the domain, so you can lose your bid and the domain you aimed to get
Name.com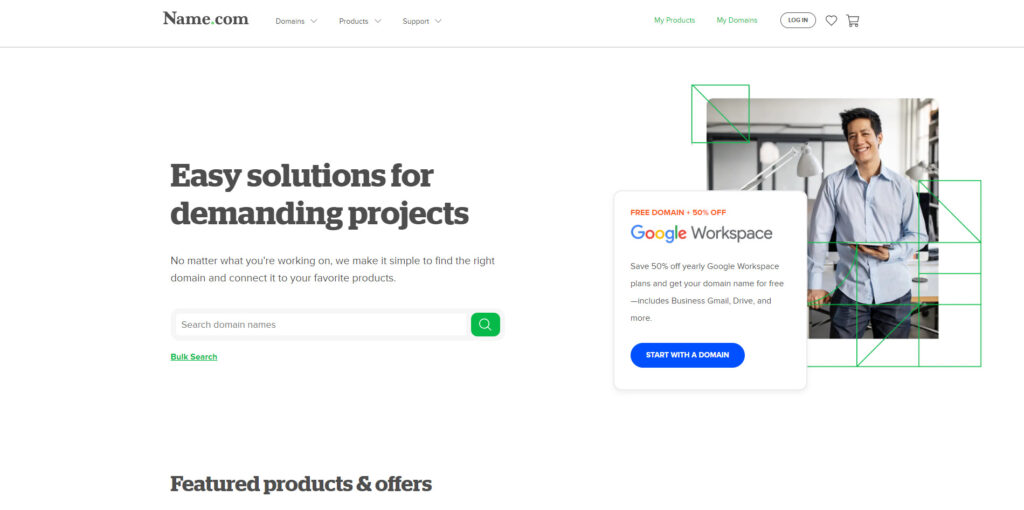 Even if the primary focus of Name.com is on domain registration, they have a great variety of premium and expiring domains. The company offers simple, easy domain management coupled with preferred products like DigitalOcean and Google Workspace.
Pros:
They have powerful complementary products, such as hosting, builder and email service
Suitable for beginners looking for an easy-to-use, all-in-one solution and willing to pay a slight premium.
Cons:
It takes a long time for customer service to respond
Dan.com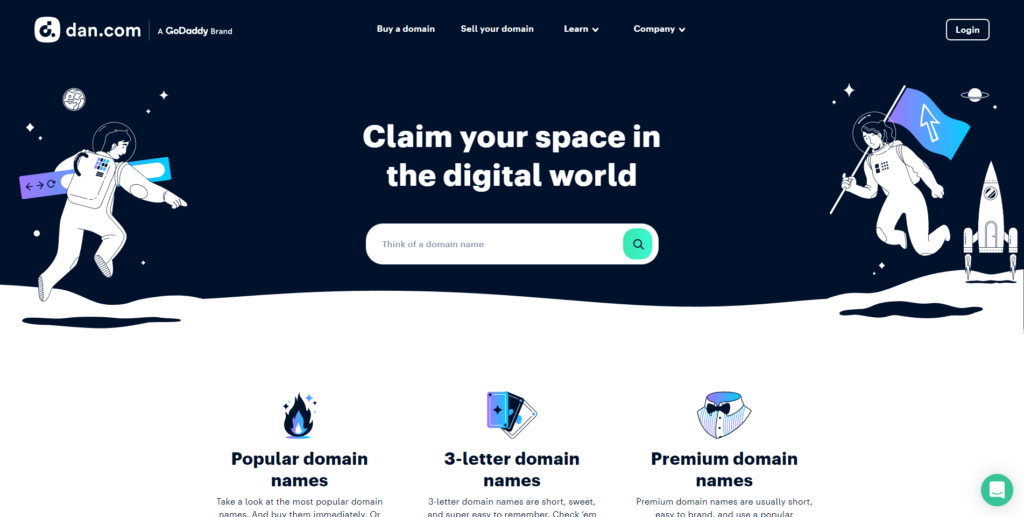 Dan.com is a marketplace that allows you to buy and sell domains in a transparent and simple manner. It has a huge inventory of domains (19 197 172, to be exact), most of which have been listed by third parties. Prices range from $99 to $100000, and payments can be made in installments.
Pros:
You can filter domains by extension (.com, .net, .org, .io, etc.), length, price, hyphen or non-hyphen, numerals or without numerals, starting with, ending with, etc
Instead of paying the entire amount at once for the domain, you can pay it in monthly installments if the seller has enabled this feature.
Cons:
Sometimes you won't get the domain you wanted since domain ownership isn't actually verified
What about Odys?
You probably expected us to be listed among the most popular domain marketplaces. And there's a reason why we're not there. In addition to premium domains, they do many other things, but we stay focused on what we do best – choosing powerful brandable names with SEO value to increase your search engine rankings. As Odys keeps a small, handpicked inventory, there is a chance that something you want might not be available. This means that you should be aware of other options as well, their pros and cons and understand what suits your needs better. Consider the benefits of each marketplace compared to Odys and then make a decision based on what is best for you.