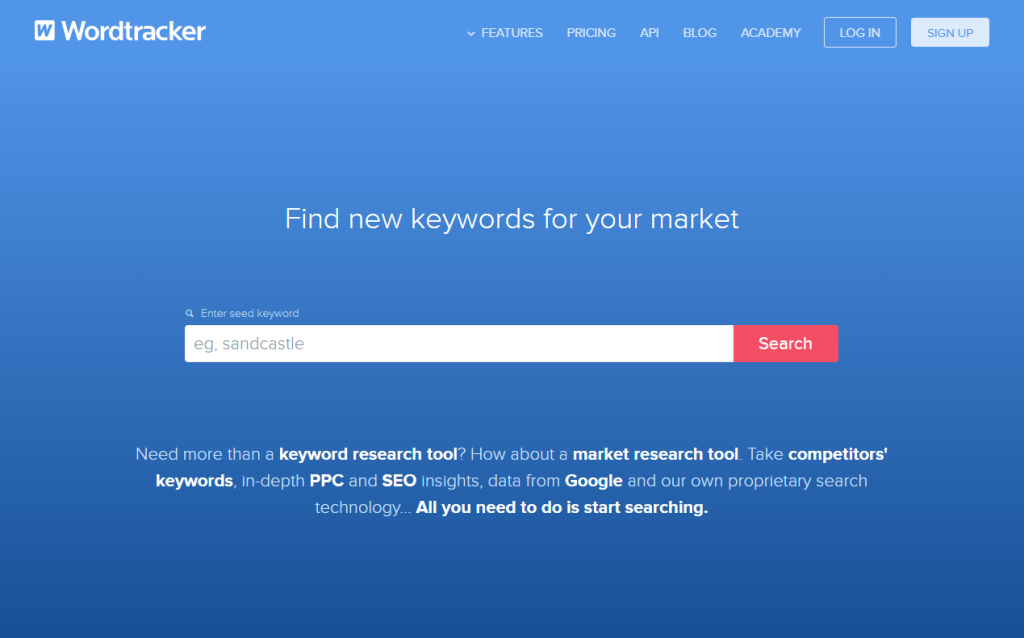 Do you run a business? Do you want to expand its digital marketing presence? The internet works to level the playing field in many industries.
However, it has also become oversaturated, and it can be challenging to attract your target audience's attention. You may have the most aesthetically pleasing website on the planet, but it will not do you any good if no one can find it.
Making a website is only half the battle. The other half is getting people to it.
Tools like WordTracker may be able to help. These sites allow you to find the most popular keywords in your market and track your competitors' keywords. With these tools, you can optimize your website for superb performance.  
What Is WordTracker?
WordTracker is a search engine optimization tool. It will help you know what keywords you need to use online to attract customers looking to buy products like yours.
WordTracker features four main tools:
The Keyword Tool will help you to find new keywords in your market.
The Niche Explorer will help you discover trending keywords for a specific niche.
The Inspect Tool will help you learn what keywords your competitors use.
The Custom Reports will allow you to get specific data. For instance, you can discover the top keywords for any country on any search engine.
Why Should You Use WordTracker?
If you choose not to use a keyword tracker, you will just be taking a shot in the dark when writing the content on your website. You won't know which search terms are most prevalent and relevant to search engine queries. Without those terms, your website won't have a chance at ranking. You need to set up your website for success, and WordTracker will help you do just that.
WordTracker gives you the information you need to make educated decisions about your website content. With its help, you can utilize keywords that will drive traffic to your site, which will result in additional sales and profits for your company.
Users have stated that they have found keywords that no one is currently competing on using WordTracker. These insights have helped many users generate customers and quickly recoup their investment in the platform.
How Does WordTracker Compare to the Google Keyword Planner?
Google Keyword Planner is another popular option for those who want to ensure they are optimizing keywords. Therefore, you may be wondering how WordTracker stacks up in comparison. Long story short, WordTracker has many capabilities that Google Keyword Planner does not.
Google Keyword Planner works specifically for Adwords and is not suitable for general SEO work. It only allows you to look at grouped keywords instead of individual keywords and only provides banded results.
WordTracker allows you to do so much more. With this site, you can even search Amazon and YouTube keywords. You can also check out negative keywords. If you ever have any trouble, you can employ its live chat customer service to get the answers to your questions in no time.
How Much Does WordTracker Cost?
WordTracker offers three different plans:
The Bronze plan costs $27 per month and allows you to obtain 1,000 keyword results from 7 territories. The Bronze plan requires at least a three-month commitment.
The Silver plan costs $69 per month and allows you to obtain 5,000 keyword results from 15 territories. The Silver plan is the most popular.
The Gold plan is the most comprehensive, costing $99 per month and allowing you to obtain 10,000 keyword results in over 200 territories. The Gold plan also comes with a $99 credit for API access.
These monthly plans are also available as annual plans. If you choose annual billing, you can save your company a fair bit of money on each plan:
The Bronze plan will work out to $17 per month with annual subscriptions.
The Silver plan will come out to $38 per month with annual billing.
The Gold plan will end up being $54 per month for annual billing.
If you think that you will need to utilize WordTracker's services for a significant period, then annual billing may be the way to go.
Which Plan Should I Sign Up For?
The plan you need will depend on the size of your organization. If you are unsure which plan to purchase, each one comes with a seven-day free trial with no risk.
These seven days will allow you to get a feel for the platform and help you determine what level of service you will need.
What Are the Pros and Cons of WordTracker?
WordTracker can help businesses reach their full digital marketing potential. However, it is not perfect. Let's go over its pros and cons to get a holistic picture of the service.
Pros
Multiple sources (Amazon, Google, YouTube, etc.)
SERP comparison
Easily find related terms
Easily find keywords with little competition
Enables sorting across search columns
Will save your work
Live chat customer service
Cons
Does not allow for cumulative month data or seasonal data
Difficult to learn the features for people new to keyword tracking
Data storage could be more sophisticated
While WordTracker may not be the best system to use if you are new to SEO research, it is impossible to deny the useful features that this system provides.