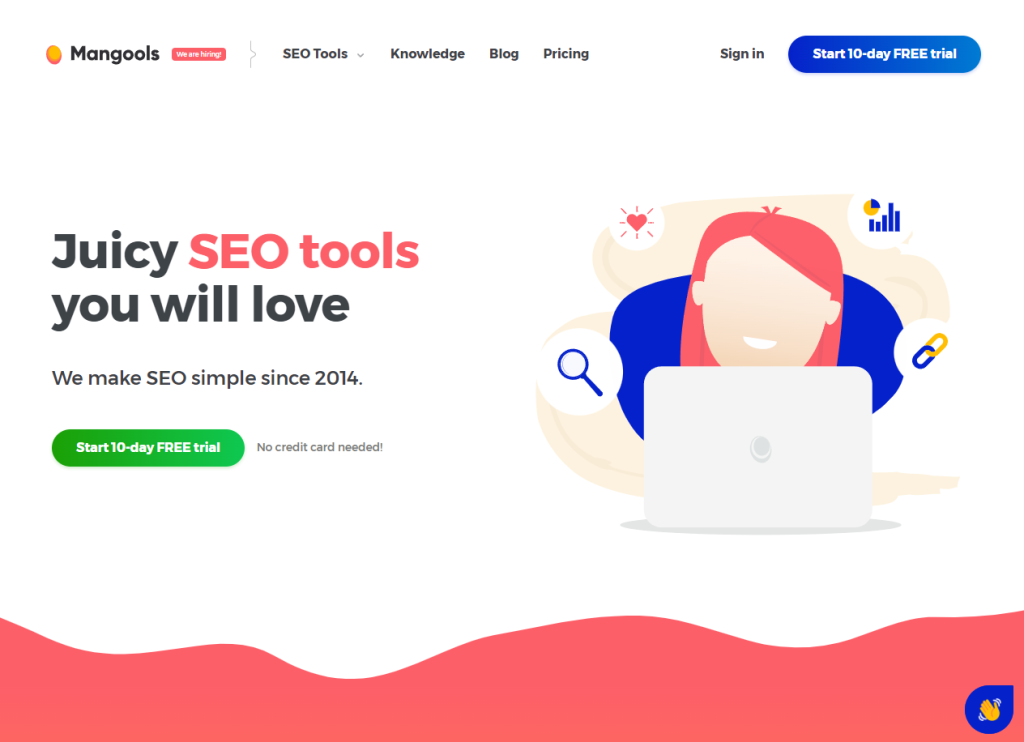 If you're new to digital marketing, we have some bad news; you're going to need some extra help, and probably a lot more help than you think.
Every self-taught expert has spent hours learning terms online with handy guides and training programs. You don't necessarily need to enroll in a course, but you will need to find a trustworthy site that provides you with practical tools to boost your SEO.
Mangools is one of the SEO resources that's gaining popularity among bloggers, affiliate marketers, and SEO agencies. But is Mangools one among the thousands of SEO websites that are worth visiting? Read on to find out.
What Is Mangools?
Mangools is a company that has a couple of different SEO tools to offer. The Mangools tool set includes:
Keyword research tool
SERP analysis
Rank tracking
Backlink analysis
SEO metrics
Mangools also includes a blog that SEO enthusiasts can read for additional knowledge as they're learning.
Should I Use Mangools?
Any SEO enthusiast will benefit from Mangools. The toolset lets you find keywords and use tons of analysis tools, so you know your website will get higher in rankings.
Most importantly, Mangools provides several ways to expand your SEO knowledge. The blog allows you to read and gain plenty of knowledge on SEO topics such as content hubs, search operators, and WordPress walkthroughs.
There's also a section on their website titled "Knowledge" in which writers share some of their most popular and informational blog posts and provide tool guides for their toolset.
This page also offers "SEOpedia," which is a glossary of SEO terms. These resources prove to be beneficial to even the most experienced SEO writers. You can always come back and access this glossary if you forget any of these key concepts.
How Do Users Interact with the Mangools Platform?
All you must do is go to the official website to reach the Mangools homepage. From there, you can click on the menu button on the top right-hand side to navigate the site.
At the top of the menu, you'll find links to all the SEO tools. These include:
KWFinder
SERPChecker
SERPWatcher
LinkMiner
SiteProfiler
KWFinder
KWFinder lets you research keywords with a location and language selected. It enables you to find keywords based on the domain or by the keyword itself. This tool includes a competitor keyword research tool so you can find what your competitors rank for as well.
The search interface is easy to work with; all you need to do is start a simple search.
SERPChecker
The SERPChecker interface is like the KWFinder interface; all you need to do is enter a keyword, select a location, and then press "Analyze SERP."
The page will automatically return the search engine results page for the location and the keyword you typed in. This interface is also easy to work with.
SERPWatcher
SERPWatcher lets you track the rankings of different websites. All you need to do is type in a website domain, and you can see how that website ranks among the competition.
If you enter your website, you can see its organic traffic potential. You can also receive daily rankings through this tool.
LinkMiner
When navigating the LinkMiner page, a backlink checker tool, all you need to do is enter a domain. From there, the tool will check for any backlinks on that website.
This tool is extremely easy to use but very handy for knowing which sites get traffic via backlinks.
SiteProfiler
SiteProfiler is potentially the most exciting tool on the site and the easiest to use. All you must do is enter a domain and press "Analyze Site." You can:
Check the SEO authority of any domain or URL
Determine its trustworthiness
Identify the content that generates the most traffic
What Information Can I Find on Mangools?
The information that you can get from Mangools' toolset and blog are mind-blowing. You'll get valuable insight about your search results, as well as competitors.
The KWFinder tool gives you the ability to find out keywords that your competitors are using and use them for your own business. SERPChecker and SERPWatcher check search result pages so you can have that information and apply it to your business. LinkMiner and SiteProfiler check for backlinks and other SEO on a website so you can see what competitors are trying.
The blog is a whole other toolset in and of itself. It includes articles on SEO topics such as keyword tracking and research, search volume timeframes, performance indexes, and helpful guides for using their SEO tools.
Mangools has new blog posts frequently, so keep an eye out for new posts.
Who Is Mangools For?
Mangools' SEO tools are only for those who are serious about search engine optimization. Its tools will let you (or your business) make hard work of keyword research, competition comparisons, backlink checking, and almost everything else associated with SEO a little easier. The toolset will help any business streamline its SEO and make the process more fun along the way.
The Mangools blog has a wider audience than just extreme SEO enthusiasts and businesses who need to streamline operations. You can read the Mangools blog and learn everything you'd ever need to know about search engine optimization.
Beginners and experts could all benefit from reading the Mangools blog; however, you will still need skills and time to apply this knowledge well. Not all businesses have time to commit to the dense reading and hours of practicing, so Mangools is for business owners that are prepared for dedication to SEO.
How Much Does Mangools Cost?
The Mangools SEO toolset costs money, but the blog is free to read. Let's break down the pricing a bit more:
Mangools Basic
The most basic plan for this toolset costs $29.90 per month, or $350.80 per year if billed annually. This tier gives you:
100 keyword lookups per 24 hours
200 keyword suggestions per search
25 competitor keywords per search
100 SERP lookups per 24 hours
200 keywords tracked per day
20 site lookups per hour
Mangools Premium
The next tier of this toolset costs $39.90 per month, or $478.80 per year if billed annually. This tier gives you:
500 keyword lookups per 24 hours
700 keyword suggestions per search
Unlimited competitor keywords per search
500 SERP lookups per 24 hours
700 keywords tracked per day
500k backlink rows per month
70 site lookups per hour
3 simultaneous logins
Mangools Agency
The third and highest level you can purchase of Mangools is $79.90 per month, or $958.80 if billed annually. In this tier, you get:
1200 keyword lookups per 24 hours
700 keyword suggestions per search
Unlimited competitor keywords per search
1200 SERP lookups per 24 hours
1500 keywords tracked per day
1.2M backlink rows per month
150 site lookups per hour
10 simultaneous logins
10-Day Trial Period
If you don't want to leap Mangools just yet, you can take advantage of the free 10-day trial.
Is Mangools Worth It?
The website Mangools is worth a read if you are passionate about SEO or just want to learn more about it. The blog posts are full of valuable information that gives you more of a grasp of what to expect in the SEO industry and how to make it work for your business.
The Mangools toolset is worth the money as well. Even the most basic plan gives you so many tools to up your SEO game. The highest tier (Agency) allows businesses to give their teams everything they need to ensure the company's business is up to par.
Pros
Has valuable blog posts about SEO
Pricing plans aren't exorbitant
Toolset is comprehensive and covers everything you'll need for SEO
ConsTrial period is only 10 days