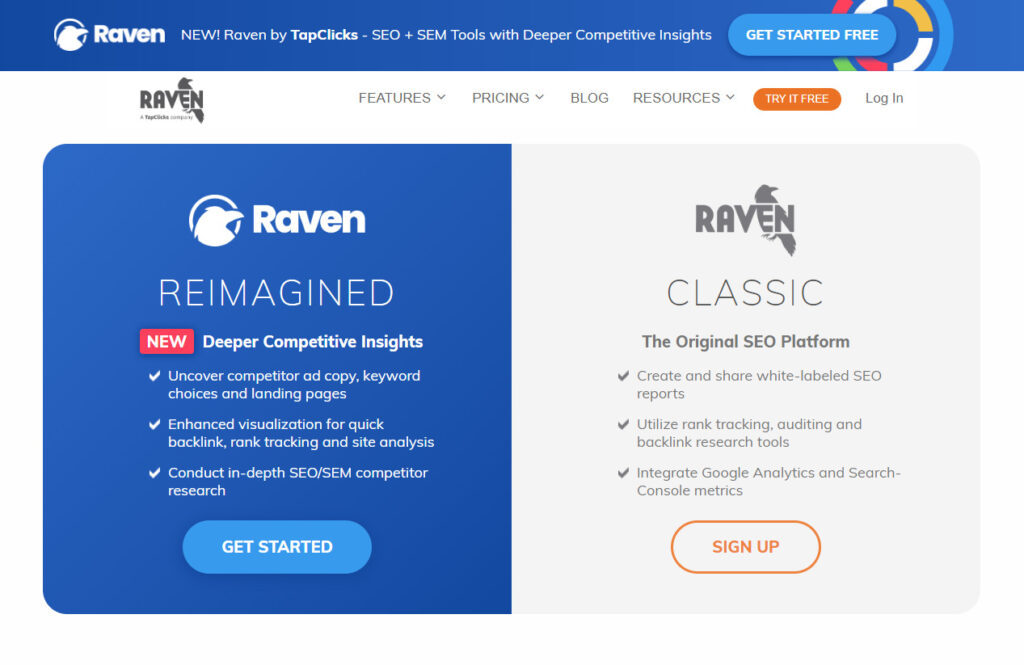 Do you want to simplify your workload and streamline your SEO and marketing processes? There are many tools available in today's marketers. These tools can help automate marketing processes, provide invaluable insights, and make the job of search engine optimization that much easier.
One of these many tool platforms is Raven Tools. The site provides various SEO resources, including white label reports and SEO tools. They help SEO in-house marketers, agencies, and freelancers find all the resources they need in one place.
If you could benefit from an all-in-one SEO tools platform, this domain may be worth your time. Get started by reading our Raven Tools review to learn more about this site and what it can offer you.
What Is Raven Tools?
Raven Tools offers internet and search engine marketing optimization software. The site has become popular in the industry among SEO specialists who need to automate their research process. Their cloud-based SEO auditing tools and white-labeled marketing reports help those in all levels of the industry. From freelancers and in-house marketers to major agencies and media companies, they can help.
The primary focuses are social media conversions, online advertising, and search engine optimization. Some of the functions of Raven Tools include:
Tracking search engine trends
Researching
Performing analyses
Monitoring social networks
Managing link-building
Creating and managing ad campaigns
Producing sophisticated campaign reports
Collaborating with other team members
To this end, Raven Tools includes features like:
Advertising tools
Social media tools
Site audits
Keyword research
Competitor research
Link spying
Backlink analysis
Rank tracking
SEO data
PPC reporting
Social track reporting
There are many different ways Raven Tools can help marketing and SEO specialists.
Who Should Use Raven?
Raven Tools appeals to users from a wide variety of backgrounds, including:
SEO Specialists
Raven might be a good option if you're a search engine optimization professional. If you struggle to keep all your ducks in a row when optimizing client sites, this organizational toolkit can help with that.
For those in the industry, you know that there's often a back-and-forth between the different reports. The data from these reports establish a baseline understanding of how a brand performs on search engines, on social and online.
Raven allows you to connect all of your data (SEO, marketing, advertising, etc.) into one marketing report. That way, you can make better sense of it all.
Media Agencies
Raven is also a high-quality option for media agencies who want to show their clients the data that supports their growth. With easy-to-understand reporting, agencies can share their insights and results with clients seamlessly.
Freelancers
Additionally, Raven is a useful option for freelancers. Private contract SEO workers might juggle SEO for multiple different clients at any given time. With so much going on, they don't have the time to gather data from several sources.
Raven tools help manage multiple projects by consolidating and streamlining data gathering.
How Do Users Interact with Raven Tools?
Raven Tools makes it easy to begin interacting with the site. Once you land on the homepage, there's a bold orange button reading "Try It Free." Anyone can give the tools a go before fully committing.
Below this, the site breaks down how the Raven Site Auditor works. It walks you through the initial stages of using the site, so it's easy to understand once you do get started.
From there, Raven provides a bit of information about how their products can help grow the business. They help to create happy clients and executives and build beautiful reports instantly.
Users who want to sign up for the full subscription can visit the menu bar to view pricing options. Everyone who signs up begins with a free trial so that they can test it out first.
What Information Can I Find on Raven?
Besides the helpful information for using Raven features and pricing, the site also provides a blog. This resource offers helpful industry information for SEO professionals. On the blog, you'll find articles that cover topics such as:
PPC reporting
Local SEO audits
Mobile rank tracking
Tracking SEO progress
Software comparisons
SEO for roofing companies
Google updates
Keyword mapping
Keyword research
SEO trends
The goal of the Raven Tools blog is to provide additional, insightful information that can help SEO experts create more robust campaigns. SEO pros can use it to produce better results for their own companies or clients.
How Does Raven Tools Compare to Its Competitors?
Raven Tools stands out from its competitors by offering both unlimited campaigns and unlimited brand reporting on a basis you determine. Whether you want your branded reports quarterly, monthly, weekly, or even daily, Raven can provide it.
The site uses a fast reporting engine that is both flexible and responsive. You can either review your reports on your desktop or through your mobile device. The reports work equally as great on both forms.
What Is Raven Tools' Pricing Model?
Raven Tools offers five different pricing models: Small Biz, Start, Grow, Thrive, and Lead. Here's what you need to know about each one:
Small Biz: For $39/month, you get 2 domains or campaigns with 2 users and 1,500 SEO position checks.
Start: For $79/month, you get 20 domains/campaigns with 4 users and 15,000 position checks.
Grow: For $139/month, you get 80 domains/campaigns with 8 users and 20,000 position checks.
Thrive: For $249/month, you get 160 domains/campaigns with 20 users and 25,000 position checks.
Lead: For $399/month, you get 320 domains/campaigns with 40 users and 30,000 position checks.
Is Raven Tools Worth It?
Is Raven Tools the best SEO toolkit and reporting option for you? Here's a recap of the pros and cons for you to consider:
Pros
Connect all your data into one cohesive report
Free trial
Cons
Paid subscription after free trial
Does not include other marketing tools like email or CRM