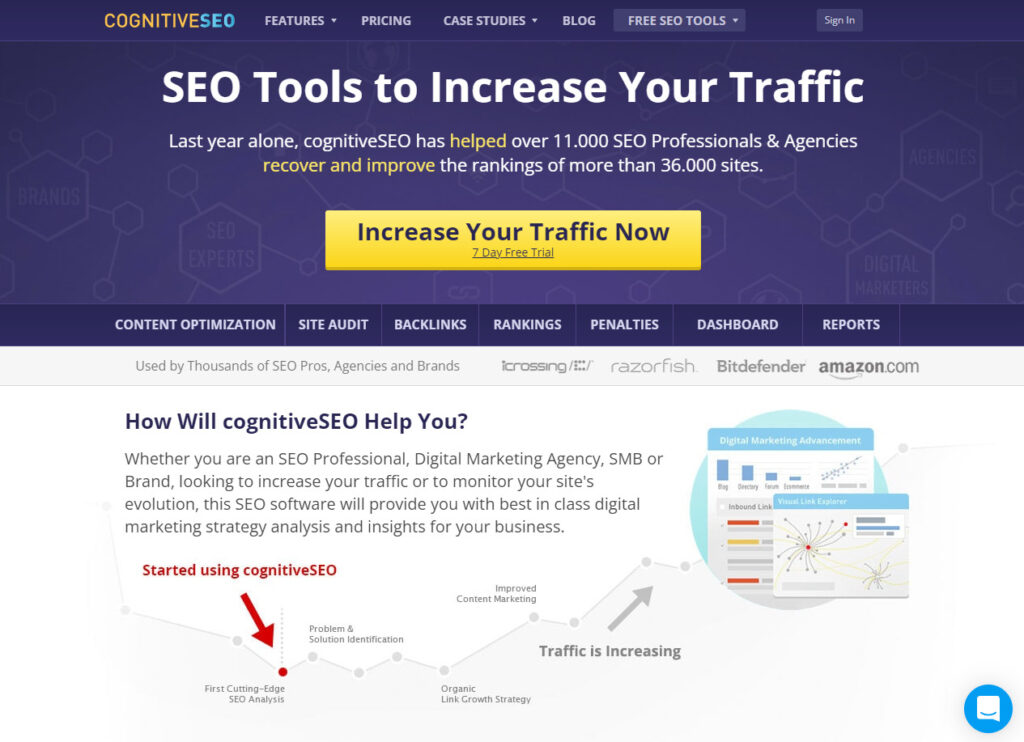 If you're a business looking to expand your client-base, the first thing you need to be looking at is SEO. Otherwise known as search engine optimization, SEO is what dictates where your site ends up in search rankings. If done correctly, SEO practices can push your site to the top, meaning you're more likely to attract a much higher number of customers.
The process of achieving a high search engine ranking isn't simple. There are numerous factors to consider, including search engine algorithms, particular keywords, and mistakes you unknowingly continue to make on your site.
CognitiveSEO is a service that aims to demystify some of the complicated aspects of SEO so you can reap the rewards. Here, we're sharing what CognitiveSEO does and whether it's worth getting.
What is CognitiveSEO?
Unlike many of its competitors, CognitiveSEO isn't an agency of writers or web designers. Instead, it's a software entirely of its own that provides you with its unique and valuable information. There are over thirty-five metrics recorded on the dashboard's interface, giving you imperative details on everything you need to know to maximize your performance.
On the face of it, this sounds entirely generic: one dashboard can't possibly show you everything you need to know. While this is true, the CognitiveSEO dashboard does provide you with data that you can take in at a glance, making it incredibly user-friendly.
How Does the CognitiveSEO Dashboard Work?
From one simple page, you are given stats on your chosen site. This includes where the most traffic is coming from, which is broken down into social media distribution and search engine relevance. All of this information is updated continuously in real time, so you're never behind.
You are also kept up to date on how effectively your keywords are performing. SEO keywords are terms most often used in internet searches. By maximizing their quantity in your site's copy, you can direct users to your specific site more effectively. This has to be done in moderation, however, as Google punishes sites for oversaturation of any keyword.
Part of the efficacy of the CognitiveSEO dashboard comes from how easy it is to share with your team and clients alike. The information is easy to absorb and entirely accessible, so you can show your clients in real time how effectively your marketing strategy is performing.
You can set the dashboard to refresh its data anywhere between every thirty minutes to every two hours. This allows you to make important business decisions based on the most up-to-date information.
Who is CognitiveSEO For?
Their website addresses a broad range of potential clientele, from freelance SEO professionals to entire digital marketing agencies. For the most part, this appears to be truthful. The intuitive dashboard could be useful to a great many users, depending on your individual need.
For instance, if you are an SEO specialist that has just launched an SEO optimized marketing campaign, the CognitiveSEO dashboard is a great way to keep track of your gains. You receive data in real time actively measuring how successful your keyword implementations have been. You can then share this information with your client in an easy to read format.
Additionally, if you owned a brand and wanted to do your own SEO optimization, the CognitiveSEO dashboard grants you that independence. The information is easy to digest for even those new to SEO practices, so you'll waste no time in adjusting to a steep learning curve.
How Does CognitiveSEO Optimize Content?
An integral part of SEO is catching mistakes early and promoting positive actions. With the CognitiveSEO dashboard, any actions that may prove detrimental to your site's health are flagged immediately. This means any lengthy process of trial and error can be entirely circumvented. You get direct access to the intel telling you what works and what doesn't.
This most significantly applies to the content you're putting out on your site. From the copy on your landing page to how effectively your contact page encourages conversion, the dashboard records it all. It even takes note of what your competitors are doing with their content, so you're always two steps ahead.
With constant updates on which keywords are driving the most traffic, you ensure that you're never churning out blog posts that don't convert.
How Much Does CognitiveSEO Cost?
There are two price plans available with CognitiveSEO, the Starter package and the Business package.
Starter Package
Price: $129.99/mo
With this package, you gain access to competitor analysis, update reports, keyword research, site auditing, and Google analytics integration. You have access to a total of three campaigns with two users able to use the dashboard. You can also keep track of up to 1500 keywords at any time, the ranking of which is updated either weekly or daily.
Business Package
Price: Bespoke
This more intensive plan is entirely bespoke, created in collaboration with you based on your requirements and intentions. You have access to everything the starter package offers, in addition to private one-on-one training. All settings regarding how many campaigns you run or how many users have access to the dashboard are entirely bespoke, with gradually increasing pricing.
Pros
Easy to use even for beginners to SEO
Highly intuitive dashboard software with over thirty-five metrics updated every thirty minutes
Seven-day free trial available
Backed entirely by data and able to keep up with ever-changing search engine algorithms
Cons
As its software based there is less human interaction than other SEO agencies may offer, which may prove detrimental for those requiring a guide