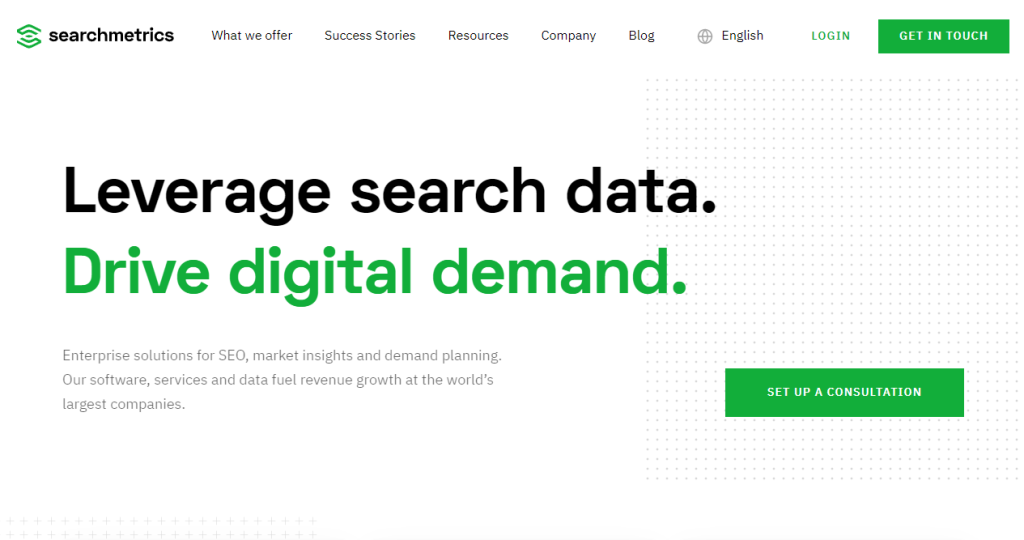 Do you need to increase quality web traffic to your website? Whether you're looking for genuine patron traffic to your website or an affiliate marketer that generates leads, the key to a high-quality website that attracts prospective customers is a combination of many factors.
You may find that digital marketing and generating genuine traffic is a tedious commitment. There's a lot going on, including SEO, layout and presentation of graphics, copywriting, and animation.
That's what SearchMetrics is here for. It is an online site with additional services for visitors to utilize as a resource for their digital marketing. We've reviewed SearchMetrics to help you decide if this blog site will be a good resource for you, or if you should seek out a different guide.
What is Searchmetrics?
SearchMetrics is a website that acts as a comprehensive content marketing and SEO suite. This site allows enterprises to connect with customers and create new, engaging content more effectively. The SEO and Content Experience Searchmetrics suite work to remove any guess work from the experience by providing users with in-depth insights into their competitors and the current market.
This suite has an analysis tool for discovering new opportunities as well as enabling smarter management for improving revenues and making more informed decisions.
Should I Use Searchmetrics?
Searchmetrics is straight to the point as far as running basic searches, so this could be the SEO software for you if you're a beginner. However, it can also be a bit clunky in the user interface department. For example, at first glance you may not realize that you can compare your ROI (return on investment) against multiple of your competitors using the keyword rankings tool.
Overall, this tool for keyword analysis, content creation, and SEO rank monitoring is a solid option. While the best features this product offers benefit enterprise sized businesses more so than smaller companies, small businesses can still benefit from the accessible historical data and SEO ranking tools.
What Services Does Searchmetrics Offer?
This is a highly competitive niche, with competitors such as SpyFu and Moz Pro previously dominating the market. However, SearchMetrics shouldn't be considered out for the count yet. Aside from their keyword analysis interactive comparison tools, it also offers:
SEO Consulting
Strategic Consulting
Content Consulting
What Tools Can I Find on Searchmetrics?
The SearchMetrics Suite allows users to grow traffic by increasing their online visibility, and ultimately increase their revenues. Here are some of the tools that this suite offers in order to get there:
Keyword Analysis
Searchmetrics breaks down keyword analysis into ranking and discovery tools. All you need to do with the discovery tool is enter your keyword of choice and Searchmetrics will return with a list of relevant keywords. The search volume of each specific keyword is displayed as well as what it would cost per click (for advertising purposes) and the search value distribution over time.
One thing to note, however, is that this site does not clearly display how competitive each keyword is. There is available information regarding what it would take for you to boost your site ranking with a specified keyword, but this requires you to dig deeper into the software, which can be quite time consuming.
Domain Level Research
SEO research is arguable the most important feature of Searchmetrics, which lives mostly within the platform's Research Cloud portion. This tool allows you to look up any URL and immediately get an overview of how that URL is currently performing in the eyes of search engines.
Content Development
Also included in the Searchmetrics Suite is a tool for content development, which is called Content Experience on this platform. Content Experience draws on SEO and keyword data to help its users generate web content such as blog posts.
We found the most useful built-in aspect of the content development tool to be its keyword analysis. This tool observes your search engine rankings and identifies the current must-have keywords. Content Experience takes things a step further by tracking your coverage for you as you write and calculating what the target number of mentions is for each of your keywords.
How Much Does Searchmetrics Cost?
Searchmetrics does not offer a free trial, but you can contact the vendor to request pricing information. Unfortunately, Searchmetrics only gives rates based on a quote system, so it's hard to know how much you'll get charged until you contact the company and request an evaluation.
Is Searchmetrics Worth It?
Reviews are helpful and all, but when purchasing a SEO software, it is important to find out if the previous users of that software were satisfied with their purchases. An SEO suite that looks amazing on paper but doesn't have a user-friendly interface won't do you much good.
Searchmetrics has an impressive amount of positive customer feedback compared to the minimal negative mentions regarding their services on social media.
Pros
Convenient Basic Keyword Research
Competitor Research
Content Optimization
Social Link Tracking
PPC and Advertising Data
Rank Tracking
Content Creation Module
Competitor Analysis
Cons
Quote Based Plan
Social Media Visibility
Clunky User Interface
No Keyword Management
Keyword Metrics are Limited