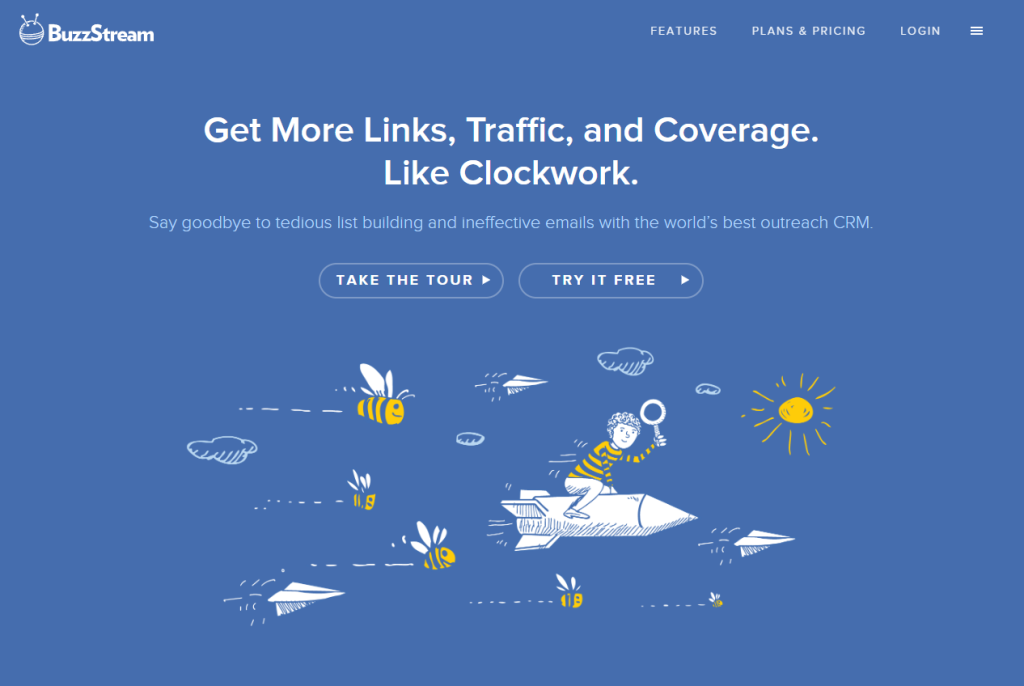 Good public relations (PR) is one of the most essential aspects of launching any digital or brick and mortar enterprise. Whether you are trying to improve your digital brand presence or get better traffic to your website, it all hinges on your PR team.
Did you know that cutting edge management tools can improve operations and give you a leg up on the competition for cheaper than having to hire niche experts with salary? BuzzStream can be a way to tighten up your PR with influencers and outreach, but is it worth the price tag?
In this review, we will break down the features of BuzzStream and find out whether it is a cost-effective solution for your company. Does it deliver the benefits of quality PR? How does partnering with influencers drive brand visibility? We won't let any stone go unturned in this in-depth investigation of the BuzzStream technology.
What is BuzzStream?
BuzzStream is a cutting edge digital PR tool that has taken the market by storm. It primarily works with link building and influencer research and relations. There are lots of software out there that promise endless marketing solutions, but what they lack is specificity. BuzzStream has several impressive features but has cemented itself as the leading tool for what is a huge emerging market in marketing: influencers.
The tool also encompasses link building, a key element of public relations. It allows users to create and manage their campaigns in a simplistic and user-friendly manner. Optimize your internal and external navigation with smart and profitable link building techniques.
Does BuzzStream Deliver the Benefits of Quality PR?
Yes. Despite being in such a specific niche of influencer marketing, Buzzstreams intuitive software makes it easy for companies and individuals to pair with popular influencers based on more than just a hunch. First of all, the software simplifies the process of plotting your campaign which saves time. More importantly, though, the research tools allow you to project profitability with each influencer more accurately depending on the type of product, person, or brand you hope to promote.
How Does Partnering With Influencers Drive Brand Visibility?
Influencers offer you access to key niche markets. Rather than accumulating an audience of your own, you can partner with influencers to access an already assembled audience. This means reaching new interested eyes faster.
Partnering or collaborating also increases your brand's validity and trustworthiness in the market. The more you can improve your external linking network with reliable influencers, the more likely a consumer is to trust your products or services by association. This tool helps you to weed out low-performing or controversial influencers and get quality matches that could help your growth and development.
What Features Does BuzzStream Offer?
BuzzStream helps users to streamline operations and speed up the process of partnering with quality influencers. The features that accompany this software include:
Research
Email
Manage
Report
Research
Finding your audience (or more accurately, audiences) is an essential step toward accumulating brand recognition, quality site traffic, or product sales. The research tool not only makes it easier to find influencers, it makes it easy to see which ones will be more profitable partnerships than others.
You also don't want to partner with an influencer who is not reliable or who does not have the numbers in the audience that you need. The research tools give you insight into things like:
Contact history
Influence metrics
Social metrics
Recent posts
Notes
What this means is that you are creating deals with influencers based on a solid foundation that can reach key demographics for your brand. Why waste your time and funds on an unprofitable deal when you could more accurately predict success with a tool like this?
Email
Outreach is a step that can be treacherous for anyone with a relatively young brand or little partnership experience. The email tool is simple and straightforward. It helps you to streamline communications with your prospect list using filters that help you narrow down options. You can even limit your email list to those with more than a certain number of followers.
This tool is helpful, but not necessarily unique. One of its elements included is the ability to choose from outreach templates that speed up the process of drafting emails. This can be a time-saver, but so can simply searching "influencer outreach templates" into a search engine. Many brands enjoy this feature as an accompaniment to the other more valuable inclusions in the software.
Manage
This tool is especially useful for large teams. Use it to track performance, look at feedback from prospects, and get a bird's eye view of your business on the software.
Report
This is where it all comes together. Depending on the type of software package you have, you will get access to different kinds of reports like:
Performance reports
Project reports
Link reports
Team performance reports
Are There Different Pricing Plans Available for the BuzzStream Software?
BuzzStream uses a tiered pricing system to better segment the software for your needs. This means that you won't overpay for features you don't need or be left without necessary components. It also means you can scale it to the size of your operation and the duration that you need it. There are 4 available packages including:
Starter
Group
Professional
Custom
Each package differs in terms of a few aspects like the number of users, features included, the number of contacts, management and implementation, and more.
Starter
This package is the most simplistic and includes the least number of features.
$24/month
2 Users
1,000 Contacts
1,000 Links monitored
20 Prospecting searches/month
Features to note: Automated follow-ups, email templates, scheduling, performance reports, and reminders, tracking for open, click, reply and Twitter conversation, publisher/influencer metrics, Chrome extension.
Try the starter package if you are a smaller scale or younger company interested in startup operations. Larger companies may find it more profitable to scale up to a more extensive package.
Group
Everything included in the Starter package carries over to Group, along with a few extra features.
$99/month
3 Users
25,000 Contacts
25,000 Links monitored
250 Prospecting searches/month
Features to note: Project performance and link reporting, ahrefs integration, phone and email support, customizable permissions, team template sharing, bulk email send.
Professional
This package includes all Group and Starter features, with some impressive professional additions. It's a great choice for larger business enterprises.
$299/month
6 Users
100,000 Contacts
100,000 Links monitored
1,000 Prospecting searches/month
Features to note: Team performance reporting, unlimited report customization, dedicated account manager.
Custom
If you are a large company that wants a full brand revitalization online, this package is more than just a web tool. It turns the focus toward action with new features like onboarding for new team members and an implementation plan. It includes all the same capabilities and features as the Professional package with more guidance and actionable advising.
$999/month
15+ Users
300,000+ Contacts
100,000 Links monitored
1,000 Prospecting searches/month
Features to note: Implementation plan and onboarding
Is BuzzStream Worth It?
Are the features presented by the BuzzStream software more effective than others you may find on the market? Use these pros and cons to help you make your choice about whether this interface is right for your brand visibility and outreach needs.
Pros
User-friendly interface minimizes wasted time on training to use the software
The "all in one place" effect saves time since you don't have to use several different tools to achieve the same productivity
ConsMore input is required with BuzzStream than with pre-built campaigns offered by other marketing companies