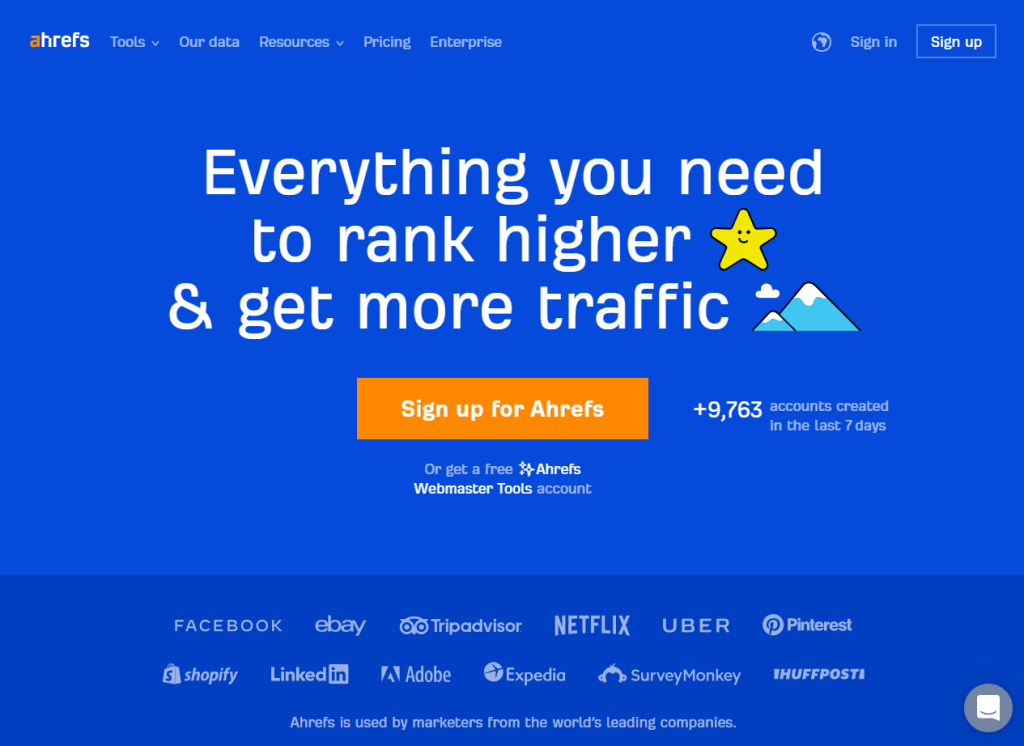 Are you looking to expand your business to the online sphere? If so, you probably know about the importance of search engine optimization. Whether you're just getting your website off the ground or revamping your online presence, SEO is essential.
However, search engine optimization has many components and aspects that could make or break your website's success. There's a lot to consider, including ranking, keywords, and site structure, linking, analytics, and more.
The amount of technical knowledge required is why a service like Ahrefs exists. It helps you navigate through all the aspects of search engine optimization and take your website above the competitor. 
Through our review, you can learn more about Ahrefs. This professional SEO service could potentially help your business grow and expand.
What Is Ahrefs?
Ahrefs is an online SEO resource community that provides tools and information to bolster search engine optimization. The site focuses on giving users what they need to create search engine optimization campaigns by themselves.
Search engine optimization refers to the process of improving the quantity and quality of website traffic that comes to sites from search engines. Some standard SEO practices that Ahrefs covers include:
Researching the organic traffic from websites
Creating and comparing backlinks
Crafting plans to delegate paid traffic
Researching usable keywords
Climbing the search engine ranks
Should I Use Ahrefs?
If you use Ahrefs, you should be ready to learn the mechanics of the website. The platform is one of many online that tout advice and resources about search engine optimization.
Users with time and energy to learn the ins and outs of the platform should go for it. Ahrefs has a substantial number of resources available to help those who want to optimize the SEO on their website by themselves.
For those who don't have the time to learn how to use the site, Ahrefs might not be for you. The academy section has a video tutorial to make navigation more straightforward, but the video is almost 5 hours long. After getting a handle on using the site, you still need to dedicate time to oversee the SEO of your website.
How Do Users Interact with the Ahrefs Platform?
With Ahrefs, the control lies in the hands of the platform's users. When you sign up for one of the programs, you get full access to the site's components. You navigate how you use the resources and which are most relevant to your business.
When using Ahrefs, you create a user profile. Without an account, you cannot access the services available nor optimize your website with the SEO techniques.
What Information Can I Find on Ahrefs?
Ahrefs is a platform dedicated to providing SEO resources for users looking to work on websites themselves. Their tools include:
A site explorer
Keywords explorer
A site audit
Rank tracker
Content explorer
You can find the largest, third-party database worldwide of search queries on Ahrefs. It also gives monthly search volume estimates and advanced keyword research metrics.
Ahrefs also has a help center where individuals can post questions, and community members answer them. The website also has a blog that puts out SEO content, academy courses to learn how to use Ahrefs, and an API.
Who Is Ahrefs For?
Ahrefs is a website of resources for those who want to take their business's SEO aspects into their own hands. If you want to focus on getting the most of your search engine optimization without delegating tasks to people around you, consider investing in one of the Ahrefs plans.
Plus, the company boasts SEO resources rather than website creation or management. If you already have a website and management team, go for the subscription.
That said, if you don't have the time to invest in learning search engine optimization, Ahrefs won't be beneficial for you. The techniques they teach can take months to master and produce results. If you're looking for a quick fix, the site won't be of much help.
How Much Does Ahrefs Cost?
Ahrefs has four pay-by-month plans available. The lite and standard plans come with seven-day trials for $7.
Lite: $99 per month. One user with five projects can utilize this plan. It can track 500 keywords and updates every seven days.
Standard: $179 per month. One user with ten projects can utilize this plan. It can track 1,500 keywords and updates every five days.
Advanced: $399 per month. Three users with twenty-five total projects can utilize this plan. It tracks up to 5,000 keywords and updates every three days.
Agency: $999 per month. Five users with one hundred total projects can utilize this plan. It tracks 10,000 keywords and updates every three days.
Is Ahrefs Worth It?
Ahrefs is a vast SEO resource center and database. It's a treasure trove for SEO specialists. However, the volume of information can be overwhelming for users just starting. If you have time to learn the website, go for it. Otherwise, consider alternatives, if possible.
Pros
A vast collection of SEO resources and tools to create an optimized website
Over 2,000 servers generating data 24/7
Large community for idea sharing
Cons
Hard to navigate for newcomers
The steep learning curve to getting started
Users still have to craft and manage websites independently