Enter Charles Floate. While he's new to our Expert Picks roster, this guy is another domaining industry gem, who has a clear understanding of how things work and how to make a site successful, earning, and recognizable. It's what he's perfect at!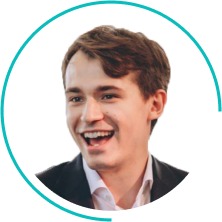 Charles has been in the SEO game for 15 years, showing off his abilities to rank sites, cause trouble and teach even the most experienced marketer a thing or two. He's spoken at 40+ conferences, sold two agencies, dozens of sites and currently runs six online businesses.
To kick it off, Charles selected 4 domains in the Sports, Wine, Service, and Tech niches. Needless to say, his domain growth blueprints are something you'd want to take advantage of if you decide to get one of the domains from below. Keep reading and choose wisely.
WorldsGame.com

With a heavy number of homepage links from large news publications, sports organizations and even Wikipedia, I would build a football site with results, odds and statistics that are backed by ads on the informational pages and affiliate on money pages reviewing different bookmakers.
I recommend using revenue share offers like Betway, where instead of getting paid per signup you'll get 25% – 40% of the earnings. You can also do flat CPA deals, ranging from $15 – $150 per confirmed registration, some of which may require the player to deposit.
The high concentration of links to the homepage allows you to utilize the root authority to start ranking for a lot of the football/soccer related terms quite quickly.
I'd look at building a mass page style of site for the informational side and do strong topical clusters with long form content for the affiliate/CPA pages.
The strong brand name behind the site would also be a big bonus for flipping, which is great when it's one of the easiest niches to sell your site in and get offers for.
There are too many keywords to count or recommend, with "Football" terms in the UK alone having over 54 MILLION searches a month, according to Ahrefs. And that's just the UK, there's significantly more volume in bigger countries and you could easily create an international site that picked up traffic from all over the world, hedging your bets against a more volatile English algorithm on Google.
StackedWines.com
Personally, I'm not a massive fan of wine, but I am a fan of huge niches with low competition, and this industry is an absolute goldmine. The wine industry itself is worth an estimated ~$450bn annually, and there is a treasure trove of affiliate offers, high RPMs and low authority competitor sites for you to analyse.
An example site I would recommend you base this domain on is a DR4.3 site in the exact same niche called "HonestWineReviews", which Ahrefs currently estimates has 36,200 monthly visits worth a whopping $38,000.
There is usually a set industry standard of $25 per order or per customer signup in the Wine industry for many of the bigger programs such as Naked Wines or FirstLeaf.
I would use this domain, and the fact that 95% of the referring domains are going to the homepage or /shop URL to create a wine resource site with informational content around a variety of topics, review content around subscription or collector services and use the /shop URL to work on creating and selling eBooks to aficionados.
Eventually, I would look at setting up your own membership service or even do your own Gary Vee style ECommerce site like Wine Library.
RemoveSlander.com

I would use this domain to build an online reputation management service, probably one time fee, that helps clean up the online presence for those affected by bankruptcies, court filings and other negative press they'd want to be buried to at least the 2nd or 3rd pages of Google.
The average monthly service fee for online reputation management services is much higher than SEO, sitting between $2,000 and $10,000 per month*. Whilst I don't personally do monthly campaigns for ORM, I've worked with other service providers that have, and their one-time fee campaigns are $10k – $25k at a time too.
"Online Reputation Management Company" has a U.S. monthly search volume of 400, a global search volume of over 1,100 and currently has an Ahrefs DR3 site ranking in 3rd position – There are also about a dozen other variations with 100+ volume each just for that one keyword, and dozens of other keywords too.
Once you've built a well converting landing page on the homepage that ideally ranks for variations of the above keywords, you should be able to start getting monthly leads, which if converted, could be worth 5 figures each and vastly repay the cost of the domain and it's build.
Running ORM campaigns is relatively easy and very cost efficient, especially when you know SEO and link building. You can mainly use social profiles, editorials, citations, review platforms, press releases and reference sites to takeover brand SERPs which will also contribute to their SEO campaign, and if you're already selling that, you could also upsell it on the back of this campaign.
The domain, site build in WordPress with Elementor or Oxygen, with WooCommerce or WPForms for handling the ECommerce side of things, and content + links would be under $10,000, which you'd make back on just 2 contracts.
ThemeSorter.com

Whilst this domains background is heavily set in the WordPress theme categories, I think you'd only want to spend a limited amount of the time and budget for the site on ranking for those style keywords. I would still look for longtails, and quick wins because there is enough authority and history to earn well off those with $40 – $120 commissions in the space being very common.
Instead, I would segment the site into doing content for much lower competition niche topics like:
Shopify Themes
Discord Themes
Gatsby Themes
You could use various affiliate monetization methods; I would primarily do individual premium themes and monthly subscription services, with a focus on the latter as the recurring commissions can compound a lot.
If you have developers or coding experience, you could create your own premium themes or create a series of tools in the theme space, such as detectors, plugins/apps, responsive checkers, load time testers and so on. Which all generally have low competition.
Get to the Very Essence of Your Niche
One of the crucial factors of building a successful site is understanding its niche. While you can shape it from scratch using a new domain, Odys domains are already adjacent to their respective niches, so you just choose the one that meets your needs and take advantage of all the benefits embedded in them – backlinks, history, branding, SEO metrics, etc. Tackle the needs of your audience and provide relevant content.
Don't think the domains picked by Charles are what you need? Go to the Odys Marketplace for over 900 domains in 50+ industries.