Jared Hobbs is a self-made website building expert with quite an impressive background, which includes working in the nuclear energy industry and psychology. As you might have already assumed, he eventually moved on to building sites and one of his secrets is doing it via aged domains – Odys domains in particular.
We've had a rather comprehensive interview with Jared, where he covered all things SEO, site building, and aged domains. What were Jared's expectations? Did he save by using an aged domain and if he did, how much? What should you consider when choosing an aged domain? He covered all of these and much more. Give it a read below.
How would you describe yourself and your background?
I've enjoyed my time in several different career paths, the first two of which were in the nuclear energy and then the psychology industries. I feel fortunate because these both set me up with a more than sufficient understanding of mathematics and the mind. I lean on these past experiences daily in SEO and marketing.
I built my first website when I was around 15 or 16 years old, and eventually was "sidetracked" with college. That's how I used to feel about the way things went, with thoughts like "Where would I be if I could have spent those years continuing to pursue the webmaster path?" But I now realize that I was in training. It all came together for good.
How did you first hear about Odys Global?
As the cycle goes, I was nearing the time to liquidate an older, mature site that I was simply "finished" with and ready to move on. Before I do that I build the next replacement and make sure it's viable. I wanted to start with an aged and authoritative domain again, so I started tapping my network to see what I could find.
I told them the general, broad vertical I wanted to enter and a friend of mine, Colby, put me in touch with Alex (of Odys fame). Alex hand-picked a few domains that would interest me, which I whittled down to the best option. I then compared it to a few other options I had from other people in my network, and ultimately the Odys domain won out.
Since then, several years ago, I've done a lot of business with Odys and it's been a supreme pleasure. Alex is a friendly and professional person as are the many other members of the Odys team that I've had the pleasure to interact with.
Did you have experience with aged domains or building niche websites previously?
Yes. I used to buy aged and authoritative domains by the hundreds in the past, scraping drop lists, gathering metrics, and filtering down. This was for PBNs, which I recommend not getting into. You'll waste years of your career trying to get an ROI out of that mess.
Not counting those sites, I'm likely nearing 100 complete website builds for myself and for clients in the past. Once I understood how this kind of domains work, most of the most recent sites were built on aged domains, with my current most-prized domain being supplied by Odys.
I've since referred hundreds of internet marketers towards Odys. There was a great demand for aged domains that weren't a gamble and nobody was supplying them in the way Odys does. Odys is as a true, trusted, experienced business rather than some seedy underground thread on a random, obscure forum, which is what we had to deal with in the past if we didn't want to do all the legwork ourselves.
What exactly made you choose aged domains instead of new ones to build a website for your business?
Time is a huge factor in Google's algorithms. It's the easiest way to block out and discourage spammers. And one of the most valuable assets you can have in SEO are authoritative links from big sites that need to be earned naturally. And if you can shortcut time and marketing expenses with the right domain, why wouldn't you?
This is what an aged, non-dropped, authoritative domain gives you. And that describes my current domain from Odys. It was still in the index. It was still receiving referral traffic from the biggest sites on the net. All I had to do was set up a few simple 301 redirects, install one of my custom-built themes, and start cranking out the content. What a relief.

Starting from ground zero makes no sense if you're an experienced or new SEO, period. And finding an aged domain you can trust isn't poisoned and doesn't have any bad history of cloaking, etc… that's a huge time and money saver. You can hit the ground running. I trusted Odys to supply that and that is what I got.
What kind of expectations did you have before purchasing a domain from Odys?
To be honest, I didn't have any expectations of Odys at the time. I hadn't heard of you guys back then (congratulations on your immense growth), but working with Alex was fantastic, and since "real recognize real" is goofy but true, I knew I wasn't in for any silly surprises. Alex made a wonderful first impression and then he set me loose with other members of the team, who were equally easy and professional to work with.
The best part is that I was able to view the name of the domain we decided was best for me. That allowed me to go out and run all of the checks I mentioned before. I got to check the indexation status, the Wayback Machine, not only the metrics but the actual referring domains and backlinks, and so forth. I now realize I didn't need to do all of this work, because Odys truly did all of that due diligence first.
These experiences have formed my expectations of Odys. They're extremely high but that's only because Odys themselves set the bar that high and then met those expectations with flying colors.
Have you taken a look at other options on the market? If yes, which exactly?
I've purchased domains from vendors on SEO forums (am I going to get ripped off?), from GoDaddy auctions (am I doing it right?), to private purchases on AIM and Skype (did they burn these domains?).
I listed some of the negatives and concerns in the previous sentence. My time is more valuable to me than anything else at this point and getting into the weeds with other domain-buying options is a no-go. Odys circumvents all of that by doing the legwork for me.
What did you like the most about Odys?
I don't believe I had the typical experience an Odys customer would have today, because I kind of slid in there through my network. But if I look at it with new eyes, the website is spectacular. Being able to log into the marketplace, filter by the niches and other metrics, and seeing exactly what I want to see and nothing else is simply fantastic.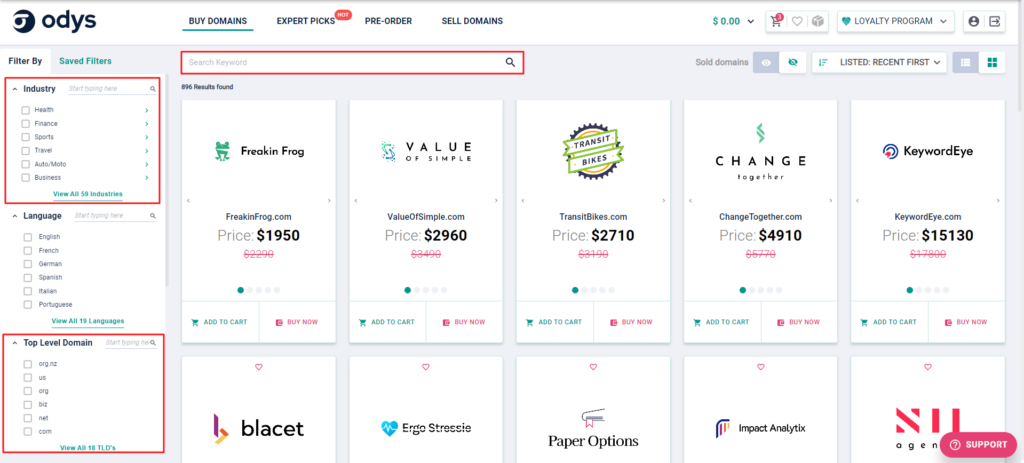 I can keep an eye on the inventory in a matter of, truthfully, 30 seconds or less every day. That's a huge difference from what I mentioned before about scraping, filtering, running API's for metrics, and so forth.
The inventory itself is appealing too because Odys is only picking up the good domains. We only see authoritative brands and nothing else. There's no time wasting going on, which I emphasize again is such a huge deal to me these days.
How was your experience with choosing and purchasing the domain?
Again, I didn't go this route. I worked out the entire agreement over Skype with Alex. What I'd like to affirm is that even through that channel, I felt completely comfortable and confident about the transaction thanks to Alex, and even more so since I trust Colby and he gave his stamp of approval.
After we completed the transaction privately, I was connected with another member of the Odys team who stayed in constant contact as we went through the effort of transferring the domain. The Odys representative was available for any questions I may have or to offer guidance to newcomers to make sure they're getting the most out of their new domain. You can't beat this level of customer service.
What exactly have you done after you purchased the domain?
The first thing anyone should do is hurriedly go register all of the social media profiles to score the brand names you want, because botters watch the registry lists and will try to register those out from under you and then sell them back to you. So do that first.
At this point, in my opinion, you should already have a site created with content on it. You knew you were looking to buy a domain and it needed to point to a live site quickly. So the next step is to point the nameservers to the right location and get Google crawling it.
The next, most critical step is to identify any pages on the old site that had backlinks other than the homepage. These can either be recreated or are similar to other content you have to be aimed at them or you can create similar content. You then need to 301 redirect all of these sub-pages to new locations so you're keeping all of the page rank juice you're paying for. Otherwise you're pouring your money down the drain. This is the critical step you can't skip.
How was the website growing over time in terms of traffic?
I've pulled down over 3 million pageviews so far while being in a premium ad network, fetching average RPMs of over $50. I'm very pleased with the growth coupled with the monetization.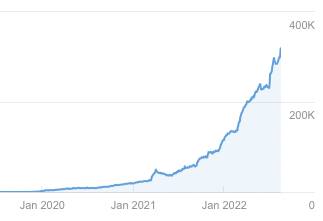 You will never see the kind of growth I'm about to share with you on a new domain, using only SEO methods. There's no sandbox here. By the end of the first month I already scored almost 2,000 pageviews, organically, from the 20 or so posts I had created before buying the domain.
Getting this kind of early exposure led to picking up more natural links quickly and I even went viral on Facebook for over 150,000 pageviews one month, all before the first year was over. By the end of the first year I was getting over 30,000 pageviews a month from Google.
Fast forward to today, just about 3 years later, and I'm picking up over 250,000 pageviews a month from the SERPs alone, and the trajectory is still up, up, and up, because I haven't stopped publishing.
How much money have you made with this website?
By the end of the first year I broke the $1,000 per month mark. By the end of the 2nd year the site broke the $6,000 per month milestone. And now at the end of the 3rd year it's over $12,000 per month.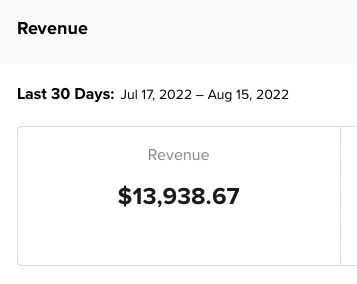 My expenses aren't wild, either, because I'm leaning on the existing backlink profile. So basically I'm just paying a tiny bit for hosting and the bulk is for content. The site has over 350 posts live now, with maybe 200 of those being matured into the SERPs. There will be another huge growth of traffic soon as I really scaled up my content production and pushed those final 150 posts out more recently, so ask me again next year how it's going and we can update the numbers in the paragraph above.
How much did you save by having an aged domain compared to brand new domains?
I didn't use the logo that Odys provided but I appreciated that it was there and available. The big savings is on backlinks. But that's an understatement. Many of these referring domains are out of reach. I simply would not have them linking to this site if it weren't for this domain already having them.
You can't really put a price on that and how that cascades across everything else you experience. Your traffic growth curve will be exponential if you publish like a mad man. And you can do that confidently knowing you're backed by an incredible backlink profile.
It's literally pennies on the dollar. That's the value you're getting. You're paying "pennies" for links you could try to pay $10k for and would still be told no. And I mean per link on some of these. You literally can't put a price on some of these, because the answer is no. You can't have them without obtaining them through an aged, branded, authoritative domain.
What are your plans for the future with this domain and business in general?
This domain has been turned into an authority site in a very large vertical. It can reach 10,000 articles and many multiples past that if I stay on the grind. The keyword opportunities are endless. So my goal is to simply keep pressing publish and never look back…
That is, until the valuation price just gets too tasty. Everyone has "a number" and I have mine for this website. When that happens, I'll ride off into the sunset, and on cold, quiet nights you'll still hear my voice on the whispers of the wind, just barely audible, saying "Thank you, Odyssss…"
When choosing a domain, what would you recommend beginner entrepreneurs to consider?
Beginners should start with an aged domain. Everyone should. But you can't be doing it because you're lazy and looking for shortcuts, because if you treat it that way you're going to screw up. Learn about 301 redirects, what content you should recreate or keep, and how to preserve your page rank juice. I've seen people screw this up so many times because they're in "shortcut" mode instead of treating this like a business.
Another pitfall of beginners is that they want the power of an aged domain without paying for it. So they run off to some shady vendor or pick up an expired domain, and then they get zero results and waste all their time. I can't stress enough that you don't want an expired domain, meaning it fully dropped and is available to register again. You want a non-dropped domain, meaning it did expire but was caught before it technically expired.
Even the language is confusing. Leave it to the professionals for now. You can't have all the benefits of this kind of domains for $10 or $100. And any attempt to do so will end in catastrophe. Get your mind right and have realistic expectations. If you want to do this, do it right. Because you won't realize it didn't work, and maybe even hurt you, for at least a year (a year's worth of work if you're taking it seriously). Don't compromise yourself. You don't have that kind of time to lose but I see people do it over and over again. Trust a team like Odys to help you. It doesn't have to be Odys, but it can't be you trusting you. You don't know enough yet, you cheap newbie.
Whom would you definitely recommend to use Odys as a source for premium aged domains?
Rather than rehash what I like, let me just tell the reader that I've referred over 350 people to Odys and generated quite a bit of sales as an affiliate. I won't share the amount, but the point is that I trust Odys enough to risk my reputation with nearly everyone I know in the industry.
If Odys messes up with any one of those people, the blame falls back on me. And it hasn't happened and won't. What does happen is all of us keep working hard together, building trusted relationships, and building wealth, all on the foundation of Odys domains.
Not only have I referred my network and hung a part of my reputation on Odys but I'm literally building my own websites off of their domains too. I'm not being hyperbolic or anything. It just is what it is. You find vendors you can trust and grow alongside them. Odys is that vendor when it comes to anything domain related.
What other services or additional features would you like to see on the Odys Marketplace?
One step in the direction that I prefer is the Pre-Order option you guys rolled out. Having first dibs before domains hit the public marketplace is great when you already know what niche you want to work in and are waiting on the right option.
To take it a step further, it'd be sweet to be able to commission Odys to actually go out and seek a domain for you within an allotted budget. I understand the difficulties of meeting the more abstract, hard-to-communicate expectations based on taste (like the brand name). But with enough constant contact and quick approvals by the buyer, this could possibly work out. It's just an idea, but Odys keeps enough fresh inventory on rotation that it's not hard to find something fairly quickly.
Do you plan to invest in other aged domains in the future?
Absolutely. Every SEO-based project I deploy from here out will start with an aged domain. And since I plan so well in advance, I can be patient and watch the Odys inventory and pick up the perfect domain from a crew I trust. When I say trust, I'm largely referring to the fact that Odys doesn't buy nonsense, so it's all already pre-filtered. The quality assurance is already done. So it's like skipping down the aisle in the candy store. It's all delicious and I'm going to find something that's perfect for what I have in mind at that moment.
The Preciousness within
In a nutshell, Odys domains are packed with value, whether history, mentions on authority sites, or other SEO metrics. We hope that this interview gave you plenty of ideas on using aged domains and growing your sites in the most effective way possible. It's not everyday when you get an opportunity to peek into the mind of an expert like Jared, so take advantage of his advice and godspeed.
And make sure to check on the Odys' aged domain inventory.