One of the things that speaks of a company's customer focus is the way it takes care of its clients. Just to stay away from the cliched 'we care about each and every customer,' we'll just jump straight to the things we offer beyond our straightforward USP, which is premium aged domains that go through our rigorous due diligence process.
While Odys domains are an obvious advantage when it comes to site building, SEO, affiliate marketing, and online entrepreneurship as such, we want our members to know that they're not just appreciated but highly valued. Hence, we invite you to join our Affiliate Program.
"So, What's with That Affiliate Program of Yours?"
In a nutshell, it's an opportunity for each and every Odys member to earn some extra money by sharing the word about us. No matter if your audience is big or small, our Affiliate Program gives you the means of earning from our sales.
You basically recommend buying from Odys Global and get 10% from each domain sale made by the person you referred to us. How much is that 10%? On average, it's $200 even for those of our members that have seemingly small audiences.
As soon as your referral makes a purchase, you get a notification and your Odys account is deposited with the amount you've earned from the sale. As soon as it's done, you can either use the deposited funds for future purchases on the Odys Marketplace or withdraw them.
"Okay, and What Do I Get by Becoming an Odys Affiliate?"
As an Odys affiliate, you'll get a personalized page, which in turn will be a means of promotion of your personal brand (or company, for that matter). You may consider this as a double-edged sword as it will boost both our and your reputation: your audience will learn more about Odys and you will gain more trust due to promoting a trusted product.
As was already mentioned, you will get 10% from each purchase made by any of your referrals. So, the amount you end up earning via Odys Global's Affiliate Program depends on you.
Last but not least, you will be backed by a dedicated team that will provide you all the necessary support as well as any promotional materials you might need.
"How Do I Become an Odys Affiliate?"
"So, are you saying that pretty much anyone can become your affiliate?"
Not quite. But the threshold is rather wide. As long as you have a strong network of professionals (even a relatively small one, as was mentioned above), you are an eligible member to become one of our partners. That is, your audience's size isn't as significant as it may seem – it's more about your personal persuasion capabilities and your trustworthiness in the eyes of your audience.
Alright, now how do you become an Odys affiliate, then? It's as easy as 1, 2, 3, really.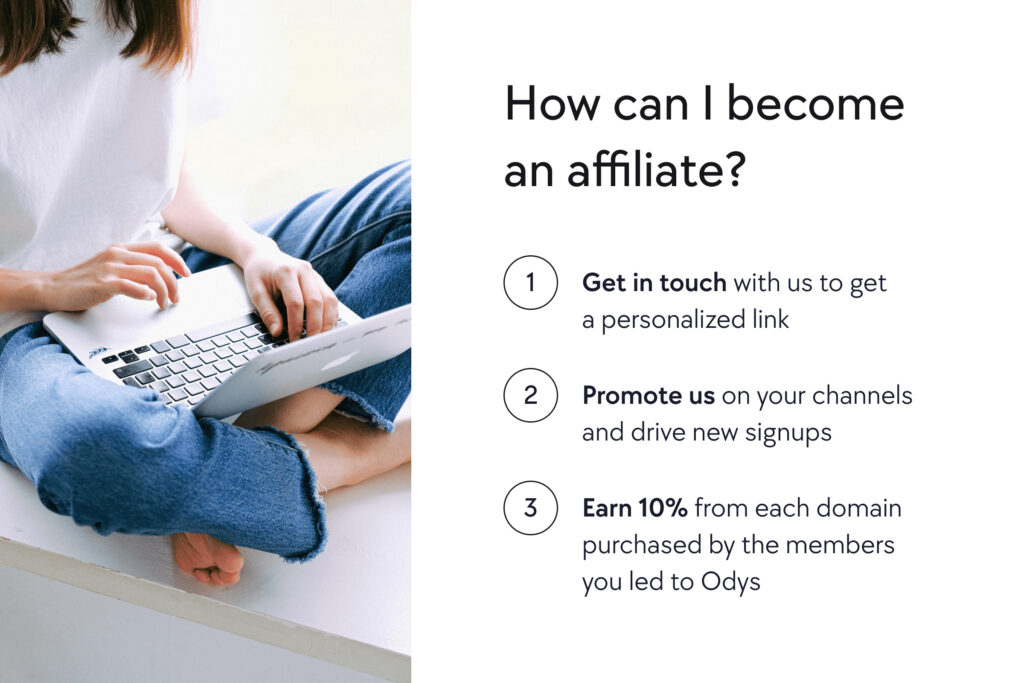 First off, get in touch with us, tell us that you want to become an affiliate, and get a personalized link. Talk to us some more to set all things up, get whatever promo materials you want, and technical advice or assistance in case needed.
When you're all set, just set off to promote us on your channels and pages, driving new signups. You may also mention that each new member that signs up via your referral link will get a $100 welcome bonus.
Sit back, relax, and wait. As soon as your referrals start making purchases on the Odys Marketplace, you can enjoy getting your 10% from each of them.
And that's that.
"It's All Good, but What's Odys Global Anyway?"
Now, if you have somehow run across this piece and don't quite understand what's Odys Global, the first thing you should know is that it's your go-to platform for establishing and solidifying your business's online presence.
We deal in premium aged domains. Simply put, these are the aftermarket domains with brandable names, great SEO stats, functional backlinks and mentions on authority websites, and clean history. Each of them goes through something we call the Odys due diligence process – a thorough, rigorous, and meticulous checkup to make sure it responds to the highest of standards and has no trademark, so its future owner can use its name to build an entire brand based on it. When a domain is cleared for landing on to the Odys Marketplace, our team creates original brand assets for it and provides clear recommendations for its future monetization.
Odys domains aren't just blank online assets, but rather premium online real estate fitted with the finest facilities – you only need to paint the walls, bring your stuff, and pay the bills after buying one. That is, they save you tens of thousands if not hundreds of thousands of dollars on link building alone – the funds you can instead use for other important business development matters.
Odys Global – domains that mean business.