This day has come! Odys Premium is here! More opportunities, more value, more earning potential comes to your domain portfolio. Extra perks apply, no doubt.
Odys Premium is a sure way to enjoy even more benefits starting with your very first purchase. More opportunities, more value, more earning potential – in other words, everything you could've asked for from a premium aged domain service.
Okay now, let's take a closer look at what Odys Premium is and what it means for you.
More Premium Than Ever
Have you ever been a part of a closed club with special benefits and all for its members? You can think of Odys Premium as one of such clubs, but for domainers.
You join a club full of creative, innovative, and business-minded people, just like you. And you can network, partner, and simply share ideas with them. Moreover, every Odys Premium member will be the first people to see exclusive deals on the platform.
As if that wasn't enough, we're going to provide members with tickets and access to master classes and conferences on the house. Yup, you'll be able to attend tons of industry events without paying for them!
Last but not least, Odys Premium members will receive the most relevant industry summaries and insights right to their inboxes. Forget about scrolling through endless pages and emails – get all the information you need right to your hands.
Join the Club
Joining Odys Premium is simple and doesn't require you to go through pages of documentation and rules. We offer two plans: Grow and Scale. Whichever you choose, you get a 30-day trial period to make sure it's what you need.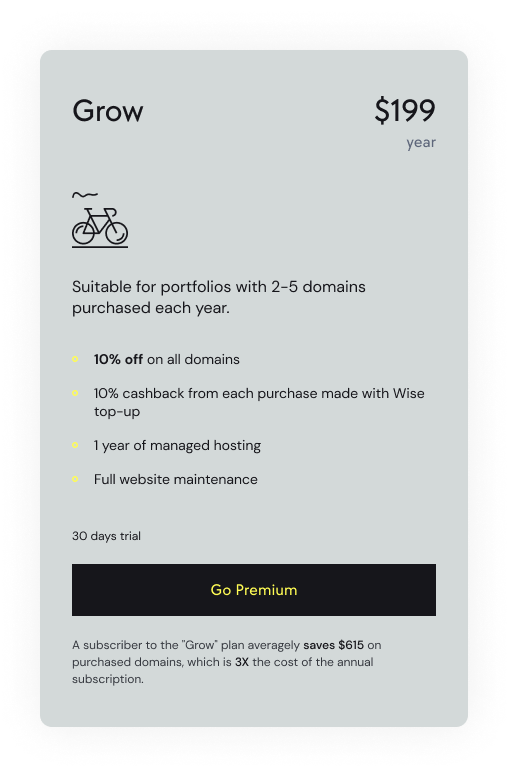 The Grow plan is an optimal option for members with portfolios of 2-5 domains purchased each year. You get 10% off all the domains in the Odys Marketplace as well as one full year of managed hosting and full website maintenance for the domains you buy.
The Scale plan would better suit members with portfolios of over 5 domains purchased each year. It features a 15% discount on all the domains in our inventory along with full site maintenance and one full year of managed hosting for domains you end up buying.
Both Grow and Scale members also get a 10% cashback from each purchase made with Wise top-up. Yup, even more savings!
Unlock the Next Level for Your Business
Odys Global has always been about premium: domains, services, assistance, guidance – you name it. Odys Premium is yet another step towards our dedicated members, who speak the aged domain language and want to grow and scale their online businesses.
Join the Odys Premium community and take your business to another level.