Niche Website Builders have been around for quite a while now, providing upper grade content creation services. It wouldn't be an understatement to say that we, at Odys Global, had a huge luck partnering with NWB. We've talked to one of the company's Co-Founders, Adam Smith, about what they do, the benefits of building sites on aged domains, finding good keywords and relevant topics, and many other things. Make sure to check our conversation with Adam out below.
Meet Adam from Niche Website Builders
Prior to being in the content publishing world I worked for both an advertising network and a traditional digital marketing agency. I quit the corporate world after I sold my first content site and have been running my own portfolio and Niche Website Builders since. Personally, I am married and have a little boy who is almost 5 years old called Parker.
What is Niche Website Builders all about?
Niche Website Builders is almost 3 years old and was born out of our own personal frustrations. While running our own portfolio of websites, we really struggled to find good reliable freelancers or agencies. Agencies tend to overpromise and underdeliver and freelancers are typically hard to manage. In our experience, if you found a good freelancer, usually they would either disappear after a couple of months, or they take on too much work and the quality dips.
Niche Website Builders was started to solve these issues. With our in-house team of full-time writers, keyword researchers, link builders, and web developers, we aim to be the one-stop shop for affiliate and content site publishers. We offer a full end-to-end service which includes niche selection, keyword research, content creation, formatting, and uploading, website builds, internal linking, and full website creation (including setting up Google Analytics, Search Console, etc.)
What are the benefits of using aged domains for website building?
There are lots of benefits of using aged domains for website building. We believe the two main ones are starting from a position of authority and power from a link profile perspective, and typically the reduced time getting your first visitors/revenue.
On the links perspective, usually, it's either impossible to acquire the type of link profile of an aged domain (think links from NY Times, Business Insider, National Geographic, etc.) or it would be incredibly expensive. For several thousand dollars you are essentially buying a link profile that has taken the previous owner lots of hard work and years to acquire.
On the time reduction, it's not unusual for aged domains to gain traction very quickly. While they all reactive differently, we have seen extreme cases where the site has traffic within the first couple of weeks.
There are lots of other smaller advantages too. One that is prevalent now is indexing. Currently, lots of site owners are having difficulty getting their content indexed with Google. We typically don't see these issues on an aged domain. This is because Google already has a history with the domain and there is a level of trust already established. It's very interesting to look at the "crawl stats" data of a fresh domain vs an aged domain – you can typically see Google giving more bandwidth to aged domains.
How do you analyze a domain before considering its purchase?
We have an episode of our "Aged Domain Tuesdays" videos dedicated specifically to due diligence here.
We also review at least 1 aged domain live every Tuesday on our YouTube Channel. You can subscribe and get notified when we go live here.
How are you using aged domains?
We typically have 2 use cases for aged domains:
Building a website on the domain to leverage the history and link profile to kickstart a project.
301 redirecting niche relevant aged domains into existing websites to power up the link profile and add more authority.
How do you evaluate the aged domain's backlink profile potential in a smart way?
We have an episode specifically talking about domain backlink profiles here.
In that, we cover what's in a backlink profile and what to look for. We also have an episode dedicated to anchor text (which is part of backlink due diligence) here.
Use of aged domains: what to watch out for?
For us there are 2 main risks associated with aged domains:
Poor due diligence, which means you end up with an unsuitable domain.
Not matching relevance with the original website. It's not recommended you build a website about food on a domain that used to be about dogs. The same also applies to 301 redirects. No matter how strong the aged domain is, maintain relevancy is key.
If you don't cover the points above, then your project is destined to fail from the start. There are other smaller nuances, such as not recreating/redirecting old post correctly (shocker, we have an episode covering this topic here).
What are some tips for selecting a profitable niche for a website?
There are several ways to monetize websites, however, the two mainstream methods are affiliate programs and display adverts.
For affiliate programs, you could look for high-paying affiliate offers and try and match your content. Here is a great list from Authority Hacker.
I should point out that typically (not always), the higher the commission, the more competitive the topic.
For display adverts, unfortunately, there's no magic list of super high-paying niches. Tyler Bishop from Ezoic has been very vocal in expressing how two sites within the same niche could have totally different EPMV rates.
Typically for display adverts, you should be looking for niches that have the opportunity for massive amounts of traffic. This means looking for opportunities where content could be templated and expanded. For example, you could pick animals, and then narrow down to birds. A quick brainstorm shows there's search volume for different color birds: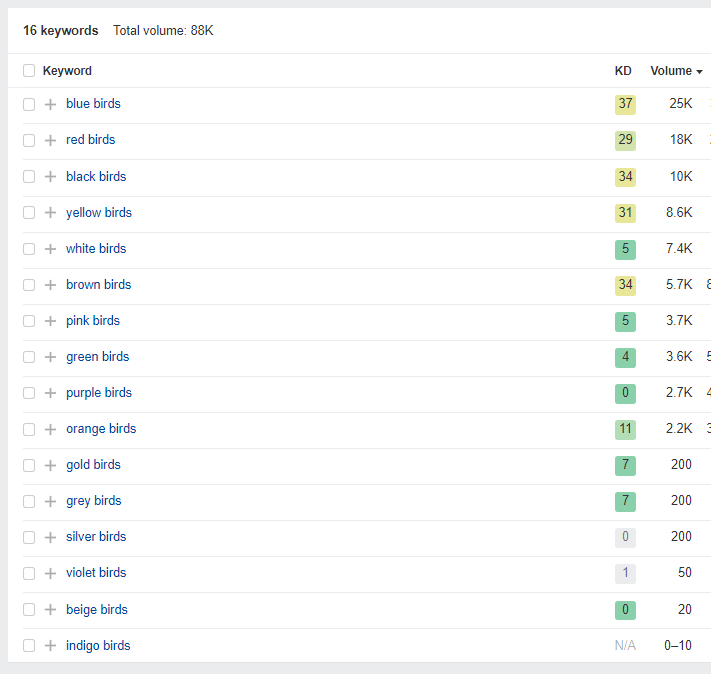 When you Google those terms, we can see Google is expecting a listicle-type article with the different types of birds and images. This content is very easy to template and create: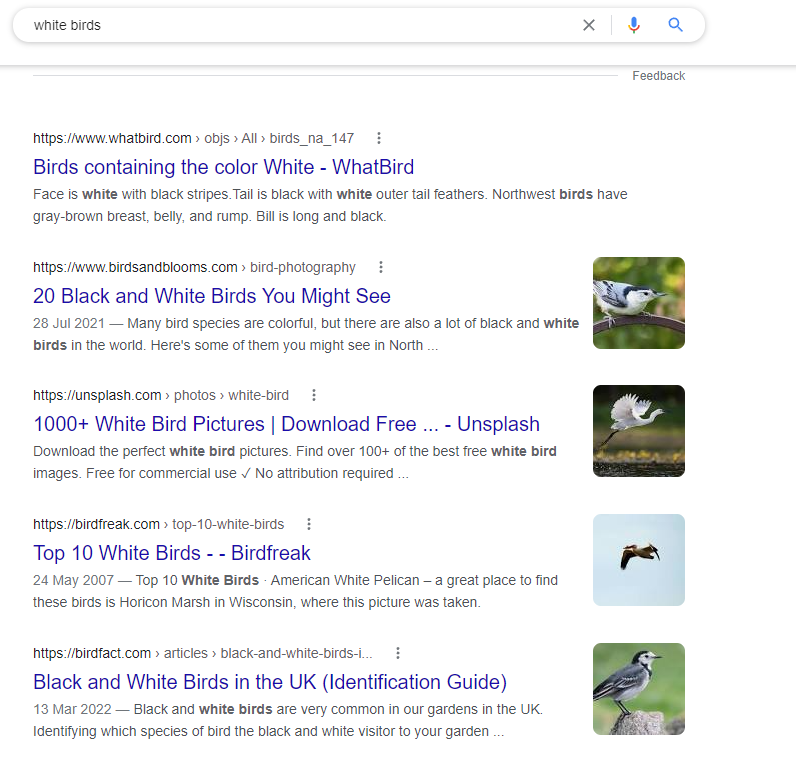 Another angle would be to look at "birds in" different locations: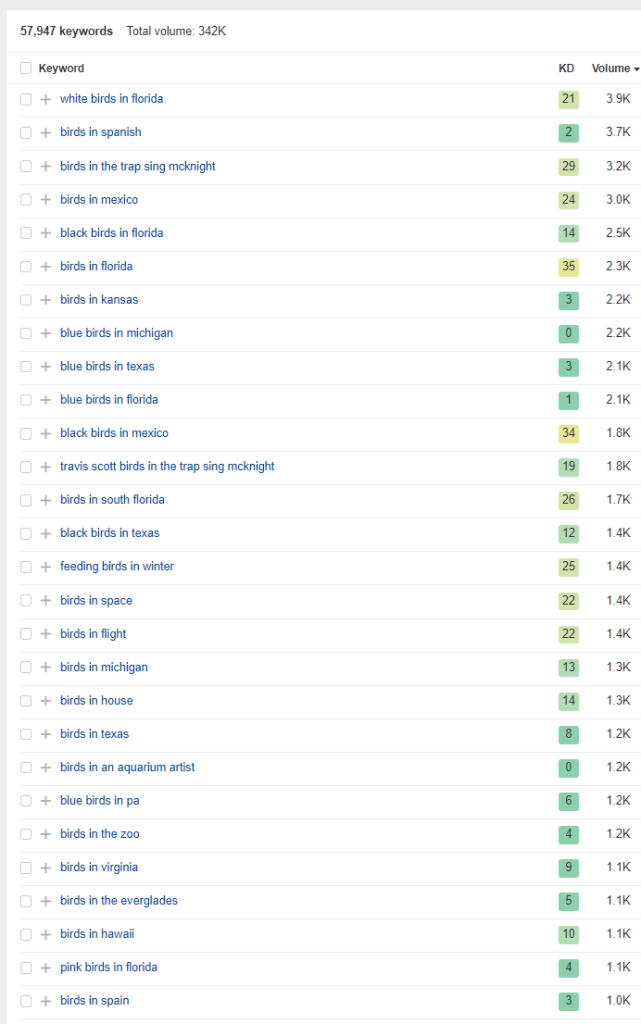 Again, we can see that Google is expecting listicle type articles: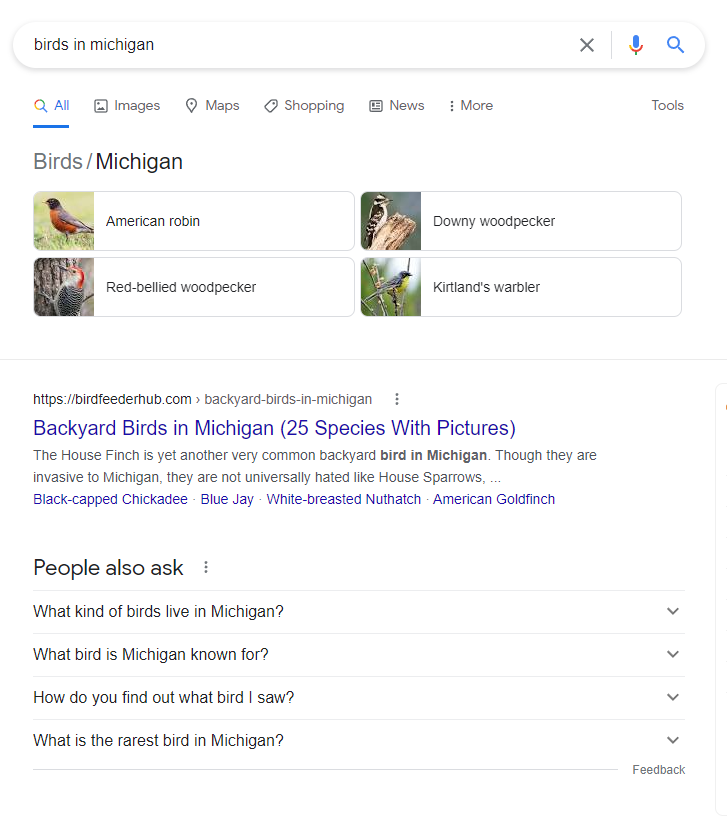 How to do keyword research and find potentially winning topics to write about?
When working with aged domains then we would recommend starting with our Tomb Raiding method. We have an episode that covers the topic with a live example here.
We also have a full blog post about the strategy here.
What makes a great piece of content?
There's no definitive answer here and each piece will be different. When working with aged domains and using the Tomb Raiding method, we like to match our length and structure to the competitor we are trying to imitate and outrank. It's important to note that we try to make out article better, which typically involves adding an FAQ that is taken from the related Google People Also Asked questions.
What are your must-have tools for building niche websites?
We have a full tools section on our website where you can see specific recommendations.
However, you are to need/want some of the following:
Domains and hosting (Cloudways, Namecheap, etc.)
Display advertising networks (Ezoic, MediaVine, etc.)
Affiliate plugins (AAWP for Amazon)
SEO tools (Ahrefs, SEMrush, LinkWhisper, etc.)
Themes (Astra, GeneratePress, etc.)
Training (Authority Hacker, Passive Income Geek, etc.)
Outreach and prospecting (Hunter, Mailshake, etc.)
Lead generation (Optin Monster)
What about challenging niches?
We have worked across hundreds of different niches, including typically difficult spaces such as VPNs. We have a new case study section on our website where we will be adding more case studies shortly.
What types of monetization strategies do you recommend for someone starting to work on a website?
As mentioned above, there are many ways to monetize your website. The two mainstream methods are affiliate programs and display adverts. We tend to see display adverts as the easiest route for someone starting out, mainly as it's low maintenance and you only need to get traffic to start earning (no CRO, no testing different offers etc.)
If a website is already making money, what are some ways for it to grow? What is the best time to sell it?
There are really two ways to make more money from a site that is already earnings:
Increase the RPM (revenue you make per 1,000 visitors).
Increase the traffic to the website.
To increase your RPM you would be looking at optimizing your existing monetization method. This could include adding (new) affiliate offers to your current pages, negotiating offer payouts with the network, or switching display advert networks to one that pays more. I did a great interview with Doug Cunnington about how I increased the RPM on a display advert site with 5 days of work.
To increase the traffic to the website, there are essentially two main ingredients – content (optimizing existing content and adding new content) and link building (including 301 redirects with aged domains). While there are lots of nuances if you are doing these two things diligently then over time your traffic is almost guaranteed to increase.
What would you advise in terms of managing a niche site portfolio?
I have owned a portfolio of niche sites for several years. My biggest takeaway is to either have a team or use an agency to help you scale. Once you get past one or two websites, it's almost impossible to scale without help. Utilizing help via your own systems and processes is how you go from owning a few sites to a full portfolio.
Is there one piece of advice you would give to someone, who's just starting out on building their niche website?