Carl Broadbent used to be a regular corporate employee but decided to take his time and career into his own hands in 2017, pursuing his dream of making a living via a passive income. As he personally admits, he wanted to take control of his time back and focus on things that mattered most.
At the moment of making his grand transition, Carl didn't have substantial experience either in writing or web design, but he nonetheless decided to tread these deep waters. As a result, he managed to build profitable websites with monthly revenue of over $10,000, and, almost four years later, he finally became a full-time affiliate marketer. Among other efforts, Carl also runs a prominent YouTube channel, where he shares his experience and advice with the audience.
Carl's Previous Experience with Aged Domains
Carl has never had experience with aged domains before, having built his successful online business building websites on new domains. As he states himself, he normally goes for broad, brandable niches with a larger reach in the market, when launching every new project.
This time, he decided to dive into the gardening niche. However, he wanted to try a different approach and went on to build a successful site using a premium aged domain he got from Odys Global. The thing is that aged domains are a hot topic these days, so Carl figured it was time for him to give it a try and see for himself how it turns out.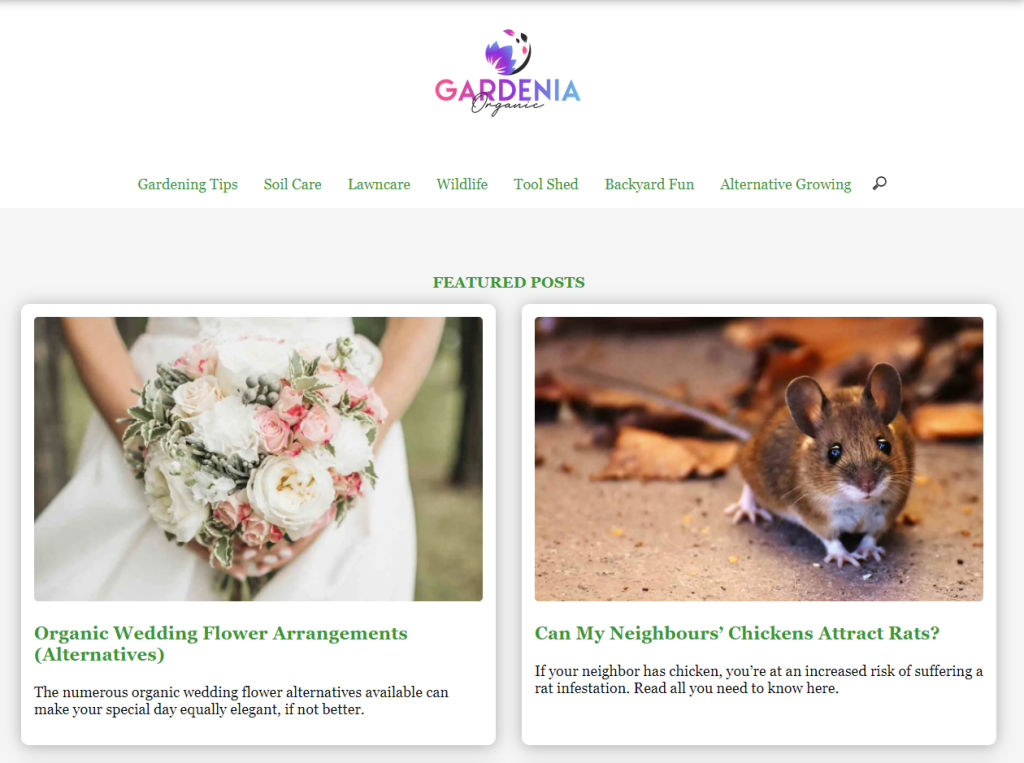 Would the blog content rank faster? Would the site be more successful compared to those built on new domains? Would it become profitable faster? These were some of the questions Carl set out to find the answers to after a few months of dealing with a premium aged domain.
Aged Domain Purchase: A Cakewalk or a Monkey Hill?
When buying an aged domain from Odys Global, the very first thing a client has to do is to request access to its marketplace – Odys Marketplace, – get approval, and log in to view the company's inventory. The newly approved member then can take their time to look through the available domains and choose whatever they see fit for their needs. The platform allows optimizing the search process by applying a wide range of filters, categorizing domains by industry, language, character length, SEO value, and age among other things.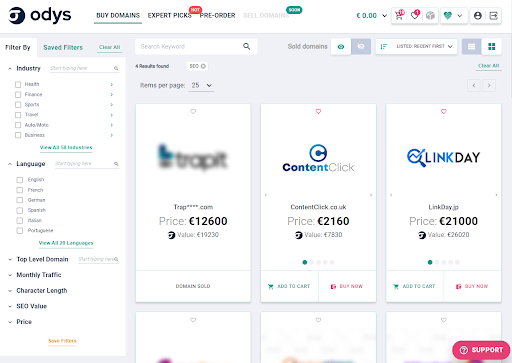 After entering a domain page, the client gets all the information needed to make an informed decision: the domain's history, value, and even minor monetization advice. It's all there on the page, you just need to scroll through it. One thing you can say for sure is that you get an optimal user experience when choosing and buying a domain from us, as we make certain that the process is as smooth and as transparent as possible.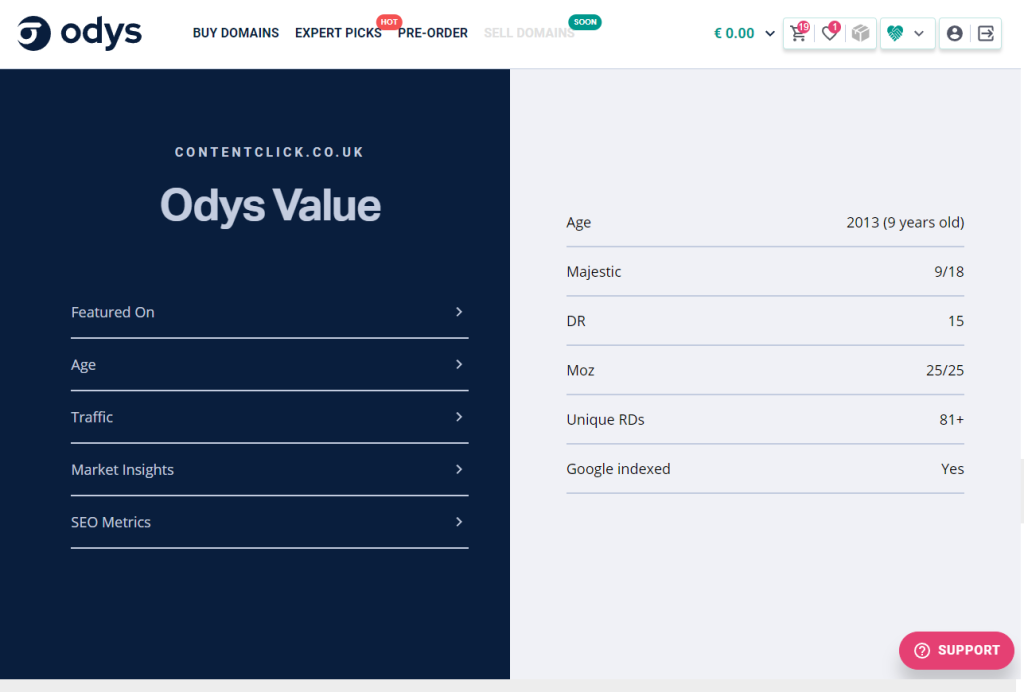 After finding the perfect domain option, the customer simply heads to checkout, fills out the necessary information, and finishes their purchase. Simply as that. We send out a purchase confirmation email with further guidelines regarding an effective domain transfer and the subsequent website setup.
Aged Domain Transfer
One last thing before we get back to Carl's case. Transferring an aged domain to your web registrar account might seem tricky, especially if you're new to this. But the reality is that the devil is not so terrible, as he is painted. As Carl himself says:
"It literally took a matter of minutes between clicking through the emails and filling out the information required. It was a simple process and took a couple of hours in total, and the domain was then set in my GoDaddy account. I was a bit worried about what that process would entail, but it was very easy and simple to do."
As soon as you're through the transfer process, you can get to work: choose a web hosting company, select a catchy website theme, perform keyword research, write and add articles, and do whatever else you see fit for your endeavor. Carl, for one, recommends checking out several options based on the available budget before making a final decision. As a matter of fact, Odys Global offers a fully managed WordPress hosting service for its customers. We handle the server's setup, administration, management, and support, so you can spend your time building your core business without bothering about website maintenance. If you'd like to learn more about our hosting options, make sure to contact our Account Managers.
We've Learned the Pain, but What's the Gain?
Carl had already published several website case studies on his YouTube channel in the past. However, he had to wait 4-6 months before being able to share data with his audience. A premium aged domain hit differently, as Carl registered activity from day one of his site going live.
He uploaded 10 articles before launching this new website. 8 of them appeared in the SERPs in just 24 hours! Moreover, 48 hours after the site was launched, he published 3 more articles and one of them was ranking on the first page of Google search results.
"I've never seen that before with any of my websites. Then, incredibly, 48 hours later, we actually got a sale from Amazon, a commission on a related product. I don't think I've been this excited about building a website for quite some time."
In just one week, Carl's site built on an Odys domain was already getting organic traffic of up to 83 visitors daily. Any content published took 24-48 hours to get indexed and found by SERProbot.
28 days later, the website was taken care of by a strong team that was creating and uploading content and managing it, resulting in 200 published articles with a total volume of 250,000 words. As for results, 138 were ultimately indexed, 65 of them appeared in the top 100, 23 got to the top 10, and 6 ended up in the top 3 results.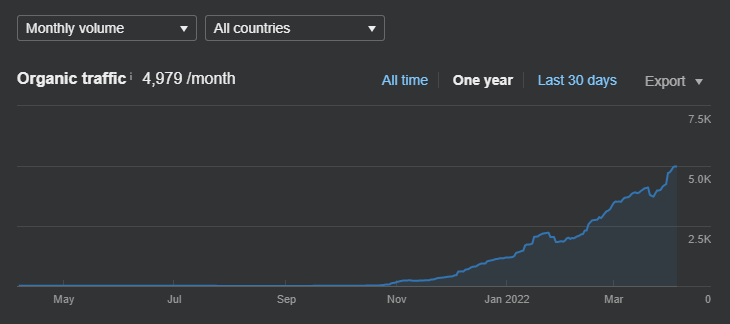 So, That's It? Not Quite
These truly spectacular results pushed Carl to continue working on this website. He ultimately built an affiliate marketing business focused around the gardening niche. Mr. Broadbent set up a new YouTube channel with original product reviews and published 317 more articles.
By the end of 2022, he plans to:
Finish the keyword spreadsheet;
Buy other products to review on his channel;
Purchase more gardening sites or premium aged domains from Odys Global.
What Makes Odys Special?
Odys Global has had several business owners reviewing the company as the best marketplace of premium aged domains for those, who look to kickstart their SEO efforts and gain momentum to grow their businesses. Carl's website is a notable example of a successful project with a 371% growth in just 90 days of launch. This figure is practically unreal when you talk about websites built on new domains.
As Carl himself puts it, "Before any of Odys sites go for sale on their marketplace, they do vet the domains. They check the backlinks, the Wayback Machine, trademarks. They do all the due diligence".
Indeed, at Odys Global, we have refined our domain selection process over the years, which has kept our reputation high all this time. Some of the things that make our premium aged domains exceptional include but are not limited to:
All domains are kept alive, which means most of their backlinks are crawlable;
Our aged domains have unique backlinks from authoritative websites in the same niche and language;
The domains available at the Odys Marketplace vary in age; some of them are almost 30 years old, and the best thing about this is that Google loves aged domains;
Each domain comes with unique, professional, and eye-catching branding assets.
Over time, we've been adding additional services to our arsenal. At the moment, we have several service packages to help our members launch a new site built on an aged domain if they don't have the expertise or time to do it themselves.
Carl Broadbent's story is purely a story of success and we're very proud of being a part of his journey. Your journey with Odys Global is just a few clicks away. Request access to our marketplace today and godspeed. We're eager to hear the story of your success!