Hello!
Welcome to the Odys Spotlight written by me, Sean Markey.
Since this is my first one, I'll hit you with a quick intro.
Odys Spotlight, what is it?
A monthly feature wherein I take a deep dive into one exceptional domain currently for sale on the Odys platform. Aside from showing you why you should totally buy this domain, I'll also take you through my process of evaluating the domain's value, how I would build it out, and what my long term plan would be.
Sean Markey, who is it?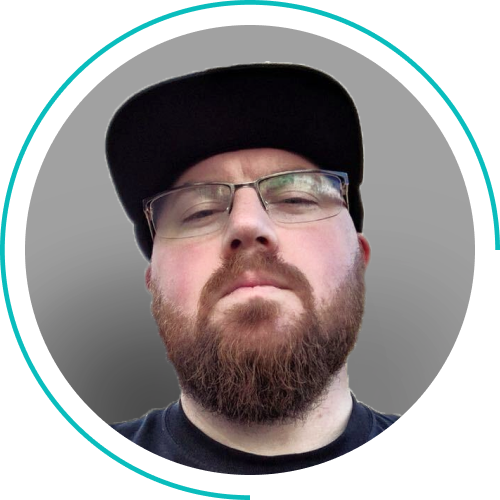 Good question–I'm still figuring that one out myself…
But to give you a real answer instead of slipping into the philosophical, I am an SEO who's been in the game since 2011, doing a lot of stupid things that I learned a lot of valuable things from. In 2017 I built a niche site that I sold in 2019 for several hundreds of thousands of dollars. I bought an expired domain at auction in mid-2020, built an affiliate site on it that was doing $15k/mo, then sold it that December for $130K. There have been a bunch more failures where I took big risks and failed and lost money, but that's not very interesting…
I write a twice-a-month-ish newletter about SEO at RankTheory.com, and am generally recognized as an expert when it comes to expired domain acquisition, rebuilding, and redirecting. But if you asked me what my core competency is as an SEO, I'd say it's producing good content that ranks well, and my areas of weakness as an SEO are anything technical and anything that requires a lot of attention to detail and repeated tasks…
So that's me, now that you know my strengths and weaknesses, let's look at the domain featured in my VERY FIRST Odys Spotlight.
IdeaWins.com


To Understand the Value of IdeaWins.com, Let's First Look at What it Used to Be:
This domain started its life as a Microsoft property. Here's the very first screenshot I could find: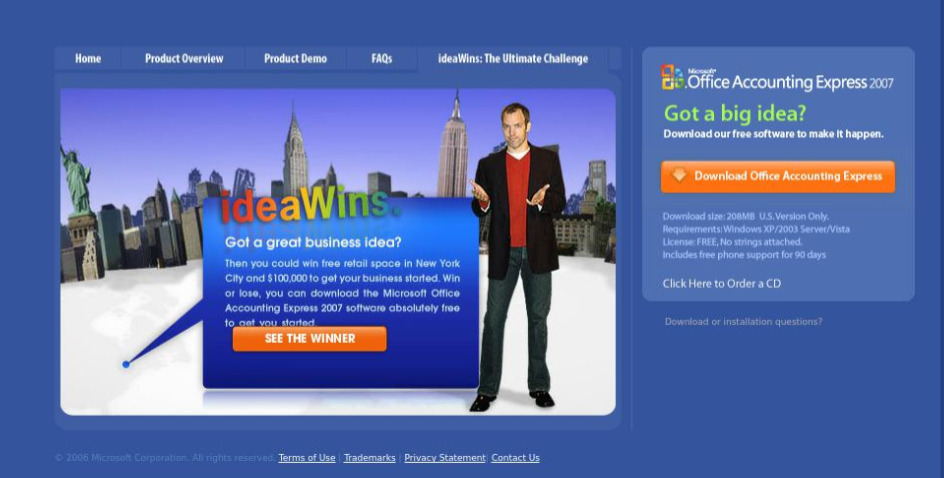 Looks like this baby started its life as a Microsoft Accounting Express contest where the person with the best business idea got $100k and free retail space in NYC.
I know you're curious and you want to know about the finalists (was it a hot dog stand that serves burgers instead of hot dogs? A ringtone store where you could browse thousands of ringtones before buying one??)
Nope, here is a summary of the four:
"The four finalists include spoken-word poets from New Jersey looking to open a themed restaurant and teaching facility; a woman from Florida with a make-your-own-wallpaper idea; a woman from Illinois with an idea for the ultimate clothing rental service for fashionable, trendsetting young women; and a woman from Maryland who wants to create an organic beauty bar that offers a fresh menu of made-to-order natural beauty products and treatments."
If you guessed that the Mayhem Poets (that's what they were called) who wanted to open a… restaurant + school (???) won this contest: you are correct!
After the contest wrapped, the domain became… something else. The actual contents of the page are lost to time because it was still in fashion to use Flash to design websites (thank all the various and innumerable gods this trend was murdered out of existence), but it looked like this for a bit:
Ah, 2007. When everyone was still designing websites that punished the people trying to read them.
Black text on a dark gray background?
DON'T MIND IF I DO!
Eventually, though, this domain was built into a sales page for Microsoft Office Accounting and they just sort of… dropped the Idea Wins brand altogether:
That was BASICALLY it for Microsoft using this name. They scored a bunch of amazing links because they're Microsoft, and then just sort of abandoned it (because they're Microsoft, and they don't care about valuable link profiles for secondary sites…).
IdeaWins… Is This A Good Brand?
TBH… yes. This is a solid two-word brand.
It has a positive connotation and is nice and short.
The concept of an "idea" is so generic, you can make this be about basically anything you'd like it to be. That's not always a plus, but I think when it comes to rebranding or re-niching a name with authority, it is a good thing.
One of the best parts about this domain's brand is that, while there exist some related trademarks, there's nothing that is an exact match to this brand currently live.
So you can stitch yourself a nice identity as the Idea Wins Person, and wear that shit everywhere you go online…
I would caution you, in general, when trying to decide what kind of business a brand could be: don't stray too far from the subject of the backlinks. Yes, IdeaWins is a very broad idea, but if you wanted to turn it in to a site about dog food, my friend, you have an up-hill battle ahead of you, and you're better off finding a different site than trying to shove a round block of wood into a square hole–yeah, you can probably make it fit if you bash it with a hammer, but look at how you'll damage things if you use force on something that doesn't easily go together.
Speaking of links…
This Site Has Some Super Dope Backlinks
Yeah, let's talk links here for a second.
If you wanted to build a link profile like this yourself, it's easy!
Here's all you have to do:
Found Microsoft in 1975
IPO in 1986
Release Office Suite in 1990
…
You get it, it's basically impossible.
There are absolutely killer referring domains from web authorities like:

"But Sean, there's a lot of low traffic referring domains and some .ru or SEO-looking SPAM names…"
Well, yeah. This domain is old enough to get a driver's license. It's been around since 2006, that's about 47 years old in internet years…
That's also a great point to make about these backlinks: they are OLD. They have been in place for a decade and a half, they are not going anywhere if they've not gone there already…
In my opinion, links that have been in place for a very long time, on old, authoritative sites carry an extra dose of trust and authority–that's one reason I like working with older domains.
But I've seen a lot of people take over or rebuild a site with a history and pre-existing authority and just… ignore the most linked-to pages. That idea takes us to the next section talking about IdeaWins.com:
Make Sure You Capture The Value…
Look at all these stupid URLs with links going to them…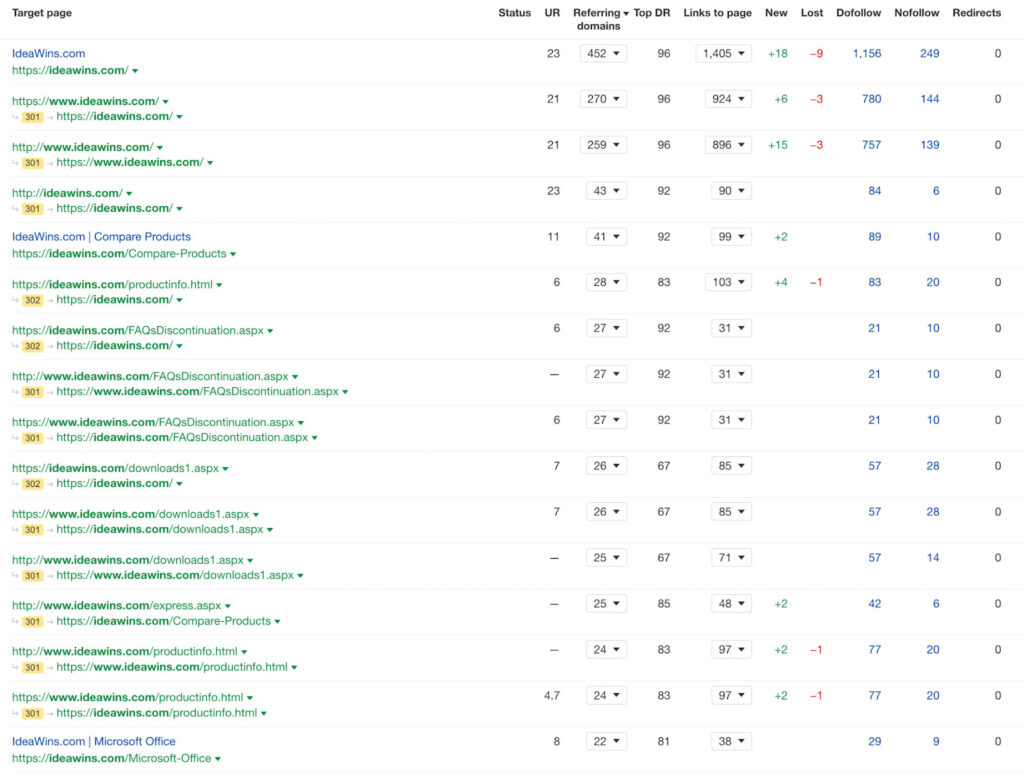 If you end up buying this domain, make sure all of these URL with incoming links GO somewhere.
Don't just shove them all to the homepage, either, that is a lazy and ineffective move. It's not entirely a natural look for a rebuilt site, which is what you're going for (a natural look).
Best case: there is a page on your site that is even KIND OF related, and you can just 301 those to that page.
Slightly not-as-best-case (but still OK): send them to the /blog, or the about page, or some generic-but-not-home-page.
Do not: just push them all at the home page (it's OK to shove SOME at the homepage though).
How You Could Use This Domain
Hey, here's a valuable tip that's gonna save you so much grief and money:
DO NOT REBUILD THIS SITE FROM ARCHIVE.ORG.
lol.
Microsoft has a Mr. Burns-esque pit in their office with a trap door, but instead of being full of alligators it is full of lawyers, and then will drop you right down into the fray.
Not to worry though, you don't need to rely on the crutch of an Archive rebuild (which I am not personally a fan of).
You can do some damage with a DR 39 domain that has 500+ referring links and some fresh content …
Here are some different things you can do with this brand.
General Business Site
If I were going to rebuild this site, I'd make it into a general business advice site.
Here's how I'd do it:
First, I'd write a bunch of posts like…
How to start a pet groomer
How to start a restaurant
How to start a blah blah blah
Not only can you write about one million different posts, but I think most of them can contain similar content/structure and you just need to write some specific content relevant to the keyword. I don't even think it needs to be super duper in-depth.
You could probably get away with some Wikihow type of content.
Then, I'd have all of those pages link to some piece of pillar content like "How to Start an LLC" or something (which is a mega lucrative affiliate KW, I think).
The content possibilities would be almost endless, just utilize Google autofill (and then dig in further with People Also Ask questions), like: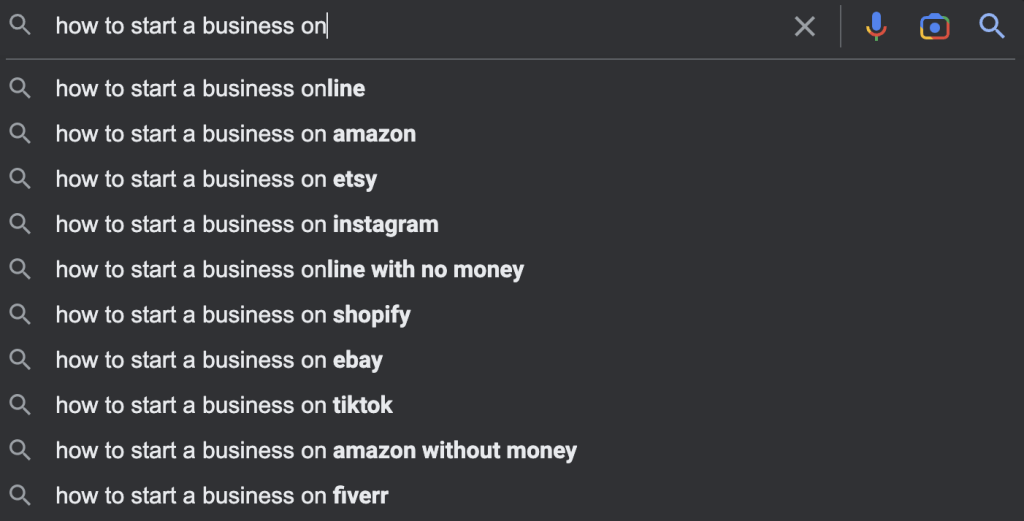 Each one of those topics is a pretty straightforward piece of content that, while it may not show some sexy search numbers on your favorite keyword research tool, I bet drives some amount of long tail traffic that you can combine into some big monthly traffic numbers over time.
Depending on your skill set, you can offer detailed business plans as info products, or score some affiliate sales to relevant products (starting a pet business, here's a list of stuff you'll need…), and so on.
Dive deep into FBA (fulfilled by Amazon), do a whole series on dropshipping, offer an affiliate marketing plan. I think the content possibilities for a "business ideas" kind of site are very promising, and a lot of monetization avenues.
This would also be a slam dunk for creating other media. An interview podcast where you talked to successful founders about their journey, or how they got the idea for their biz… I think you can have content for days, and leverage that content to grow quicker than with JUST SEO (also, if people know they can get a link from your authoritative site to whatever their business is by being on your podcast, it'll be much easier to book some bigger guests.
Other Types of Businesses You Might Create
Although I would strongly discourage this, it IS possible to change the site from one that is a business authority to one that is an authority in some other, unrelated field.
The most straightforward and successful way to do this is to have a live site with authority and rankings and age, and 301 redirect it to this site. All the content moved from there to here, each post 301 redirected individually…
The second way you might do this is by slowly changing the topic of the site. Starting off with a bunch of generic business content and slowly making it about the business of cleaning houses, reviewing businesses in the cleaning niche, talking about cleaning products, interlink the hell out of everything and wait for Google's algorithm to catch up.
I think the name lends itself to something creativity-related, like… crocheting? Art? Arts and Crafts… etc.
I think those niches are not anywhere close to as lucrative a niche as business, but if your passion is in the art-related fields, this could be a decent pickup if you put in the work to steer the ship toward a different topical relevancy.
I don't think you should though. I think if you're interested in going into the business niche, this site is much more straightforward.
Here Are Two Other Sites CRUSHING What You Could Do With This Site
How To Start An LLC (.com) And Other Good Ideas…
Very relevant domain, but a bit limiting (IdeaWins is a better brand)…doesn't matter. Look at how they're doing:

And here's a look at the keywords, ALMOST EXACTLY AS I WAS TALKING ABOUT for spinning up new content: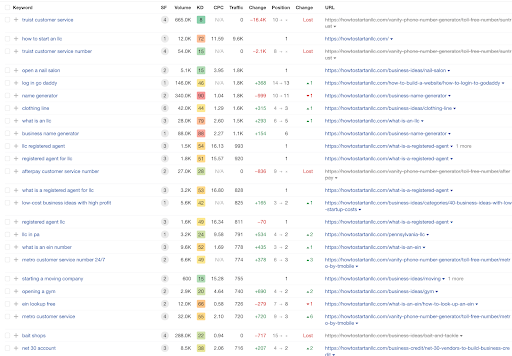 "Opening a gym" 2900 searches/mo
"Starting a moving company" 600 seraches/mo
And there's a lot of keyword data to mine here around generic business questions:
"How to start an LLC" 12000 searches/mo
"What is an LLC" 28000 searches/mo
Etc.
Plus, scattered throughout these keywords are potential income stream/service offerings you can provide to earn some straightforward money.
For instance: business name generator.
It gets 88,000 searches per month (and yes, it'll be hard af to rank for) – but you don't need to rank for it. It's clearly something that's in demand. So rank for other long tail shit and then have that as a big fat offering across your site.
Charge $XXX, get an idea of their budget for a domain name (that'll be the hardest part), and set some filters at SquadHelp or BrandBucket to look for names in the right niche under a certain price. Or hit up a site like Namelix.com and spend your time finding some great options under their budget. It doesn't have to be fancy. Promise to give them 20 options or something. It's less a generator and more of a done-for-you service, but the outcome is the same.
Similarly, logo maker has a search volume of 181,000, and logo design 77,000. It's gonna take several years of link building to get your site ranking for these big terms, but again, you don't have to. Rank for OTHER business-relevant keywords and offer this as a service. Utilize Fiverr or Upwork or–if you charge enough, 99Designs to help manage a logo design for this new business.
Once you're more established, upsell them to create an LLC for them, get an EIN number… it's an endless list of things you can offer.
The KEY is: use the site's current authority to rank for a bunch of long-tail stuff, and then convert that traffic to affiliate products, services, info products, and so on.
Mining HowToStartAnLLC.com is a great place to start.
Get Your Zen on: Looking at ZenBusiness.com
A keyword list full of amazing content ideas: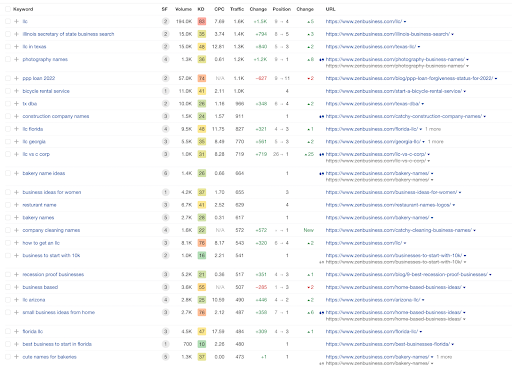 You can almost (almost) go programmatic with a lot of these ideas, like:
"Cute names for bakeries" (1300 search/mo)
"Company Cleaning Names" (1600 searches/mo)
"Construction company names" (1500 searches/mo)
Just scrape a bunch of listings from online business directories and pull out the names of businesses… put them in a list, write an intro paragraph or two, BAM. Killer content. You can do this with an ENDLESS amount of niches.
Make sure you do something like: make a page that contains all the pages of individual businesses, and give that page some internal link love or put it in the menu or sidebar or something, and you should be able to rank well for a lot of these just on the strength of the inherent authority your site has.
Do the same thing with state-related LLC searches…
LLC Florida (9500 searches/mo)
LLC Georgia (5500 searches/mo)
LLC Arizona (2800 searches/mo)
For ALL the states.
Hopefully you see that this is just the tip of a very large iceberg, where you can crawl into the hundreds of thousands of keywords these sites rank for an get more content ideas than you'll be able to write in a hundred years…
That's EXACTLY what I would do with this site…
Some Ideas For Monetizing This Site
Okay, so this is just a FEW of the MANY things you could do to monetize this content.
The first: become an affiliate for incorporate.com
For every person that registers an LLC through them, you can get up to $100.
Ads is an obvious choice, if you can get enough traffic (which, I think you can in time).
As I mentioned previously, setting up some Amazon affiliate links in strategic places could be an additional revenue stream.
There are some great opportunities to get some service-based revenue, like the logo-making services and business naming services.
If you can offer things like CPC advertising help, SEO services, email marketing – you know, traditional digital marketing consulting or products, that could open a whole new revenue stream. Don't have any digital marketing skills to offer? I bet there are plenty of agencies where you could work out a lead-gen paid partnership.
Wrapping It All Up
Hopefully, it's clear how a domain like this, with business-specific authority, can open a bunch of opportunities to monetize. Building out a bunch of content targeting long-tail, but low-competition keywords that puts potential buyers of your services or affiliate offers right in the path of purchase.
This two-word, aged, powerful domain has the potential to be a content juggernaut with a lot of monetization angles.
Thanks for reading my first spotlight on the IdeaWins.com domain. I hope that, at the very least, you got to see how I approach a name like this, how I think about content, competitor research, keyword research, and more.
I'll tell you what–if you end up buying this name that I'm recommending, I'll offer up an hour of my time–one 60-minute consultation to help you get the most out of this aged-like-a-fine-win domain.